Citrix Workspace Service Gets Security, Machine Learning Boost
Citrix Workspace Service Gets Security, Machine Learning Boost
At its Synergy show, Citrix plans to update its Workspace service with added security and analytics. Citrix is bolstering its Workspace service with a more unified management view, offering greater emphasis on security and analytics to give IT departments greater control over data and employee access.
The change is part of Citrix CEO Kirill Tatarinov's mission to unify the company's product lines, and take the Workspace service beyond virtual desktop infrastructure (VDI) and enterprise mobility management, says Calvin Hsu, Citrix vice president of product market.
"The end objective of all of this is to drive a new way of looking at work," Hsu told Enterprise Cloud News. "We really want to help customers get to their vision of the future of work and that may include things like being able to accelerate the digital business initiatives, where everything is available online through various applications and supported by digital tools and that in turn helps support a more modern workforce where they are able to meet partners, clients and customers wherever those partners, clients and customers are most effective in their own environment."
Figure 1: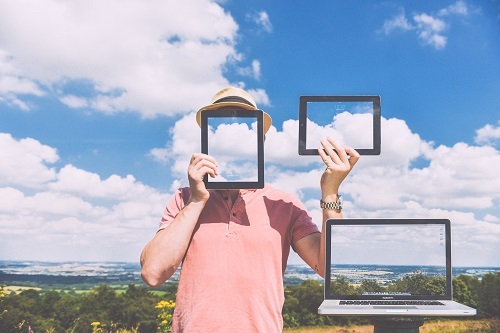 (Source: Stokpic via Pixabay)
To create that goal of a unified Workspace environment -- the company is calling the concept the Secure Digital Workspace -- Citrix executives will be detailing some new underlying features that have been added to the product, at the company's annual Synergy event, which kicks off Tuesday.
That vision of a unified workspace service includes a focus on three specific areas: business applications, whether those apps are Microsoft Windows-based, mobile, web or software-as-a-service (SaaS); data, including data stored locally or in the cloud, whether it's through Office 365 of Microsoft OneDrive or another file-sharing product; and the network, which offers security, as well as governance and compliance as employees are more mobile and can access sensitive data from different end-points.
The updates to the Workspace product include Workspace End User Experience, which can unify all the desktop, mobile and SaaS applications, company files and data employees need to do their job under a single pane of glass management interface. The company is also adding a single sign-on feature to allow the user to gain access to documents, files and applications, and this feature will work with a number of different identification brokers. On the security analytics front, the updated Workstation service will allow IT more control over which employees can have access to certain documents and applications, as well as the ability to create corporate policies for employee access. Mark Bowker, a senior analyst with the Enterprise Strategy Group, told ECN that since security and cybersecurity is a spending priority for most enterprises, he's not surprises that Citrix started to move in that direction and a bake in some security layers into the service. "If you have apps and data that are moving from different end-points, as well as through different clouds, you really need insight across the system so that you can see the vulnerabilities quicker and try and get ahead of it," Bowker said. However, it's analytics that Hsu said that Citrix has the most to offer since the company's software sits between the end user on one side and the applications and data on the other. Citrix Analytics will work across the company's various offerings, including XenApp, XenDesktop, Xen Mobile and NetScaler, and use machine learning to better gauge what employees are doing with their apps and data. M&A activity is turning the cloud upside down. Find out what you need to know in our special report: Mergers, Acquisitions & IPOs Are Rocking the Cloud. The IT department can then mine that information to create policies for security, or suggest ways to bolster productivity. It can also be used as part of the security component. In addition to the updates to Workspace, Citrix also plans to unveil new partnerships, including one with Microsoft, where the company's Receiver apps will be available through the Windows app store, and allow users to access apps that do not run natively on Windows 10. The company has a similar agreement with Google for its Chrome operating system. Citrix is also partnering with Hewlett Packard Enterprise, Cisco and Nutanix to offer hyperconverged infrastructure in the cloud and the company will then sell its products through these offerings. Related posts: IaaS, PaaS Drive Cloud Market Microsoft Buying Deis to Boost Containers & Kubernetes Microsoft Azure Catches Up With Container Networking — Scott Ferguson, Editor, Enterprise Cloud News. Follow him on Twitter @sferguson_LR.
Subscribe and receive the latest news from the industry.
Join 62,000+ members. Yes it's completely free.
You May Also Like
---