A Vast Valley: Tech's Inexcusable Gender Gap
A Vast Valley: Tech's Inexcusable Gender Gap
Tech companies are admitting they have a gender problem that they say they want to fix, but more needs to be done – and faster. No more excuses. The first step is always admitting you have a problem.
Silicon Valley has a BIG problem in its pronounced lack of women -- both in general and in technology and leadership positions in particular. In the past year or so, the tech giants that occupy the Valley, companies like Google (Nasdaq: GOOG), Facebook , Amazon.com Inc. (Nasdaq: AMZN) and Twitter Inc. , have at least admitted they have a problem. And they say they want to fix it, but the question remains, how? And, maybe also, when?
It's not an easy or quick fix, and it isn't helped by the fact that we're starting from a pretty dismal place. According to a March study from the American Association of University Women, in 2013, 26% of computing jobs in the US were held by women, which is actually down from 35% in 1990. We've been trending in the wrong direction.
Many of the traditionally tight-lipped tech companies have released their gender numbers for public dissection in the past year, as well as committed to improving them. In most cases, it's a matter of going from bad to still pretty bad, but the transparency is a good start. Here's a look at the breakdown for Google, Facebook, Amazon, Twitter, Apple Inc. (Nasdaq: AAPL) and LinkedIn Corp. :
Women in Leadership Roles

Source: Company reports & The WSJ's Diversity in Tech
The tech industry isn't alone in its paltry representation of women, but it is significantly worse than most sectors, and most traditional telecom companies are right there at the bottom with them. According to a recent GSM Association (GSMA) survey in which it interviewed 50 telecom companies, females made up less than 40% of the workforce in three-quarters of them. And Gartner Inc. says that the number of female CTOs in the tech industry has remained static at only 14% since 2004.
It's time to get serious about the gender crisis in tech and comms. And, I mean really get serious. Don't just show us the numbers, but do something about it. (See More Women in Tech Is Critically Important.)
Figure 1: Boys' Club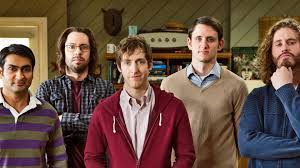 The gender problem in the Valley is so overwhelmingly obvious
that even the HBO show Silicon Valley knew to cast five
young guys to play the characters in the stereotypical
startup there.
The ramifications of ignoring the gender divide could be huge for any company. It's not just about bad PR; not having a balanced workforce can lead to fines, loss of government contracts, the threat of litigation and blows to the share price. What's more, study after study has shown that diversity is simply good for business for the multiple perspectives, backgrounds and opinions it can bring to the table and for the simple fact that it better reflects any company's user base. (See Netflix Ups the Ante on Parental Leave and Vodafone: What's Good for Moms Is Good for Business.)
Recognizing this, Twitter was the latest to put out a blog post at the end of August proclaiming, "We're committing to a more diverse Twitter." The social network shared its company-wide diversity goals as benchmarks for increasing the overall representation of women and under-represented minorities throughout the company. Among the goals, Twitter committed to increase women overall to 35% of its workforce, women in tech roles to 16% and women in leadership roles to 25%.
If you'll look back to the chart, you'll see we're talking about a 1% bump here or hiring 41 additional female employees (unless it instead decides to lay off men to redress the balance). It's lip service -- without the lipstick.
Twitter, by the way, declined an interview, but shared its blog post with us. Amazon and Google had not responded at press time.
For more on the subjects affecting women in the communications industry, visit our Women in Comms site here on Light Reading.
I'm all for transparency, but Twitter's low numbers and even lower goals show how challenging it is to get more women into tech. It also raises the question of whether a quota is the solution. In my opinion, it's not -- it's bad for company culture and employee dynamics.
As was discussed at our recent Women in Comms breakfast, championing real and lasting change requires so much more than that. It needs commitment from the top that goes beyond lip service (or putting lipstick on a pig), examining unconscious biases, creating a culture where women feel welcome (which happens in part by just seeing other women at the top) and making an effort to build a diverse pipeline for recruiting. (See Championing Change: It's a Cultural Thing, WiC Pics: Speak Up & Wear Fabulous Shoes and What Is Your Company's Gender IQ?)
To the credit of the tech giants, they do seem to get this and are doing more beyond just setting public goals. For just a few examples, Google holds workshops on unconscious bias, Twitter is recrafting its job descriptions to have a wider appeal, Amazon supports peer mentoring and Apple spent $650 million on women and minority-owned businesses last year. (See US Earns Top Score for Women Entrepreneurs.)
It's just not enough. I don't have all the answers to what is a huge and institutionalized problem (although we're uncovering them here on Women in Comms site), but it's clear the tech world isn't doing enough. If they were, the numbers would show it. (See Light Reading Presents: Women in Comms.)
— Sarah Thomas,

, Editorial Operations Director, Light Reading
Subscribe and receive the latest news from the industry.
Join 62,000+ members. Yes it's completely free.
You May Also Like
---