Service Providers Should Adapt to Open Source World

Comment (0)
Finding differing opinions on open source with the telecom industry isn't hard to do, especially where orchestration is concerned. That's why a panel discussion on open source and MANO at the Light Reading NFV-Carrier SDN event in Denver seemed an odd place to find such outspoken agreement on that topic, but there it was.
Four smart guys, none shy with their opinions, all seemed to agree on key points around open source, the need for standards, the role of vendors and the lack of internal software skills. But they also agreed that telecom service providers are struggling a bit to understand how to proceed in an open source world and still need some fundamental internal changes.
For example, the four service provider experts dismissed the need to wait for standards on most fronts, saying that just slowed them down.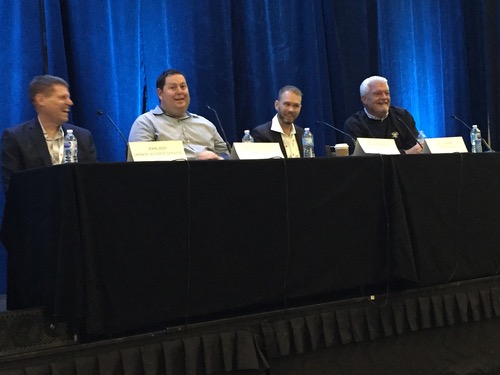 "I'm completely annoyed that we require a standard before we start the work," said CenturyLink Inc. (NYSE: CTL)'s Bill Walker, senior director of network architecture. "Let's just start developing and see what works, and if we donate back [to an open source effort], that's wonderful." His fellow panelists, representing CableLabs , Telus and Orange Business Services , rushed to agree.
"The whole point of open source is you get that broad perspective, but in order to do that we have to, as a community, [dismiss the notion] that we need this rigid pre-defined standard before we move forward," said Bryce Mitchell, the director of NFV, cloud, innovation labs and support networks at Telus Corp. (NYSE: TU; Toronto: T). "That's really difficult for us to do and to convince the leadership to do as well. We struggle internally." (See Telus: Let's Push to Cloud Native Now.)
Not everyone at the Denver event was singing from that score, of course. Almost exactly 24 hours after Telefónica 's Antonio Elizondo head of network virtualization strategy and technology, kicked off the same event with a keynote that stressed the importance of common information models if the telecom sector is to be able to orchestrate its newly virtualized infrastructure, saying the industry should come together on those standards. (See Telefónica: OSM Paves the Way for Network Slicing and Telefonica's Elizondo: OSM Offers Best Information Model for Service Orchestration.)
APIs as standards
The open source panel agreed on much more, however, brushing aside the need for agreement on orchestration in general, pointing out that having applications programming interfaces (APIs) and abstraction layers was enough to move forward.
"APIs are the new standards," noted Randy Levensalor, lead architect of wired technologies at CableLabs, particularly when it comes to making equipment from different vendors work together. He had earlier noted that abstraction layers between different layers of a network functions virtualization (NFV) architecture aren't that hard to do and can suffice in the near term for lack of standards approaches.
That thinking isn't quite in sync with the view of some that carrier choices today are limited to the two open source options, ONAP and OSM (See Is Open Source the Right Approach for NFV Orchestration?)
The one area where the keynote panel felt there was the need for standards is where networks touch each other and need to communicate -- the network-to-network interfaces which enable commercial agreements between operators that enable end-to-end services.
John Isch, director of the network and voice practice in North America for Orange Business Services, said there are multiple levels at which networks come together -- including the commercial level -- where processes need to be standard for global companies such as his to deliver end-to-end services.
He also pointed to the fact that large enterprises still want customized products and while things such as service portals can automate processes based on commonality of what most customers need, it's also possible for an operator "to get stuck in an endless cycle of updating our portal" to meet that customization demand. Automation will make customization trickier, he explained.
Levensalor thinks open source can help there, too. Operators can hand off open source code to their customers and let them hire consultants to customize it. There could be a new industry that grows up in that space, and that could relieve the investment burden for operators, he noted.
Telus' Mitchell likes that idea, which he called "a monumental change in thinking, "basically you are saying, 'Here's our secret sauce, go download it and have fun' -- that's very different."
CenturyLink's Walker agreed that being more flexible and willing to change is also a hallmark of the open source era. He noted that his long-stated belief that his company would never deploy unsupported open source, using vendor distributions instead, has now been undermined by the reality that CenturyLink is creating some of its software tools based on open source code its people downloaded.
"It's as good as commercially available software 20 years ago," Walker commented. That gives the operator more options to exploit for what it needs.
The challenges
The panel wasn't a total open-source lovefest, however. Moderator Roz Roseboro, principal analyst, cloud infrastructure and management for Heavy Reading, noted in her opening that, in general, communications service providers would like to see fewer open source groups, saying it's impossible to engage with and support the growing proliferation of efforts. Her latest survey showed 46% would prefer consolidation of open source groups.
And the panel generally agreed that, particularly where network management and orchestration is concerned, the complexity of the problem has led to greater challenges for open source operations.
---
Boost your understanding of cable's pioneering virtualization efforts, examine early trials and pilots and look at what comes next. You're invited to attend Light Reading's Virtualizing the Cable Architecture event, a free breakfast panel at SCTE/ISBE's Cable-Tec Expo on October 23 in Atlanta.
---
Walker pointed out that newer open source efforts build on previous ones -- OpenStack is built on top of Linux, which is already a complex open source system, he noted -- and maintaining the individual branches of the larger tree gets trickier.
"The problem MANO is trying to solve it has to interact with so many different pieces and layers, there is no open source of traditional vendor solutions that tackles that, it's the nature of the beast," Mitchell noted. "That's why we've seen lag in vision for where we want to be with orchestration."
As Walker pointed out, today's network operators have "tangled multiple OSSs that have never fully migrated or are in a constant state of migration," meaning every time something needs to change, the operator faces a heavy bill. Setting a more modest goal of "designing all of my software to be modular and replaceable would save me a lot of money and in control of vendor relationships," he commented. That's a more modest goal but a more realistic one.
Network operators also need to learn the ways of the open source community, and not assume that using open source software is automatically going to save money. Benefiting from open source requires a different type of investment, in time and talent, panelists said, rather than in capex dollars paid directly to vendors.
That includes taking the time to get to know the software developers driving projects, being willing to devote software developers to that effort and to contributed code, they agreed. Engagement is essential.
Getting an open source group to drive a project in the direction a network operator wants to go may take a different kind of investment altogether, as Levensalor jokingly noted, "open source runs on beer."
— Carol Wilson, Editor-at-Large, Light Reading
PARTNER PERSPECTIVES
- content from our sponsors
GUEST PERSPECTIVES
- curated contributions