Following negotiations over a long-running VoIP patent infringement suit, Sprint and Cox have settled their differences and announced a multi-year deal that will give Sprint access to Cox broadband infrastructure throughout the cable company's service footprint. The agreement will significantly boost Sprint Corp. (NYSE: S)'s backhaul capacity as it seeks to expand its existing services and prepare for future wireless deployments.
There is wide consensus that wireless carriers need to densify their networks to support more high-capacity, short-range communications. While the large mobile carriers often boast about their spectrum holdings, they have also recognized in recent years that they need more wireline infrastructure to backhaul the traffic that spectrum can carry. That fact has led to a lot of speculation over potential tie-ups between the mobile operators and their cable counterparts. No major mergers have yet taken place, but that hasn't stopped continued discussions. (See Charter, Comcast Eye Sprint Tie-Up – Report.)
Figure 1: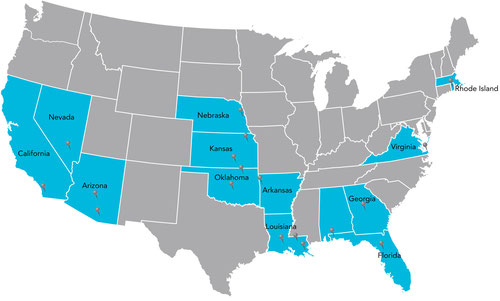 Coverage map above shows the states where Cox operates.
Meanwhile, the partnership between Cox Communications Inc. and Sprint Corp. (NYSE: S) is also not the wireless carrier's first deal with a cable company. In November, the mobile operator announced it had signed an agreement with Altice USA , giving it access to the cable company's wireline assets. In that case, however, Altice also gained full access to Sprint's mobile network with the opportunity to launch a mobile virtual network operator (MVNO) service. (See Altice & Sprint Ink MVNO Deal.)
There is no mention of an MVNO agreement in the Sprint/Cox press release. A Cox spokesperson more blandly characterizes the deal as a chance to provide "additional services to Sprint that we offer today (wireless backhaul, small cell, etc.)."
The spokesperson continues, "They (and other carriers) will continue to be one of our largest customers."
While Cox hasn't revealed plans to launch a mobile service, it is now the only cable operator among the top four in the US that hasn't. Comcast Corp. (Nasdaq: CMCSA, CMCSK) kicked off its Xfinity Mobile MVNO service last year, and Charter Communications Inc. plans to follow suit in 2018. Altice hasn't said exactly how it will make use of its partnership with Sprint, but some kind of mobile service is in the works.
If Cox were to decide to start an MVNO relationship with Sprint, it wouldn't be the first time for that either. Cox was among several operators to team up with Sprint in a joint venture called Pivot more than a decade ago. However, that partnership disintegrated in 2008. (See MSOs Pivoting Away From Sprint JV.)
Given the patent lawsuit underlying today's announcement, the new deal between Cox and Sprint may be less about the two companies cozying up to each other, and more about Cox getting Sprint off its back in court.
— Mari Silbey, Senior Editor, Cable/Video, Light Reading
Subscribe and receive the latest news from the industry.
Join 62,000+ members. Yes it's completely free.
You May Also Like
---