SANTA CLARA, Calif. -- NFV & the Data Center -- NFV gives NTT America the flexibility to provide global cloud services and connectivity to the world's biggest enterprises.
"It allow us to specialize and provide custom solutions for our customers," Chris Eldredge, executive VP data center services, NTT America Inc. , said in a presentation here.
NFV helps NTT America provide specialized network services. Those services can be easily applied, monitored and rapidly changed. NTT can customize application performance and service levels for specific users and profiles. And NFV helps NTT extend enterprise data centers into the cloud, Eldredge said.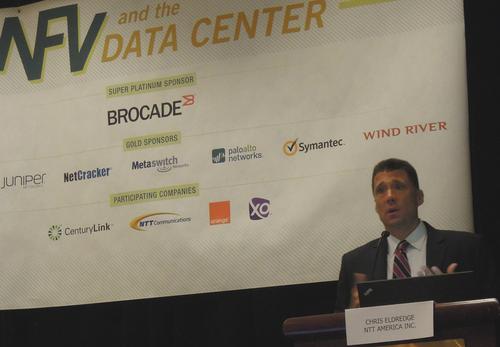 "What's NTT focused on? Scale," Eldredge said. NTT provides connectivity in 196 countries and regions. The company recently won an enterprise customer with 177 locations. Another very large customer has 128 locations.
To serve those companies' needs, NTT needs to be agile. Enterprise companies use cloud for development and test applications. "It's bursty in nature. They turn it up and turn it down," Eldredge said. For example, on New Year's Day, NTT spun up and down 200,000 virtual machines to meet demand for Europeans watching soccer matches on mobile devices.
---
Need to know more about network functions virtualization and the cloud? Then check out our coverage of this week's NFV and the Data Center event
---
Big as those companies are, NTT is big enough to match them -- or bigger. NTT is located in 79 countries, with 242,000 employees, and $112 billion revenue last year, making it the third-largest global telecom provider behind Verizon Communications Inc. (NYSE: VZ) and AT&T Inc. (NYSE: T) (In the previous year, NTT was number one, but lost standing due to the changing exchange rate between yen and dollars, Eldredge said.) NTT spent $2.5 billion in R&D last year.
NTT was the first enterprise cloud to support SDN, deployed in 14 global locations, Eldredge said. "Our customer base is different," he said. They're not just in North America; they sprawl over the world, including Australia, Asia and India. (See NTT Taps SDN to Enhance Cloud Flexibility.)
In May, NTT Communications Corp. (NYSE: NTT) launched NFV-based commercial services that enterprises can activate themselves and pay for on a per-use basis. The services, developed by Virtela Technology Services Inc. , which NTT acquired in January, don't require function-specific CPE. They include firewall, application acceleration, IP-Sec-based VPN gateways and cloud-based SSL VPNs. (See NTT Launches NFV-Based Cloud Services.)
— Mitch Wagner,

, West Coast Bureau Chief, Light Reading. Got a tip about SDN or NFV? Send it to [email protected]