Leading Lights 2018 Finalists: Most Innovative NFV Product Strategy

Comment (0)
The Most Innovative NFV Product Strategy category is one of the most competitive in the Leading Lights roster, always attracting a significant number of focused entries.
Quite simply, this category seeks entries from vendors that have "devised the most innovative network functions virtualization (NFV) product strategy during the past year."
And while NFV has been a focus for hundreds of vendors for more than five years, there's obviously still plenty to be done and many avenues for vendors to explore as they seek to impress network operators and large enterprises with their NFVi, virtual network function and orchestration developments.
This year's shortlisted companies in this category are:
Accanto Systems -- StratOSS Lifecycle Manager (aka IBM Agile Lifecycle Manager)
Affirmed Networks -- 5G Mobile Core
Amdocs -- Amdocs NFV Powered by ONAP
Casa Systems -- Axyom 5G Core
ENEA -- NFV Edge Suite
EnterpriseWeb -- CloudNFV Solution
Huawei Technologies -- Huawei Cloud Core Network Solution
Mavenir -- CloudRange
Netcracker Technology -- Hybrid Operations Management for Netcracker 12
netElastic -- NFV Software
RAD -- vAccess
VMware -- vCloud NFV OpenStack Carrier Edition

The winners of all 24 Leading Lights awards and the three Women in Comms awards, as well as the identities of this year's Light Reading Hall of Fame inductees, will be announced at the fantabulous Leading Lights dinner/party, which will be held during the evening of Monday, May 14, at the Brazos Hall in Austin, Texas, following a day of pre-BCE workshops. Then, the morning after the awards party, the doors open to this year's Big Communications Event (BCE) at the Austin Convention Center.

To find out which companies were shortlisted across all of this year's Leading Lights categories, please check out Leading Lights 2018: The Finalists and Congrats to 2018's WiC Leading Lights Finalists.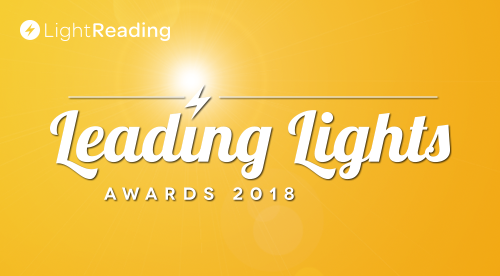 So, let's take a quick look at why these 12 companies made the shortlist.
Accanto Systems -- StratOSS Lifecycle Manager (aka IBM Agile Lifecycle Manager)
Accanto's StratOSS Lifecycle Manager arrived in the virtualization market courtesy of IBM, which launched it as Agile Lifecycle Manager (ALM) last fall as the result of "an unprecedented OEM agreement" between the Accanto, a small Finnish company of 40 staff, and the ICT giant. IBM sells the product, which enables operators to simplify and automate the production of NFV services, exclusively worldwide.
The Agile Lifecycle Manager decreases the time it takes to design and test a service, simplifying the production process by using artificial intelligence tools built into the service itself: The service can then self-diagnose, deploy, monitor and maintain, relieving pressure on the operations team, which would normally need to spend time healing, upgrading and sustaining virtual network functions.
Accanto believes that, in partnership with IBM, it has managed to create a blueprint for the NFV lifecycle and in a way that is aligned with other industry models such as ONAP.
Affirmed Networks -- 5G Mobile Core
Affirmed's 5G Mobile Core, which has been built on a web-scale architecture, has been developed to: Improve time-to-market for services; provide unrivalled performance throughput (over 150 Gbit/s through a single Intel Xeon server); reduce operational costs by introducing automated processes; support the new 5G NR standard; enable network slicing with the Affirmed Virtual Slice Selection Function (vSSF); integrate virtual probes; and enable deployment in a distributed cloud/edge computing environment.
The vendor, which has used its experience of delivering virtualized functions to more than 78 customers including many of the world's top carriers, claims it already has its virtualized 5G mobile core in trials with operators in North America and the Middle East.
Amdocs -- Amdocs NFV Powered by ONAP
Amdocs has leveraged its unique relationship with ONAP – it is the leading vendor contributor of code to the open source project – to develop Amdocs NFV powered by ONAP, the industry's "first purpose-built, cloud-native, carrier-grade NFV portfolio based on open source." (See Amdocs Unveils NFV Portfolio Based on ONAP and Amdocs Claims ONAP First-Mover Status.)
The system is "modular and integrated with BSS to accelerate service design, virtualization and operations-on-demand, laying the foundation for new NFV use cases" and future technology deployments, particularly those related to 5G developments.
Using its experience from having been a key partner in developing AT&T's ECOMP, which formed the foundations of ONAP, Amdocs has its ONAP software in production with two major operators, one of which is Bell Canada, with which Amdocs has developed a "completely new open source business model" based on a "co-creation partnership" instead of the previous vendor-customer relationship. "Bell's ONAP-based NSO platform for production and operational readiness is the first network automation use-case successfully in production," notes Amdocs. (See Bell Canada Reaches Milestone in Network 3.0 Vision With (ONAP) & Hook-Up With Amdocs, Bell Canada Pioneers Production ONAP and Monetizing ONAP, the Amdocs Way.)
Casa Systems -- Axyom 5G Core
Casa has been developing a series of virtual network functions (VNFs) from the ground based on its Axyom Ultra Broadband NFV architecture, the latest of which is its Axyom 5G Core. The Axyom products use "common security, subscriber management, RF management and session management functions across multiple applications for cable, wireless and wireline markets." The approach, according to Casa, helps it to "avoid the performance issues that plague developers who 'lift and shift' software from appliances." [Editor's note: Who could they mean??]
The result is superior throughput per CPU, lean compute requirements, superior flexibility (from separated control and user planes) and more.
Casa believes that, with its Axyom 5G Core product, it has "reaffirmed… that an NFV product strategy using its single Axyom Ultra Broadband software architecture brings the benefits of virtual compute optimization to all its VNFs across multiple applications and industries."
ENEA -- NFV Edge Suite
The Enea NFV Edge Suite is a comprehensive software suite for the network edge, optimized for universal CPE, SD-WAN and 5G use cases.
It comprises: Enea NFV Access, a slim uCPE platform that can be deployed without the need for OpenStack; Enea uCPE Manager, a management tool that includes VNF onboarding, lifecycle management, zero touch provisioning and alarms/events management; Enea NFV Core, a virtualization platform for edge data centers; Enea Qosmos Classifier, a service classifier enabling service function chaining based on traffic rules (up to Layer 7).
Enea believes its edge suite can help operators deploy more quickly, reduce costs (thanks to high compute density that is optimized for both x86 and ARM white box edge devices), minimize lifecycle costs due to process integration, prevent vendor lock-in thanks to standards-based open interfaces, and enable easy device management.
EnterpriseWeb -- CloudNFV Solution
EnterpriseWeb's CloudNFV solution streamlines and automates a dynamic service delivery lifecycle by using a model-driven methodology to enable rapid VNF onboarding, deployment, integration and management over a heterogenous infrastructure.
It enables what is currently a tricky, complex, time-consuming and resource intensive process that involves writing additional code to become a much easier, swift, automated process that does not require any hard coding, so feeing up resources and staff to focus on other important tasks.
The Cloud NFV solution, which in total is only 75 Gbytes of code, has been developed using a cloud-native approach, where products may be rapidly deployed with minimal systems resources and third party software. Each software element is a microservice that is automatically integrated with the other products to provide a flexible, highly scalable automation solution. The solution can be deployed anywhere in the network, including in CPE, virtual machines or containers. (See EnterpriseWeb: Early to NFV, Finally Ready for Take-Off?.)
The CloudNFV solution is under intense examination at a number of Tier 1 operators, which have already tested the software against the vendor's claims. (See EnterpriseWeb Onboards a Virtualization Vet.)
It was also shown to live up the claims of the EnterpriseWeb team at the ETSI NFV PlugTest #2 in January of this year, where a single EnterpriseWeb technologist onboarded 17 VNFs from 14 vendors in two days without a single line of code being written or modifications being needed to any VNF. Once onboarded, the EnterpriseWeb software "enabled intent-based, composite services to be deployed and managed over a multi-vendor, multi-VIM, multi-cloud and multi-NFVi environment."
Huawei Technologies -- Huawei Cloud Core Network Solution
Huawei's Cloud Core Network Solution is designed to onboard communications services into a cloud platform in an efficient and resilient way thanks to its cloud-native NFV infrastructure that helps to adapt the virtual network function (VNF) software to the underlying platform.
It incorporates automated processes, including zero-touch fault management and root cause analysis that deploys AI capabilities, and a DevOps approach. In short, the Cloud Core Network Solution is designed to enable the migration of CSP networks and services to a next generation, cloud-oriented environment that will meet the needs of 5G strategies.
Mavenir -- CloudRange
CloudRange, a container management and orchestration platform for NFV deployments that is designed for 5G-ready distributed cloud environments, enables CSPs to launch and scale new services more quickly and efficiently, while reducing capex and opex with automation.
Mavenir believes its system can introduce true cloud-optimized business models that help avoid vendor lock-in and encourage the deployment of open, COTS-based network elements by supporting all major SDN developments. Its VNFs are "stateless and packaged with aggregators and load balancers" that support a microservices architecture and support end-to-end service assurance based on integrated analytics, closed loop monitoring, full lifecycle management and service orchestration.
Netcracker Technology -- Hybrid Operations Management for Netcracker 12
Netcracker's Hybrid Operations Management (HOM) was developed to simplify the transition to cloud, 5G and IoT with a focus on service layer automation over hybrid networks, the vendor notes, as it brings together operations and a control suite that cross both physical and virtualization domains.
It includes service and network orchestration, VNF management, planning, assurance, analytics, SDN control and license management capabilities that are pre-integrated with a service design automation and collaboration environment. It is built to run on a single cloud-ready platform with a microservices architecture and can support the distributed and dynamic nature of hybrid services using a distributed set of orchestration and management functions for specific, contained domains (an approach called domain orchestration).
netElastic -- NFV Software
netElastic has developed a suite of virtual network functions, including vBNG, vRouter, vPE (virtual MPLS Provider Edge router) and SD-WAN/vCPE with Orchestrator, all of which are designed for distributed telco cloud environments.
netElastic has focused on enabling massive scalability, high performance and multi-tenancy offered with a 'pay-as-you-grow' license model that aligns costs to service revenues.
And with existing service neds in mind, the SD-WAN/vCPE product "leverages existing IP/MPLS capabilities like virtual routing… to seamlessly integrate with existing carrier networks. Carriers can use low-cost internet access links with IPSec-based overlays to offer IP/MPLS-like benefits at substantially lower costs. SD-WAN/vCPE also supports native MPLS switching to allow for easy integration into an MPLS-enabled backbone."
netElastic 's products are based on open source, open standards and open APIs and the company provides Netconf APIs to all of its VNFs and provides documented REST APIs for its Orchestrator to enable integration to, and visibility with, existing OSS/BSS ecosystems.
RAD -- vAccess
RAD's vAccess is a VNF for network edge virtualization. It "upgrades any white box operating system to carrier-grade level by adding VNF assurance capabilities and missing network interfaces as xDSL, PON and legacy TDM, when combined with RAD's pluggable physical network functions (P-PNFs)," the company notes.
RAD adds that most white boxes lack many of operations and maintenance (OAM) functions required by operators and unsuitable connectivity options: vAccess deals with these shortcomings by supplementing universal CPEs (uCPEs) with "universal access, enhanced performance monitoring and diagnostics, legacy TDM services, and timing synchronization 1588 support on a modular 'plug-where-needed' basis."
RAD says it has helped a Tier 1 operator in North America extend its uCPE solution beyond its fiber access network to provide its customer base with a consistent portfolio of services, even over traditional TDM PPP/ML-PPP circuits that still make up 20-30% of its existing infrastructure (especially in rural sites). Alternative solutions required the deployment of expensive router appliance hardware in front of the uCPE, complicating the architecture and operations.
vAccess is a typical RAD product – a practical solution that meets the real-world needs of operators.
VMware -- vCloud NFV OpenStack Carrier Edition
VMware's vCloud NFV OpenStack Carrier Edition, which includes VMware's Integrated OpenStack as an NFV Virtualized Infrastructure Manager (VIM), is fully integrated, tested and certified with VMware's NFV infrastructure platform. (See VMware Debuts Integrated OpenStack-Carrier Edition.)
Using VMware Integrated OpenStack, CSPs can deploy, upgrade and operate an OpenStack cloud on top of VMware's NFVi platform. With this release, VMware can provide CSPs a swift path to production, carrier-optimized OpenStack. It offers native support for container-based VNFs through integrated container management, enabling VM- and container-based VNFs to run on a single VIM.
— Ray Le Maistre, Editor-in-Chief, Light Reading