Telcos vs. Amazon: The 'Third Network' Race
If the Internet is a sprawling series of "best effort" tubes and today's Carrier Ethernet is the private highway for enterprise communications, then the concept of a "Third Network" proposed by the Metro Ethernet Forum is a little bit of both: ubiquitous, but reliable in security and performance.
The vision by the MEF is for a new type of network that enables on-demand services, supports multi-domain technologies (wired and wireless access networks), allows demarcation to be separated from a single physical location and emphasizes virtualization for multi-layer and multi-service programmable infrastructure.
"Now what we see is the network moving to an application-centered [approach]," said Rami Yaron, VP of strategy and business development at Telco Systems (BATM) and co-chair of the global marketing committee for the MEF, at a workshop on Carrier Ethernet for the Cloud preceding last week's Big Telecom Event.
Yaron was waving the MEF flag, outlining the tenets of the Third Network initiative and discussing some of the recent progress made in bringing the concept closer to viability.
Yaron also gave an example of how this new type of network could be used. A company might need to host a high-bandwidth video conference call one day for a total of two hours. In a world of programmable and on-demand network services, the company would be able access the required high-bandwidth and low-latency connection just for the period of time needed to complete that conference.
According to the MEF's supporters, there are a number of reasons why telecom operators should be supporting the Third Network initiative -- not least of which is that they risk having a non-traditional communications company beat them to the punch.
"Amazon is very, very close to having a globally competitive network that can compete with telcos... very, very close," said Leonard Sheahan, senior director at Oracle Corp. (Nasdaq: ORCL) during another BTE session on cloud and Ethernet services. Citing the biggest threats to traditional carriers, Sheahan brought up names other than Amazon.com Inc. (Nasdaq: AMZN), including Facebook , Google (Nasdaq: GOOG) and even Cisco Systems Inc. (Nasdaq: CSCO).
---
Need to know more about the management and orchestration of virtual network functions? Then check out our dedicated NFV MANO content channel here on Light Reading.
---
Sheahan also gave his own very succinct explanation of what exactly the MEF is trying to do. As part of Carrier Ethernet 2.0, the MEF has created a standard External Network-to-Network Interface, or ENNI, for enabling Ethernet services that span multiple physical networks.
"The goal," said Sheahan, "is to be able to expose to an enterprise customer an offer that gives them Ethernet connectivity both across your network and across multiple networks."
However, the MEF is not only driving interconnection between carriers, but also defining APIs that link that connectivity to different types of technologies. These technologies include everything from specific business applications to OSS/BSS systems and network orchestration tools. Taken together, they help to create a framework for Lifecycle Service Orchestration (LSO).
At TM Forum Live! event in Nice, France, earlier this month, Sheahan was part of a demonstration designed to show the "art of the possible" in well orchestrated network-as-a-service implementation. The demo was powered by Oracle, InfoVista SA and Juniper Networks Inc. (NYSE: JNPR), and "championed" by the MEF, PCCW Ltd. (NYSE: PCW; Hong Kong: 0008), Axtel S.A.B. and Charter Communications Inc. 's Spectrum Business division. It showed how a customer could request price quotes for NaaS (network-as-a-service) offerings through a single portal, configure the desired service across multiple networks managed by different operators, and ultimately place an order and have it fulfilled. (See TM Forum Catalysts Target NFV Management.)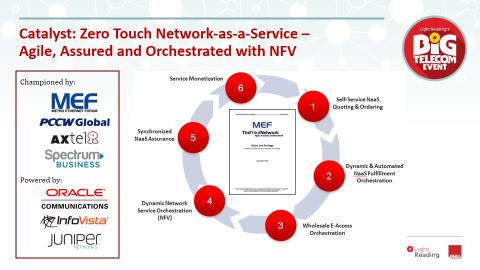 Sheahan said that as the demo evolves, it will also link the customer portal to service assurance and monetization platforms, creating a virtuous cycle of network orchestration.
Not everyone is approaching network-as-a-service in the same way. NTT Communications Corp. (NYSE: NTT) in Asia has moved ahead with a proprietary NaaS solution rather than wait for standards to develop. However, the strategy is not without risk: Sheahan suggested that while NTT's solution works, it may not have the agility or service assurance capabilities customers want. "It's like a car that can go really fast, but the steering doesn't work," said Sheahan.
That is an analogy that NTT Comms' new CEO might understand but not appreciate quite so much. (See NTT Comms' New Chief Likes the Fast Lane.)
There's also the possibility that NTT's solution will diverge too far from the rest of the market. Continuing with the analogies, Sheahan noted that with NTT's strategy, you move forward "and hopefully you don't get cut off from the wagon train" when the standard is eventually established. In other words, once the MEF and the rest of the industry catches up, NTT will have to hope that its solution isn't rendered irrelevant.
Everyone in the communications sector agrees that the industry is moving toward an automated cloud-centric model. How quickly it gets there, however, is another issue altogether.
In yet another session during the Light Reading workshop on Carrier Ethernet for the Cloud, MEF Director of Communications and Research Stan Hubbard presented the results of a recent survey of its service provider members. Of the more than 50 that responded, 61% said they expect bandwidth-on-demand services to be common by the end of 2016, but other dynamic services, such as automated self-service provisioning, are expected to trail.
The top three challenges that operators cited for implementing dynamic services were: tighter integration of IT and network operations; governance of off-network elements; and automation in general.
Oracle's Sheahan also suggested that a proliferation of standards organizations could be an obstacle in further developing the Third Network initiative. However, he expressed confidence in recent attempts to bring coherence and unity to those standards efforts. Specifically, Sheahan recognized the formation of the New IP Agency, which was introduced by Light Reading and the European Advanced Networking Test Center AG (EANTC) at this year's Big Telecom Event, as a step in the right direction. The NIA is set to launch early next year, and has already gained vocal support from numerous industry leaders including executives from Alcatel-Lucent (NYSE: ALU), Cisco, CenturyLink Inc. (NYSE: CTL), Deutsche Telekom AG (NYSE: DT), and Google. (See The New IP Agency Is Born at BTE.)
The New IP Agency is meant to act as a one-stop shop for industry-level communication, testing and education around key network virtualization topics.
How does that fit in with the Third Network initiative? The NIA is being designed in part to help bring the work of such initiatives from demo concept to field-tested reality.
— Mari Silbey, Senior Editor, Cable/Video, Light Reading
PARTNER PERSPECTIVES
- content from our sponsors