CSPs Still Puzzling Over NFV Business Case

Comment (0)
Almost half of communications service providers globally have yet to find a business case for virtualization, according to the latest Digital Transformation Tracker from the TM Forum. The same report shows that transforming network operations remains the major drag on efforts to become digital operators.
The TM Forum survey of 160 individuals from 66 CSPs conducted this past summer shows that most are struggling with network transformation, even though many (44%) think it's essential to their overall digital transformation process. They are also struggling to adopt new ways of working within their network operations, with 67% admitting they have not introduced DevOps, considered important to become more agile and less siloed, in network teams at all.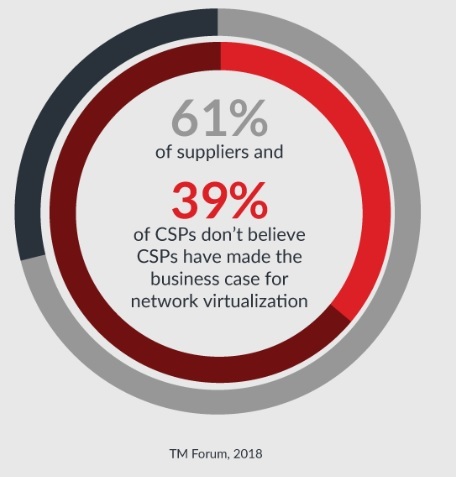 By contrast, 77% said DevOps has been successfully deployed in their IT teams, according to the Forum report, which can be downloaded here.
The tracker, which is done twice yearly, also reveals a significant disconnect between different parts of a CSP's business, including between network and IT teams and between the technology side of the house and the consumer and enterprise lines of business. While the technologists understand digital technologies and capabilities, the report notes, they don't always have the support or credibility within the wider business to lead the way.
"Our technical team believes we are well along the way to transformation," the online report quotes one survey respondent saying. "The business team has absolutely no idea what digital transformation means to them and their work. In my opinion, it feels like the technical team is using this transformation as a way to grab power within the organization."
One of the problems, says TM Forum Chief Analyst Mark Newman, is that CEOs don't have the confidence in their IT staff to lead a digital transformation effort.
"There is a legacy perception of the capabilities, particularly of the IT business," he says in an interview. "And so, while we may understand that the IT function gets cloud, uses cloud, it is not necessarily a given that from the CEO's level, that they think that is the right starting point. Network has a much higher profile in the business than the IT side. There is less of an understanding of the IT side of the business, it's often seen more as a cost on the business rather than generating future revenue potential."
Newman says CIOs need to be more proactive in reaching out beyond their existing organizations to make the digital transformation case and support and enable other lines of business. He notes that TM Forum is working with the CIO community to encourage them to do so.
The TM Forum Digital Transformation Tracker cites two other reasons network transformation is lagging, including the fact that there is still "a loose definition and interpretation of what a digital transformation program involves." In addition, it says, there are "different objectives of network transformation programs and the constantly-evolving timeframe for network virtualization and cloud adoption."
Legacy OSS/BSS systems remain the biggest challenge to network transformation, according to 60% of respondents, while 56% ranked security vulnerabilities as a major issue and 52% were concerned with how long it's taking standards to mature.
And now, the good news
There were some glimmers of positive news buried in amongst the grimmer stuff: Virtualization is at least moving in the right direction, with about one third of CSPs surveyed saying they are deploying NFV in the packet core and 36% reporting deployment at the mobile edge or as virtual CPE. The number of survey respondents admitting to having no timetable for virtualization also fell from 30% a year ago to 23% this year.
TM Forum's CSP respondents were dominated by non-North American operators, with 34% based in Asia Pacific, 24% in Europe and only 3% in North America.
---
How will service providers enable automated and efficient network operations to support NFV & SDN? Find the answers at Light Reading's Software-Defined Operations & the Autonomous Network event in London, November 7-8. Take advantage of this opportunity to learn from and network with industry experts – communications service providers get in free!
---
The report showed more CSPs have started digital transformation programs in the past year, with 44.5% saying they are just getting started, up from 40%, and not a single company claiming that digital transformation is not necessary for success. Still, only roughly one quarter said their companies are "well along the road and reaping significant benefits" while the same number said they are still in the planning process.
More than 60% said they believe they can successfully complete a digital transformation process. But that is down from more than 70% in the two previous trackers while pessimism is rising, up from about 8% to 14%.
Newman says he was struck by the wide diversity in views of NFV among CSPs, with larger operators tending to see network virtualization as an integral part of the digital transformation process and the need for major internal culture shifts as well.
"There is also a significant number of respondents who see virtualization as purely being taking specific functions and virtualizing them, like vCPE, and it's not having a broader relevance than that, and we see a third view from an end-user perspective and how people can use virtualization to better serve customers," he says. "When we survey CSPs, we are surveying the whole community, it is quite apparent while you have big operators making certain commitments around virtualization and cloudification, when you look at the broader landscape of small to medium-sized operators, some of them haven't even started to consider what that means to them yet."
— Carol Wilson, Editor-at-Large, Light Reading