Where Does Comcast Really Stand on Paid Prioritization?
Where Does Comcast Really Stand on Paid Prioritization?
Words matter. Internet service providers have kicked off a storm of criticism by lobbying for the repeal of the 2015 Open Internet Order. However, many ISPs contend that they're not against net neutrality principles; only the right of government to regulate their business under Title II of the Communications Act.
Even that net neutrality commitment has come under fire, however, with Comcast Corp. (Nasdaq: CMCSA, CMCSK) becoming the target this week of several journalists reporting that the company has backed away from a promise to forego all paid prioritization practices. Paid prioritization is the idea that customers could pay an ISP more money to give their traffic preferential treatment over the traffic of others.
Back in 2014, Comcast EVP David Cohen said in a blog post that the company concurred with President Barack Obama's administration that there should be no paid prioritization. Specifically, Cohen said "No paid prioritization. We agree -- and that is our practice."
In 2017, Comcast's language has softened somewhat with the company stating, "We will not block, throttle, or discriminate against lawful content." Comcast has also promoted tweets that instead of reiterating the bright line rules of the Open Internet Order -- which say no blocking, no throttling and no paid prioritization -- say "We won't block. We won't throttle. We'll be transparent."
Figure 1: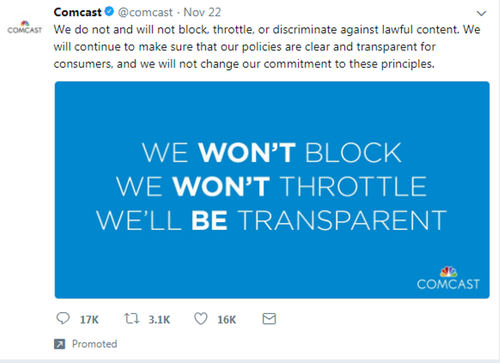 Importantly, a Comcast spokesperson this week has also gone on the record to address criticism by clarifying that "Comcast hasn't entered into any paid prioritization agreements. Period. And we have no plans to do so."
That statement is consistent with earlier declarations by the company, which also said in a filing with the Federal Communications Commission (FCC) in July that it supports "No anticompetitive paid prioritization."
So why the parsing of words? And why are other ISPs similarly trying to dance around the topic of paid prioritization?
Many opponents of the paid prioritization language argue that there may be reasons to prioritize some forms of traffic over others. Currently, the Open Internet Order negotiates that issue by defining some Internet services as Broadband Internet Access Services (BIAS services) and some as non-BIAS services. Non-BIAS services include things like dedicated business network access and also managed applications like voice-over-IP and managed IP streaming video delivery -- i.e. services that are provisioned separately from standard, mass-market consumer Internet access. However, the FCC hasn't delineated every service that might need or want separately-provisioned network support as non-BIAS. Not to mention, there are plenty of applications that don't exist yet today that might fall into this category. (Think future health services, real-time vehicle management, etc.)
The situation will only get more complicated with the arrival of 5G, as Light Reading Editor Dan Jones has pointed out. Network slicing is touted as one of the major benefits of the new wireless standard, and that will allow operators to provision access specifically according to the needs of different types of applications... or, theoretically, to the specifications of applications from different providers. (See How 5G Could Digitally Divide in a Post Net Neutrality World.)
The bottom line is that ISPs want to keep their options open because no one yet knows where the market will go.
For more fixed broadband market coverage and insights, check out our dedicated Gigabit/Broadband content channel here on Light Reading.
Comcast has actually been one of the most outspoken of the large ISPs regarding its preference for avoiding paid prioritization deals. AT&T Inc. (NYSE: T) said in a blog post over the summer that, "We agree that no company should be allowed to block content or throttle the download speeds of content in a discriminatory manner." However, it made no such statement about paid prioritization.
The legal boundaries for paid prioritization, meanwhile, continue to shift. The FCC is set to vote next month to repeal the 2015 Open Internet Order, which will in theory give ISPs more flexibility to test out new network management policies. Yet, that decision will be fought in court, extending the uncertainty about what ISPs legally should and should not be allowed to do. (See Fed Watch: AT&T, Net Neutrality & More.)
Again, service providers at this point are trying to keep their options open. But while consumer outrage over the net neutrality repeal continues to rise, ISPs are finding the narrow path between forceful declarations against paid prioritization and the desire to keep their options open a difficult line to walk.
It's not likely to get any easier in the near future.
— Mari Silbey, Senior Editor, Cable/Video, Light Reading
Subscribe and receive the latest news from the industry.
Join 62,000+ members. Yes it's completely free.
You May Also Like
---