Roku Targets Amazon With 'Premium Subscriptions'
Roku Targets Amazon With 'Premium Subscriptions'
Expansion to the Roku Channel will enable users to buy subscriptions directly to more than two dozen video services, including Showtime & Starz… but not HBO. Roku is taking a shot at Amazon, and will soon enable users to purchase subscriptions from more than two dozen premium video services, including Showtime, Starz and Epix.
Roku Inc. said the new "Premium Subscriptions" offering for The Roku Channel will support a mix of more than 25 premium services to "select" Roku models in late January, with a phased rollout planned for the coming weeks.
Roku aims to remove some consumer friction from the video subscription process, as Roku will use a "one-click" approach to subscription sign-ups and service management. Rather than requiring users to set up accounts and billing arrangements with each subscription OTT service individually, this new option will enable Roku users to be billed directly by Roku and to set up those subscriptions via the platform itself. Users who take that route will also view that premium content via The Roku Channel hub, rather than through individual apps. Roku is heading in this direction amid a small but growing cord-cutting trend and as consumers look to cobble together their own video service bundles. (See OTT-TV Gains Slow to a Crawl in Q3, but Cord-Cutting Does Not – Analyst.)
HBO is, notably, missing from the Roku line-up, but other premium services to be on offer via The Roku Channel out of the chute include Baeble Music, CollegeHumor's Dropout, CuriosityStream, FitFusion, The Great Courses Signature Collection, Hopster, Magnolia Selects presented by Magnolia Pictures, MHZ Choice, Noggin, Smithsonian Channel Plus, Tastemade and Anime.
Figure 1: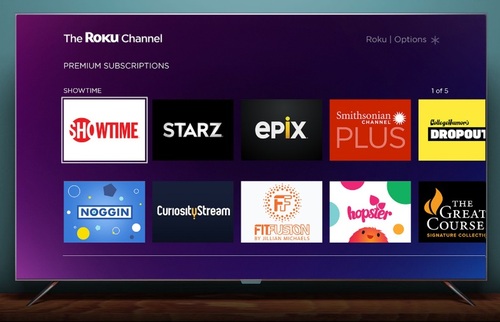 The Roku Channel will soon augment its free, ad-supported content slate by providing direct access to a batch of subscription video services.
Roku declined to comment on any specific plans involving HBO, but an official said the plan is to continue to expand the content offerings on The Roku Channel.
This latest expansion will enable Roku's user base to try to buy premium subscriptions directly through the Roku platform and, therefore, open up a fresh revenue stream for the OTT streaming platform.
The move into subscriptions-based fare also marks a new direction for The Roku Channel, a service offering launched in the fall of 2017 that initially focused on a curated library of about 10,000 free, ad-supported TV shows and movies.
The Roku Channel is a key component of the company's fast-growing Platforms business, which includes advertising, OS licensing and subscription revenue sharing. In Q3 2018, Roku's Platform unit pulled down $100.1 million, up 74% versus the year-ago quarter, well ahead of Player revenues ($73.3 million, up 9%). Roku ended Q3 2018 with 23.8 million active accounts.
Adding video subscriptions will put The Roku Channel in more direct competition with Amazon Channels, an element of Amazon Prime that lets users subscribe to a much broader array of video services that includes HBO, CBS All Access, Starz, Showtime, Shudder and Acorn TV.
Roku's latest streaming gambit is likely to get the attention of pay-TV operators that also sell subscriptions to premium offerings like Showtime and Starz. Comcast Corp. (Nasdaq: CMCSA, CMCSK), meanwhile, has been using its X1 platform to provide access to a growing mix of OTT-delivered SVoD services including Netflix, Amazon Prime Video, CuriosityStream, Xive TV, Hopster, Sling TV (initially for its international programming slate), Brown Sugar and Hopster, among others.
Roku is also thinking outside the box, announcing Wednesday that its mobile app for iOS and Android devices will allow users to stream and view content from The Roku Channel starting in late January. Roku opened up access to The Roku Channel on web browsers last August. (See Roku's Free Streams Go Outside the Box.)
Update: Distribution expansion a key theme in 2019 for SVoD
Whether its via The Roku Channel, Amazon Channels, VRV, or even a pay-TV set-top box integration, extending access to a multitude of platforms has become increasingly important for OTT-delivered subscription VoD services.
"It's all about distribution this year for SVoD services," Colin Dixon, chief analyst and founder of nScreenMedia , said.
He said many of those services realize that the noise level will increase dramatically when AT&T Inc. (NYSE: T)'s WarnerMedia and Walt Disney Co. (NYSE: DIS) launch their respective, new SVoD offerings in late 2019. (See Disney Dispenses Details About Its New Streaming Service and AT&T CEO: Our SVoD Service Won't Be 'Another Netflix'.)
Dixon also believes that Roku could be well served with the "freemium" model it's attaching to The Roku Channel -- it can use ad-supported content to promote premium, subscription offerings. That, he predicted, will cause Amazon to follow suit and bring free, ad-based content to its OTT video platform.
The Amazon Channels model appears to be working well for content partners, as Dixon says that some OTT services are telling him that better than half of new customers are coming in through that door. "It's clearly a model that really works," he said.
The complaint he does hear is that Amazon Channels doesn't provide content partners with the data they want. It's not clear yet how much data Roku will be providing for the subscription piece of The Roku Channel.
The other big question with The Roku Channel's approach with premium subscription service is what the branded experience for those partners will be compared to what they get through their own standalone apps. The latter enables those content players to "maintain a stronger identity," not to mention access to that all-important viewership data, Dixon said.
— Jeff Baumgartner, Senior Editor, Light Reading
Subscribe and receive the latest news from the industry.
Join 62,000+ members. Yes it's completely free.
You May Also Like
---