Red Hat Looks to Take the Pain From Kubernetes & Containers
Red Hat Looks to Take the Pain From Kubernetes & Containers
In a bid to broaden its appeal, Red Hat introduced OpenShift.io, a free online development environment to simplify Kubernetes and containers. Red Hat isn't just for Linux anymore. The open source supplier is serious about the cloud, and wants to take the pain away from software developers deploying applications on Kubernetes and containers.
To that end, Red Hat Inc. has introduced Red Hat OpenShift.io, a free, online development environment to help create, test, and deploy applications in Kubernetes and containers, running on Red Hat's own OpenShift Online cloud, Google Cloud Platform, Microsoft Azure, and Amazon Web Services Inc. (AWS).
Red Hat also introduced Container Health Index, a service to scan containers for security, safety and vulnerabilities, to ensure that containers are fit to run business applications.
And the company also introduced software-designed storage for containers, using Red Hat Gluster Storage with Red Hat OpenShift Container Platform on AWS.
Red Hat's Linux heritage will help it succeed at containers and Kubernetes, Craig Muzilla, Red Hat senior vice president of the application platform business and product portfolio programs, tells Enterprise Cloud News. "We've been shipping a form of containers for 15 years," he says.
Figure 1: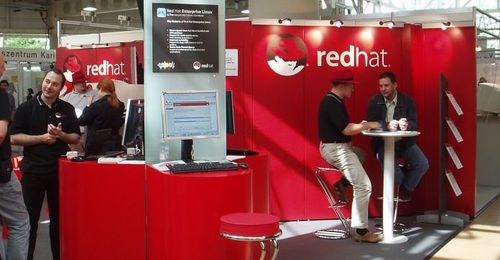 Red Hat, 2004. Photo by Igelball at German Wikipedia GFDL or CC-BY-SA-3.0, via Wikimedia Commons
The OpenShift announcement is Red Hat's bid to broaden its appeal, says Carl Lehmann, 451 Research principal analyst for enterprise architecture, integration, and process management. "What they have tried to do with their latest OpenShift announcement is to package it in such a way that is easy to consume and use -- abstract away the complexity of Docker and Kubernetes," he says.
He adds, "The goal is to appeal to a broader developer base, those folks less technical and familiar with Kubernetes and Docker."
The strategy makes sense, and can help bridge the gap between business and IT, Lehmann says. "Today's enterprises have development teams that are increasingly staffed with business folks, and the whole evolution to DevOps is to push administration, operations and development closer together," Lehmann says. "The people in development want to get closer to business teams and the business teams want to get closer to development. It's one big happy party."
Red Hat is competing with all the major platform-as-a-service providers -- IBM, AWS, Oracle and Pivotal, to name a few. But Red Hat also has partnerships with some of them, Lehmann notes. Rather than compete with cloud providers, Red Hat wants to add value -- particularly in the case of Google, where Red Hat has a close partnership.
Can Google make the grade as an enterprise cloud provider? Find out on our special report: Google's Big Enterprise Cloud Bet. Those partnerships provide Red Hat with competitive advantage. "And they've got a powerful presence in the development community. It's not like they're just entering this," Lehmann says. Red Hat Enterprise Linux powers many cloud services, and most companies use Red Hat's JBoss. Red Hat is a leading OpenStack contributor, and has strong expertise in container application development. "They've got a powerful and extensive pedigree to be able to enter into this market." However, Red Hat has work ahead of it, says Charlotte Dunlap, principal analyst for applications platforms at GlobalData. "Red Hat began early on to weave containerization support into its PaaS, and has some intriguing ideas for furthering those efforts, i.e. through microservices tools to help with adoption," Dunlap tells Enterprise Cloud News in an email. However, she says, she's "a little concerned they haven't been more vocal" on their serverless computing strategy, as DevOps requires these more advanced advanced architectures. "Frankly, they're simply behind on mind-share for [serverless]" compared with competitors including IBM OpenWhisk, Amazon Lambda, Microsot Azure Functions, and Pivotal Spring Cloud Functions. Dunlap says Red Hat is "under pressure to position itself as the most viable option against the big enterprise competitors," including IBM, as well as Dell Technologies, which will leverage the technology from its sister companies, including VMware Photon and Pivotal Cloud Foundry, to meet the needs of data center customers. Related posts: Red Hat Buys 3Scale for API Management Red Hat Builds Out Enterprise Cloud Application Stack — Mitch Wagner
Editor, Enterprise Cloud News
Subscribe and receive the latest news from the industry.
Join 62,000+ members. Yes it's completely free.
You May Also Like
---