Has EE Solved the Rural Connectivity Challenge?
Has EE Solved the Rural Connectivity Challenge?
UK mobile operator plans to reach connectivity-starved remote villages with wireless links that make use of its existing licensed spectrum assets.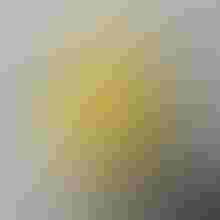 Connecting remote communities in rural areas in an affordable way has long been a tough challenge for all communications network operators, but UK mobile operator EE has devised a solution that, it claims, will improve voice and broadband service availability in remote villages without breaking the bank.
The operator plans to hook up 1,500 rural communities in the UK by the end of 2017 using what it calls a "micro network" that links small mobile antennas to the nearest mobile macro cell using existing licensed spectrum, so ruling out the need to lay any fixed cables or deploy microwave links for backhaul.
EE has started in Sebergham, a village of less than 350 inhabitants and 129 dwellings in the north-west English county of Cumbria, where fixed broadband service is very slow (about 1 Mbit/s) and mobile 2G coverage ranges from sparse to non-existent (a signal from O2 UK can be found in some parts).
To deliver its services, EE is deploying antenna technology from Parallel Wireless Inc. , which can be used as a meshed architecture that can manage the capacity depending on users' demand (so the fewer users, the higher the throughput).
With three or four of these antennas, EE says it can connect a community of up to 150 people in an area of about 0.5 square miles.
The antennas can provide 3G services (mainly voice) to those with handsets that are not yet 4G-compatible, using EE's 2.1GHz spectrum, and 4G LTE services (voice and mobile broadband) to those with 4G-capable devices (smartphones, tablets, routers) using EE's 1800MHz spectrum.
Figure 1: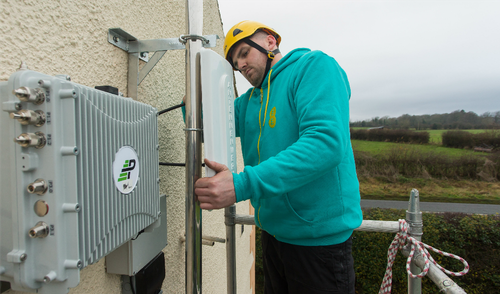 An antenna gets hooked up in the Cumbrian village of Sebergham.
EE, the UK's 4G market leader with more than 6 million LTE customers, expects that, on average, users will get about 20Mbit/s data connections outside and slightly lower bandwidth indoors, but that the service will be much better than anything else available in the village.
Those antenna connect back to the nearest macro basestation -- in Sebergham's case, 6km away -- via "in-band backhaul," a 4G link that uses EE's 1800MHz spectrum.
Want to know more about 4G LTE? Check out our dedicated 4G LTE content channel here on Light Reading.
But is this affordable? EE thinks so, as long as the local communities embrace the operator's efforts and don't charge site fees for the antennas that make the deployment uneconomic. Without such costs, EE believes it can connect rural communities at about 30% of what it would cost to add another macro cell to the network, the cost of which is up to £150,000 (US$235,000). And according to EE, a microwave backhaul link from rural locations to the macro network would be more expensive and less efficient.
EE, which is the UK's largest mobile operator with about 27 million customers, says its plans to connect 1,500 locations in this way falls within its capex budget plans. The operator has spent about £1.5 billion ($2.35 billion) during the past three years building out its network to support its 4G rollout and is on course to spend "a bit more" than that during the next three years, according to spokesman Howard Jones.
So is this use of 4G spectrum a way to hook up remote communities? EE expects the other UK mobile operators to follow suit: If they don't, then this model will come under a lot of scrutiny. If they do, it could be a game-changer for rural connectivity.
— Ray Le Maistre,

, Editor-in-Chief, Light Reading
Subscribe and receive the latest news from the industry.
Join 62,000+ members. Yes it's completely free.
You May Also Like
---