FCC Ends Net Neutrality
FCC Ends Net Neutrality
Chairman Ajit Pai grants his own holiday wish. WASHINGTON -- The Federal Communications Commission -- The FCC voted 3-2 along party lines today to repeal the Open Internet Order passed in 2015 and replace it with the new Restoring Internet Freedom Order. The new order returns broadband service to its classification as a Title I information service, and removes so-called bright line rules that prohibit Internet service providers from blocking, throttling or giving preferential treatment to traffic through paid prioritization.
While the decision was expected, it also sparked an uproar from net neutrality proponents who believe the regulatory reversal is against the public interest and will lead to pay-for-play delivery of content on the web.
In arguing for the new order, Federal Communications Commission (FCC) Chairman Ajit Pai contended that the Internet doesn't need utility-style regulation, and that the imposition of the earlier Open Internet Order led to a decrease in broadband investment -- a conclusion that is much debated. (See The Title II Capex Argument Is Ridiculous.)
He also asserted that the Federal Trade Commission is the right agency to protect consumers from unfair and anti-competitive practices online, which it will once again be in a position to do now that ISPs are under Title I classification.
"Today, we are putting the nation's premier consumer protection cop back on the beat," says Pai.
Figure 1: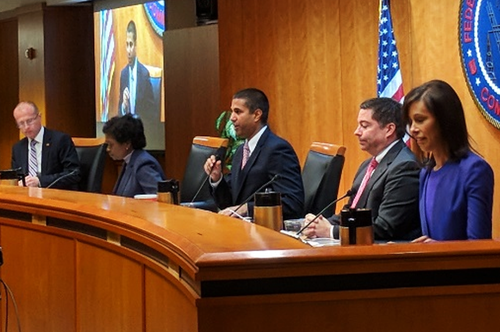 FCC Chairman Ajit Pai holds forth on the Order to Restore Internet Freedom among his fellow FCC commissioners.
However, Democratic commissioners at the FCC have expressed serious concern over the new order, charging that consumer voices are being ignored, and that in addition to problems with the order itself, the process for managing public comments has been mishandled.
New York State Attorney General Eric Schneiderman is, in fact, investigating fake comments filed with the FCC in response to the order, as well as comments filed under false identities. Schneiderman has asked for the FCC's cooperation with the investigation, but the agency has declined to help.
Prior to the initial circulation of the Restoring Internet Freedom Order, industry observers had thought that the FCC under Chairman Pai would reverse Title II classification of ISPs, but perhaps leave the bright line net neutrality rules in place. Now some, including the principal analysts at MoffettNathanson LLC , speculate that Pai may have gotten rid of the bright line rules in order to pave the way for Congress to enact legislation that would bring them back while still leaving the Title I designation in place. This would create something of a good cop/bad cop scenario and could conceivably create a law that both sides could claim as a victory.
Such legislation is not what staunch net neutrality advocates are seeking, however, and it's not at all clear that Congress could come to consensus on a law in any case. (See Here's Pai in Your Eye.)
For more fixed broadband market coverage and insights, check out our dedicated Gigabit/Broadband content channel here on Light Reading. What's interesting about the net neutrality debate is the fact that politicians on both sides of the aisle recognize how much of a hot button issue it is with voters. Numerous Democrats condemned Chairman Pai's Restoring Internet Freedom Order when it was released, but several Republicans have also now expressed their concern in the face of backlash from constituents. Notably, US Representative Mike Coffman (R-CO) reportedly sent a letter to Pai this week requesting a delay of today's vote in order to let Congress review the issue. Both Senators from Maine -- Senator Angus King (I-ME) and Senator Susan Collins (R-ME) -- requested a cancellation of the vote in a last-minute plea to the Chairman today. Meanwhile, net neutrality advocates are making their voices heard here on site at the FCC. Protesters rallied outside the FCC building early in the morning with speakers including Representative Keith Ellison (D-MN) and actress Amanda Seales of the HBO show Insecure. The general theme of the protests has centered on fears that the net neutrality repeal will threaten free speech and limit the distribution of public news, information and entertainment to established corporate interests. Figure 2: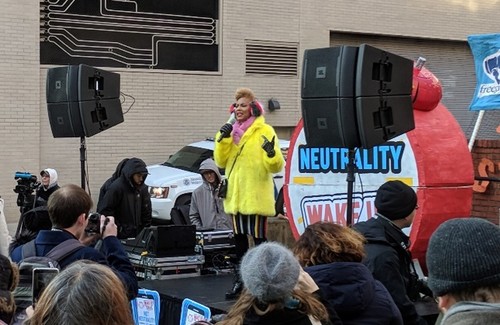 Actress Amanda Seales rallies a crowd of protesters outside the FCC. Now that the Restoring Internet Freedom Order has passed, the next stop for the regulatory rule is likely the judicial system. The order will be challenged in court, and because the US Appeals Court of the DC Circuit upheld the Open Internet Order last year, there will have to be a compelling argument to suggest that something has changed since then to support a reversal. (See FCC Wins Key Net Neutrality Ruling.) Related posts: Net Neutrality Is Not a Rational Debate How 5G Could Digitally Divide in a Post Net Neutrality World Fed Watch: AT&T, Net Neutrality & More Net Neutrality: Before the Vote — Mari Silbey, Senior Editor, Cable/Video, Light Reading
Subscribe and receive the latest news from the industry.
Join 62,000+ members. Yes it's completely free.
You May Also Like
---