Dutch Telcos Take Lead on OTT Transformation
Dutch Telcos Take Lead on OTT Transformation
Operators in the Netherlands are transforming themselves into OTT players in their own right. Could other European operators follow suit? The Knippr service that T-Mobile Netherlands plans to launch next year appears to be a rare example of a genuine over-the-top (OTT) telco offering. Unlike many other services that operators tout as OTT equivalents, video content from Knippr will be available to customers on other networks, making T-Mobile resemble a localized Netflix Inc. (Nasdaq: NFLX) or Amazon.com Inc. (Nasdaq: AMZN). (See Eurobites: TeliaSonera, Huawei Claim '4.5G' Speed Record.)
Intriguingly, though, rival KPN Telecom NV (NYSE: KPN) launched a similar service last month under the brand of KPN Play. And Vodafone Netherlands is thought to be working on OTT video plans of its own. The Netherlands is developing into a hotbed of operator-led OTT activity.
These OTT moves by operators are partly a response to the overwhelming popularity of classic OTT services in the Dutch market, where consumers quickly spotted an arbitrage opportunity in using web rather than traditional telco offerings. "Dutch operators had very affordable rates for data when it began to take off, but they kept their pricing for voice and text," says Bengt Nordström, the CEO of consultancy and analysis firm Northstream . "That created an incentive for consumers to move to new data plans."
Previous research from McKinsey & Co. singles out the Netherlands as a market that has seen a dramatic slump in the usage of traditional services because of this dynamic. At one unnamed carrier cited by McKinsey, the year-on-year change in outgoing text messages per customer went from a 33% increase in the July-to-September quarter of 2010 to an 11% decline in the April-to-June quarter of 2011. During that period, the penetration of Internet messaging service WhatsApp rose from 5% to 85% of all smartphones.
That trend has made the Netherlands one of the most advanced data markets in Europe. Indeed, in the July-to-August quarter of this year, 59% of T-Mobile Netherlands 's average revenue per user came from non-voice services -- a higher percentage than at any other of Deutsche Telekom AG (NYSE: DT)'s European subsidiaries. Web players like Netflix have been racing to satisfy this appetite for data services and applications.
Figure 1: Non-Voice Percentage of ARPU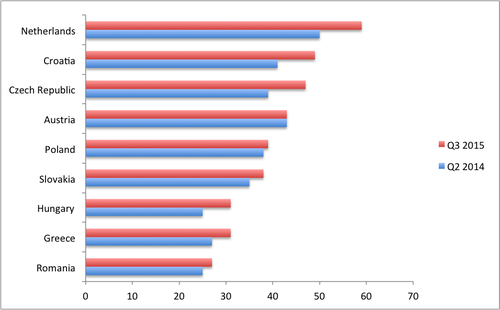 (Source: Deutsche Telekom) By driving up revenues from data connectivity, this has been a welcome development from the network operators' perspective. But it is also forcing them to address challenges posed by the OTT phenomenon with greater urgency than in other parts of Europe. How they do that could be instructive for telcos elsewhere. According to T-Mobile, Knippr will cater to soaring demand for skinnier bundles of TV content, which traditional pay-TV companies do not typically offer. Customers will be able to enjoy the service without being tied to contracts. Nor will Knippr be sold as part of a package that includes connectivity services (T-Mobile sold its Dutch fixed-line business in late 2013 but remains one of the three main mobile network operators). "Knippr puts an end to the forced trade," said Tisha Lambs, the director of consumer marketing and Knippr for T-Mobile Netherlands, in a company statement. "It offers interactive TV without any other obligations." While T-Mobile has yet to announce details of pricing and content, it claims to be in discussions with "nearly all channels, including the online video services." KPN Play, which is already on sale, costs from €11.99 ($13.12) per month and comes with 22 linear TV channels, including Home Box Office Inc. (HBO) , Comedy Central, TLC, Nickelodeon and Discovery. Like Knippr, it can be canceled at a month's notice and does not have to be used with the service provider's own network. Next page: Hobbling net neutrality Hobbling net neutrality
The shift towards skinnier bundles and "cord-cutting" is happening quickly in North America, where consumers have grown disenchanted with traditional TV offerings, but has yet to pick up momentum in parts of Europe. Indeed, operators in Germany and southern Europe currently seem more interested in bundling multi-channel TV services into multi-play offerings than in breaking everything apart. But could OTT developments in the Netherlands presage a change in tack in other markets, too? (See Resetting the Bundle, Skinny Bundles Sock FiOS Video Revenues and Cable Embraces Skinny TV Bundles.) That is far from certain. For one thing, KPN and T-Mobile will struggle to fight the likes of Netflix and Amazon on the web giants' own terms. As me-too services, they will have to match the OTT players on the sophistication of their web capabilities. Differentiation, though, could require investment in exclusive content, which is a costly business. Regulation could also be a disincentive to change. The Netherlands stands out as one of the few countries worldwide to have introduced firm legislation defending net neutrality -- the principle that all Internet traffic be treated equally and on fair terms. Network operators would have a hard time charging OTT players for any kind of privileged access and know that network rivals could not easily get away with discriminating against their own OTT offerings. Bundling OTT with connectivity services angers the most ardent supporters of net neutrality. These factors may help to explain the OTT moves the Dutch operators are making. Want to know more about the impact of Web services on the pay-TV sector? Check out our dedicated OTT services content channel here on Light Reading. Outside the Netherlands, Deutsche Telekom sees things quite differently. In a blog published in late October, CEO Timotheus Höttges said that new European Union (EU) regulations would allow Deutsche Telekom to charge web players for a higher-quality Internet service. "In the future there will... be the option of booking a service with assured quality in exchange for a few euros," he said. "This would be a fair contribution for the use of the infrastructure." If that is an approach Deutsche Telekom intends to pursue across most of its European markets, the Netherlands could be the exception rather than the rule for the foreseeable future. But Deutsche Telekom would presumably be unhappy if KPN and Vodafone were able to start charging OTT service providers for special access privileges. As competition forces telcos to operate more like OTT players, they may have to abandon some of their most cherished tenets. — Iain Morris,

, News Editor, Light Reading
Subscribe and receive the latest news from the industry.
Join 62,000+ members. Yes it's completely free.
You May Also Like
---