Cord Cutting? 'Fraid so.
Cord Cutting? 'Fraid so.
Cord cutting is a real and present threat to pay-TV, but it has been an erosion, not a landslide. The new wave of over-the-top (OTT) video services in 2015 and the slow decline in pay-TV penetration among US broadband households is causing traditional players to reexamine the impact that cord cutting and cord shaving.
Figure 1: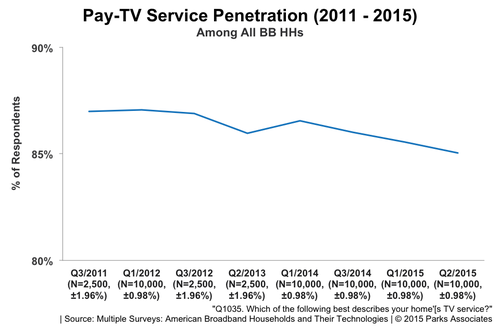 Parks Associates research consistently shows the reason consumers are leaving pay-TV is mostly about the monthly cost. Among consumers planning to downgrade their pay-TV service, 35% said their current service wasn't worth the cost, and 24% indicated that they like their current service but can no longer afford it. While consumer finances remain the primary driver for cord cutting and cord shaving, several factors are now providing additional momentum to the trend. Figure 2: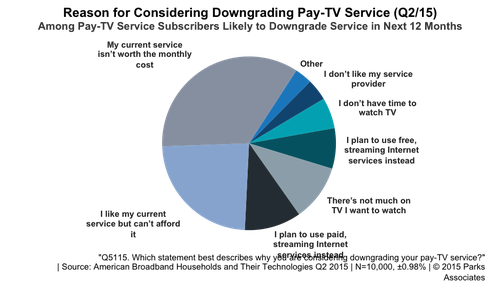 Faster broadband speeds: The average household broadband speed continues to increase across all global markets. In the US, 40% of broadband households claim to have a broadband speed of 50 Mbit/s or higher. Higher speeds translate to higher video quality for OTT services and more connected devices per household that are able to concurrently view video. More OTT services: Today, almost 80 OTT video services are active in the US market alone, with another dozen services ready to launch within the next few months. Each service offers a unique spin, content library, business model or delivery model. So consumers are able to find more options that could potentially replace their pay-TV service. More content available: While some of the content available via OTT is duplicated across several services, a desire for differentiation is causing services to license and promote unique content. In many cases, OTT services are acquiring content that appeals to specific consumer segments, including areas of topical interest or language-specific content. New streaming devices/market channels: Eight percent of US broadband households report that they own at least one streaming stick such as Google Chromecast, Amazon Fire TV Stick or Roku HDMI Streaming Stick, up from virtually zero two years ago. Each of these devices provides a new path into the home for video streaming services and a new channel for selling content to consumers. They also allow consumers to watch streamed video on the TV, often the preferred screen for viewing TV programming and movies. Greater awareness/word-of-mouth: More people are trying cord cutting and are passing along their experiences and lessons to others, primarily using social media to spread the word about their experiments. Positive reports about cord cutting encourage others to try it as well, and warnings provide prospective cord cutters with a realistic idea of the shortcomings and actual experience. Increasing pay-TV prices: As content creators ask for higher carriage fees to cover their higher production costs, pay-TV providers face a difficult decision. Do they reduce the number of channels in a package, replace existing channels with less costly channels or increase the service price to subscribers, or a combination of these options? Each answer could result in higher service prices or changes to the experience that can encourage consumers to explore cord-cutting or cord-shaving options. Increased personalization of video: OTT service offerings and user experiences are becoming more tailored to the preferences and interests of viewer segments or to individual users. Personalization serves as a method of positioning a service as an optimal choice in the mind of the consumer, making the user more likely to adopt. However, the path to cord cutting is not necessarily an easy one, particularly for TV and movie fans that enjoy both choice and current content. Several cord-cutting realities still inhibit consumers from acting to cut the cord, despite increasing frustrations with pay-TV. Uncertainty regarding available content: Many consumers don't really know what content is available in most services and must look through the service's discovery tools to find out. So consumers face the possibility of choosing multiple video services in order to address as many of their content preferences as possible. However, fear of missing out on preferred content is an important element as well. According to a Parks Associates survey, 69% of pay-TV subscribers have a TV series that they never miss, if possible. Actual cost savings: Many pay-TV customers currently receive both broadband and pay-TV from the same operator. Unbundling these services to eliminate the pay-TV portion results in higher costs for the remaining services taken. Once the higher broadband cost and the cost of multiple services is taken into account, the cost savings may be less than what consumers initially expect. This point is where the true trade-off analysis occurs for consumers. Are the cost savings enough to offset the content sacrificed? Lack of overall awareness: While it may be hard for many industry or technology insiders to believe, many consumers have no idea of the options available to them in OTT video services or devices. A notable portion are actually quite happy with pay-TV and see little reason to change. Cord cutting is a real and present threat to pay TV, but it has been an erosion, not a landslide. Operators today are taking several approaches to deal with this issue, ranging from new low-cost channel packages to broadband/OTT bundles. As the awareness and uncertainty are resolved, consumers will be better able to make a trade-off decision. If consumers choose to cut the cord, pay-TV providers will have the difficult task of winning consumers back… a scary task indeed. — Brett Sappington, Director, Research, Parks Associates and Ruby-Ren Bond, Research Analyst, Parks Associates
Subscribe and receive the latest news from the industry.
Join 62,000+ members. Yes it's completely free.
You May Also Like
---