M2M's In Fashion: Wearables Play the US Open
M2M's In Fashion: Wearables Play the US Open
The worlds of tennis, fashion and wearables collide as Ralph Lauren and OMsignal turn a polo into a sensor to track your every movement. What do you get when you combine country-club sports with high fashion and machine-to-machine (M2M) connectivity? Ralph Lauren's new "high-performance, fashion-forward Polo Tech shirt," making its debut at the US Open this week.
The polo comes in black, with Ralph's signature polo player logo in yellow, but more importantly has a conductive thread of sensors knitted into it that read biological and physiological information on the wearer. The technology, powered by Canadian company OMsignal, uses an accelerometer and gyroscope to collect data on the wearer's movement, direction, vitals and even stress level when a ball comes flying across the court.
This data is then transmitted via Bluetooth to the cloud, where it is stored and analyzed, producing information on the user's heartbeat, respiration, stress level, energy output and other activity-related stats, viewable from a mobile app.
Figure 1: Not Just a Fashion Statement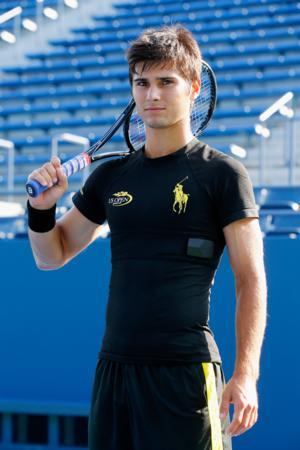 Marcos Giron shows off the new $200 Polo Tech, which uses sensors and a removable electronics pack to track all of an athlete's vitals... and a tight, stretchable knit to show off all of the athlete's six pack.
For more on wearables, check out our dedicated Internet of Things channel here on Light Reading. The $200 Polo Tech shirt will be worn by several ball boys during the US Open, as well as by singles player Marcos Giron, but OMsignal sees applications for helping everyday athletes understand their bodies and improve their performance. Check out the following video to see the shirt -- and Giron -- in action.
This falls into the category of M2M apps that can be both useful and pretty cool. It also proves the point that anything that can be connected, will be -- whether by cellular, Bluetooth or another connectivity standard. We're not just talking devices and smartwatches, but your own clothing.
It's not bulky, obvious or outrageously expensive, either; it's simply embedded and running in the background. That's the kind of thing that can get everyone, not just tech geeks or super athletes, excited about the Internet of Things.
— Sarah Reedy, Senior Editor, Light Reading
Subscribe and receive the latest news from the industry.
Join 62,000+ members. Yes it's completely free.
You May Also Like
---