Windstream Redefines Continuity for the Cloud
Windstream Redefines Continuity for the Cloud
New packaged solution uses diverse access, including fixed broadband wireless, along with backup power, diverse routers and transport. Windstream is taking a new approach to offering business continuity in the cloud services era, using its fixed wireless assets as part of a packaged solution it's calling Diverse Connect that includes end-to-end protection. (See Windstream Introduces Diverse Connect.)
Windstream Communications Inc. (Nasdaq: WIN) acquired Business Only Broadband, a fixed wireless company targeting businesses, in 2014 and has been building out both its fiber footprint and the wireless technology since. Both factor heavily into the Diverse Connect story, along with other key elements including backup power, and diversity in routers, points of presence and transport networks. (See Windstream BOBs for Fixed Wireless Broadband.)
As midsized businesses, which are Windstream's sweet spot, put more of their applications in the cloud, having business continuity becomes more important, says Mike Kozlowski, vice president of product management at Windstream. Outage in any part of the network now immediately affects productivity and can produce customer dissatisfaction as well.
"Single points of failure are prevalent -- our customers need solutions that can drive effective continuity into their business," he comments. Putting together such as solution can be complicated, however, which is why Windstream has created a packaged approach that bundles dual access from a variety of sources including Windstream's own fiber and broadband wireless but also off-net connections, along with backup or diversity elements at every part of the network.
Figure 1: Windstream's Diverse Connect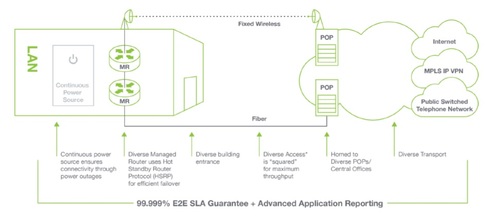 Source: Windstream
"This is a simplified diversity solution," he says. "And we are delivering it with an end-to-end five-nines SLA [99.999% service level agreement]. So we are creating the diversity, showing it to them and packaging it so it can be easily consumed and then providing that end-to-end SLA to back it up."
There are some industries -- financial services and healthcare are two -- that are already clamoring for this kind of solution, Kozlowski says, and others including retail and professional services that are on the cusp.
You're invited to attend Light Reading's Big Communications Event – the ONE event that delivers context and clarity to the software-driven future. There's still time to register and communications service providers get in free.
Pricing is based on bandwidth consumed, with discounts built in for the diverse connections.
"We have been doing business continuity solutions for a long time now, but we made an effort to leverage assets and be much more deliberate in how we package it for customers so they don't have to deal with the friction of à la carte approach," Kozlowski says. "This is largely about how we package and present this to our customers in a way that is more effective for them to consume."
— Carol Wilson, Editor-at-Large, Light Reading
Subscribe and receive the latest news from the industry.
Join 62,000+ members. Yes it's completely free.
You May Also Like
---