The Automation Taboo: Let's Talk About Jobs
The Automation Taboo: Let's Talk About Jobs
For telcos, automation puts an awkward spotlight on employee value. Investors will be watching. Automation is fast emerging as the new buzzword in the telecom industry. But whether it is a neat label for an array of groundbreaking technologies, or just a euphemism for job cuts, it will hold interest for company shareholders and C-suite executives for one reason alone: its potential to fatten profit margins. (See NFV, SDN, Big Data – It's All About Automation.)
Of course, profit margins could receive a boost from sales growth, if automation can unlock new revenue opportunities for operators or persuade customers to part with more of their hard-earned cash. Switching off older and less efficient systems should also help, as Deutsche Telekom AG (NYSE: DT) intends through its pan-European network overhaul. (See DT's Pan-Net Still at Start of the Marathon.)
But the real boost will probably come from headcount reductions as telcos replace humans with machines across various functions. And that means shareholders may start to assess telcos in entirely different ways.
Having once pored over key performance indicators (KPIs) such as average revenue per user, your typical investor seems bound to grow more interested in metrics such as sales per employee -- especially as telcos are increasingly measured against highly automated Internet players with lightly staffed operations. Most investors would be delighted to hear a company such as Orange (NYSE: FTE) say it could generate the same sales with a fraction of its workforce.
Figure 1: Job Killer
Automation will lead to the termination of roles throughout telco organizations, with staff in customer-facing jobs looking especially vulnerable.
That automation could wreak havoc in the workplace is widely acknowledged but rarely discussed in any depth in the communications sector. No telco, and especially none that counts the state as a shareholder, wants employees and the general public to know it is plotting mass layoffs while sales and margins are holding up.
Instead, telco executives are trumpeting investments in technologies that will support automation while they downplay or remain tight-lipped about its impact on employees.
It seems inevitable that Vodafone UK's use of artificial intelligence (AI) for customer services will destroy jobs in contact centers, for example, and yet Vodafone UK prefers to focus attention on how AI will "change the nature of the advisor role" for those who survive a cull. Telefónica is similarly coy about the workforce implications of Unica, its network virtualization initiative, even though it brandishes a target of switching off 80% of its operational support systems in future. Deutsche Telekom expects to save €1.2 billion ($1.4 billion) by 2020 through its Pan-Net project, which will replace all country-based systems with a single European network. But it never mentions layoffs when discussing these savings. (See Chatbot Takes Charge: Vodafone's Customer Services Overhaul and Telefónica Plots Unica Expansion.)
Quite possibly, that is making it hard for pundits to estimate how many jobs could disappear. "Network automation is expected to displace jobs in the industry, particularly those of field workers engaged in maintenance and configuration of network systems," Accenture and the World Economic Forum say vaguely in a report on digital transformation published earlier this year.
A "fundamental shift away from large hardware deployments could impact thousands of jobs in the industry, particularly those related to network deployment and maintenance," add the report authors later. Nowhere do they attach a number to these conjectures. Yet they are happy to predict that Internet of Things services will create 400,000 new roles, and that new "open" approaches to innovation could generate another 90,000.
Next page: Rise of the machines
Rise of the machines
Telcos arguably do not have the full picture on automation. It is early days for many automation technologies, after all, and they have yet to be deployed at scale. What's more, the upheaval that automation triggers will not be confined to the telecom sector. This is a societal concern that ranks alongside global warming, terrorism and the nuclear threat as one of the great challenges of the modern age. It amplifies anxiety about population growth and the widening wealth gap between rich and poor.
That said, Deutsche Telekom's cost forecasting means it must have an inkling about the short-term ramifications for employees. And some information has leaked. A source cited in a recent blog by Light Reading founder Steve Saunders reckons AT&T Inc. (NYSE: T) could eliminate 30% of its workforce (about 78,000 employees) by moving to a "software-based, virtualized and automated network." (See The Hidden (Human) Cost of Automation.)
For more NFV-related coverage and insights, check out our dedicated NFV content channel here on Light Reading.
Those figures will alarm any telco employee, but staff in sales and marketing functions may have the most to fear. While operators work on retraining network engineers, equipping them with the software skills they will need in future, many companies are likely to jettison workers in more customer-facing roles as they try to emulate their Internet rivals.
Indeed, according to the World Economic Forum's report, about 45% of staff at a typical communications service provider (CSP) occupy sales and customer service roles, with only 12% employed in engineering and IT. The numbers are nearly reversed for a typical Silicon Valley firm, with 13% of jobs in sales and customer service roles and 51% in engineering and IT. "To compete effectively, CSPs must change the makeup of their workforces: From armies of sales and customer service workers to cohorts of software engineers and product developers," say the report authors.
What's even more abundantly clear is that telcos have barely started the automation journey. As shareholders look for evidence of progress, they will start to monitor metrics like revenues per employee more keenly. Yet this measure has deteriorated for some of Europe's biggest operators over the past five years, and telcos remain a long way behind their Internet rivals (which are not directly comparable organizations, it must be said). Deutsche Telekom, a relative high flyer, made about €331,000 ($389,000) per employee in 2016. The equivalent figure that year for social networking giant Facebook was more than $1.6 million.
Figure 2: Revenues per Employee ($)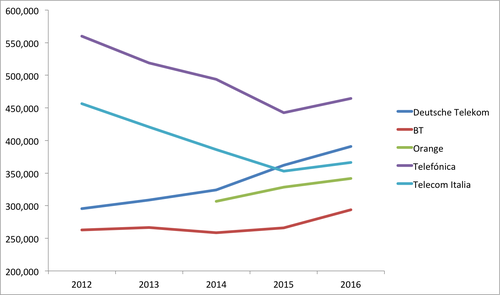 Source: Operators, Light Reading. Note: Currency conversions are at today's exchange rate; Some historical data for Orange was not readily available.
While former state-owned telcos may never hit such giddy heights, investors will demand an explanation if investments in software, virtualization, AI and big data do not lead to measurable benefits. With sales growth likely to prove elusive, that could soon shift the focus to indicators of employee value -- as uncomfortable as that may be for employers and employees alike.
— Iain Morris,

, News Editor, Light Reading
Subscribe and receive the latest news from the industry.
Join 62,000+ members. Yes it's completely free.
You May Also Like
---