Telco's Got Talent? It's Audition Time for SDN/NFV Startups
Telco's Got Talent? It's Audition Time for SDN/NFV Startups
Three of Europe's national telcos have teamed up to court virtualization startups with a 'Call for Innovation' that suggests carrier SDN and NFV might currently be stuck at the launch pad. Eager to engage with a new breed of hot virtualization startups, three of Europe's telecom operator old guard have taken inspiration from TV talent shows to issue a "Call for Innovation" to SDN and NFV startups.
The telco trio -- Sweden's Telia Company , Swisscom AG (NYSE: SCM) and Belgium's Proximus (formerly Belgacom) -- appear to be frustrated with the current pace of next-gen functions and apps development and so have created a comms industry virtualization talent show in order to engage with virtualization startups.
The three national operators have developed an online portal simply titled Call for Innovation that asks "Next Gen Virtual Telco Functions & Services Startups (SDN/NFV 2.0)" to help them "solve actual problems and help us with innovative solutions to create greater value for our customers."
They want the startups to build on the groundwork already done with the open source code developed for OpenStack, OPNFV and CloudFoundry and propose "new networking functions, cloud-native implementation of existing network functions, and new Telco services we could offer in the market."
The sky, it seems, is the limit for the telcos, as they are using rocket-launch imagery to attract the attention of startups: "You've got the rocket, we've got the fuel -- let's go" they proclaim in their marketing campaign.
Figure 1: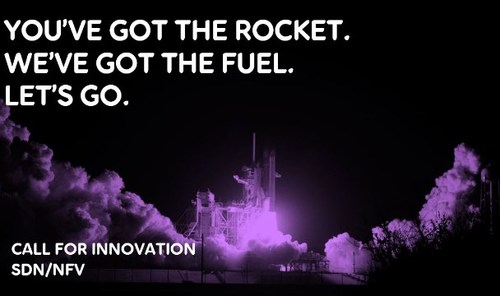 Further details are available on the website, but basically the startups are being asked to come up with ideas in four key areas:
Cloud-native OSS and BSS systems: None of the old stuff running on a centralized server, please.

Cloud-native Telco Functions: These include next-gen deep packet inspection (DPI), carrier-grade NAT, broadband network gateway (BNG) and other functions. Again, these need to be built from the ground up for a cloud environment, rather than be a legacy tool juiced up with some extra APIs.

New 'End-to-End' Apps/Services: Enterprise applications designed to work across the cloud, from the data center to the customer premises, and suitable for use with all sizes of companies, including SMEs.

Access Network Hardware: The telcos want a new breed of boxes for the edge of the network, making use of open source hardware, that have separate data and control plane functionality. In an interesting detail, the telco trio are asking for these new boxes to support mobile edge computing (MEC) deployments. (See ETSI Gets Edgy About Mobile.)

SDN and NFV startups have been around for a few years now, but it seems clear that operators believe the current, already established startups aren't being innovative enough and they're looking for something more -- they're looking for SDN/NFV 2.0, to put a label on it.

And while neither Telia, Swisscom or Proximus has the scale and heft of a Deutsche Telekom, all three are important, influential operators that, combined, offer a fantastic opportunity for any startup to put themselves in the limelight and make a break from obscurity to becoming a hot startup.

Let's see who comes out of the woodwork and makes it through the auditions…

— Ray Le Maistre, , Editor-in-Chief, Light Reading
Subscribe and receive the latest news from the industry.
Join 62,000+ members. Yes it's completely free.
You May Also Like
---