Nokia: Software Plan Already Boosting Profitability
Nokia: Software Plan Already Boosting Profitability
Nokia's plan to develop a standalone software company shows early signs of promise. Nokia claims its still-nascent software strategy is already helping to boost profitability just eight months after it was first announced. (See Nokia to Create Standalone Software Biz, Target New Verticals.)
The Finnish vendor last November said its ambition was to create a "significant" standalone software business generating the same kind of profit margins as a large software company. Besides ramping up software sales, the idea was to develop tools and processes that could make the wider organization more profitable, as software becomes more integral to Nokia Corp. (NYSE: NOK)'s overall business. (See Nokia's New Software Unit to 'Redesign' Company.)
That plan thrust the relatively small applications and analytics division led by Bhaskar Gorti firmly into the spotlight. Last year, the division made about €1.6 billion ($1.9 billion) in revenues -- a tiny fraction of the €21.8 billion ($25.8 billion) from network sales -- but it was Gorti's unit that would be the vehicle for Nokia's new software initiative.
Figure 1: Bhaskar Gets a Boost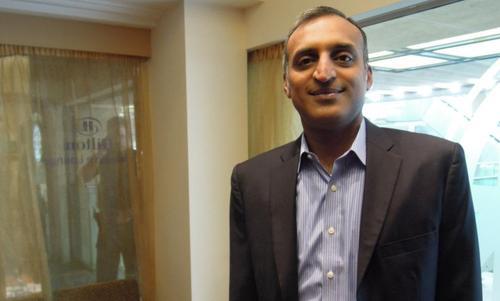 Bhaskar Gorti, Nokia's president of applications and analytics, says the software strategy announced last November is already paying off.
The early signs are promising, though. For one thing, applications and analytics was a standout performer on sales in the recent April-to-June quarter. While underlying company sales fell 4% on a constant-currency basis, revenues from applications and analytics were up 9%, to €365 million ($431 million), compared with the year-earlier period, and rose 2% organically. "There has been huge growth in customer experience and analytics technologies and we are also seeing a lot of activity in our cloud infrastructure and network management portfolio," says Gorti during an interview with Light Reading.
More important is the margin improvement to which Nokia's software strategy is contributing, albeit in a small way right now. On an underlying basis, Nokia's operating margin hit 10.2% in the second quarter, up from 5.9% a year earlier. This year, the company is aiming for a margin of between 8% and 10% at the networks business. But in a previous discussion about the software strategy, Kathrin Buvac, Nokia's chief strategy officer, said a networks margin of between 10% and 15% was the long-term objective. (See Nokia Shames Ericsson on Profits but Sees Trouble Ahead.)
"On software we are benchmarking ourselves against the margin profiles that exist for software companies and we are slowly inching toward that," says Gorti. "For year-on-year growth relative to TAM [the total addressable market], and all the way from gross margin to operating margin, we are beginning to see clear results."
No doubt, the recent growth in company profitability clearly owed more to cost savings and a licensing deal between Apple Inc. (Nasdaq: AAPL) and Nokia's technologies business than to the Gorti-led software strategy. But that strategy is likely to become more important as it picks up the pace, and as trimming fat gets harder.
It could also give Nokia a profitability story based on growth while rival Ericsson AB (Nasdaq: ERIC) remains focused on cutbacks. In its own second-quarter results, the Swedish company saw its operating margin shrivel to just 0.6%, once restructuring charges were stripped out, from 7% in the year-earlier quarter, and it remains a long way off a 2019 target of 12%. Its credit rating was downgraded earlier this year due to concern that it lacks a growth strategy. (See Ericsson Shares Slump on Gloomy Q2 Update.)
What's glaringly obvious for both companies is that software, and the business models around it, will be even more critical in the future. That means Gorti's role is partly to be an agent of transformation, steering Nokia away from its old hardware-based approach. "We are wearing two hats," he says of his division. "We are building a business with applications and analytics but at the same time we are creating best practices and the components that can be used to modernize the company."
Next page: Skirting the pitfalls
Skirting the pitfalls
The software transition would seem to hold numerous perils for any equipment maker. By taking advantage of "virtualization" technologies, customers of Nokia and Ericsson can run network functions as software programs on commodity hardware, dealing a blow to the old "black box" business of churning out dedicated equipment. Telco enthusiasm for open source technology is a further worry for suppliers that have profited from intellectual property. And generating sales on a recurring monthly basis, as software companies do, necessitates organizational transformation for suppliers that have previously collected revenues in lump sums. (See Orange, VCs Commit $113M to Network Startups as 'Black Box' Frustration Mounts and TIP Players Voice Open Source Misgivings.)
Gorti is relatively sanguine. "Customers are pushing this [virtualization] because they want flexibility and to reduce what is seen as vendor lock-in, but they are still looking for the SLAs [service level agreements] and for someone to take responsibility for those SLAs," he says.
While the mix of revenues from hardware and software will certainly change with virtualization, Gorti is also eyeing a further boost to margins and "predictability" from the shift to a software-as-a-service model. And he highlights the progress that Nokia has already made in phasing out purpose-built equipment: Between 80% and 90% of his own products now run on generic x86 servers, he says.
Moreover, Gorti sees a big opportunity to make R&D spending more "productive" by relying on open source technology for "basic non-differentiating things" and investing more heavily in areas where Nokia can still add value. "If anything, it increases our velocity for innovation and means we can focus R&D dollars on differentiating elements," he says.
For more NFV-related coverage and insights, check out our dedicated NFV content channel here on Light Reading.
But innovation that comes from within is certainly not the only path that Gorti is taking. Earlier this year Nokia announced a €347 million ($410 million) takeover of long-standing partner Comptel, a Finnish developer of service orchestration and intelligent data products that complements its own business and operational support systems. (See Nokia's Buying Comptel: What the Analysts Say and Nokia Eyes Bigger Software Role With €347M Comptel Bid.)
That acquisition was finalized last month, giving Nokia a business that generates about €100 million ($118 million) in annual sales, and Nokia is now integrating Comptel's back-end systems with its own. It is also combining sales teams across the two organizations -- a process that hints at possible layoffs in Finland, Bangalore and Kuala Lumpur, where Nokia and Comptel already have "colocated" facilities.
Could other acquisitions be in the cards? "Absolutely," says Gorti. "If the best way to enhance our product strategy is through an asset from outside, we are actively looking." With Ericsson also considering takeovers to bolster its digital services business, the market could be ripe for some consolidation. (See Comptel Looks Like the Start of Nokia Software Spending Spree and Ericsson Eyes Takeovers to Bolster Digital Services Unit.)
— Iain Morris,

, News Editor, Light Reading
Subscribe and receive the latest news from the industry.
Join 62,000+ members. Yes it's completely free.
You May Also Like
---