Nokia's Leprince Wants to Be King of Enterprise
Nokia's Leprince Wants to Be King of Enterprise
Nokia is plotting a much bigger role in the enterprise sector of the global communications market.

Nokia is planning a major push into the enterprise sector as part of a new corporate strategy following the company's €15.6 billion ($17.4 billion) takeover of rival Alcatel-Lucent earlier this year.
The Finnish equipment giant has traditionally focused on selling network equipment and related services to telcos, holding a much smaller share of the enterprise market than the likes of US-based Cisco Systems Inc. (Nasdaq: CSCO) and China's Huawei Technologies Co. Ltd. (See Huawei: New King of the CSP Market.)
That strategy looks set to change in the coming months, however, as the company takes advantage of assets and expertise within the recently integrated Alcatel-Lucent (NYSE: ALU) business.
"We have an enterprise business that we want to scale beyond where it is today," said Igor Leprince, Nokia Corp. (NYSE: NOK)'s executive vice president of global services, during a recent meeting with reporters in London. "We want to focus on key enterprises and so you will see us talking to web-scale players and banks -- people spending billions [of dollars] in capex."
Figure 1: Leprince Charming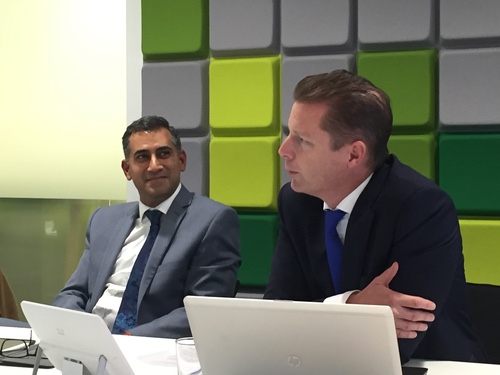 Deepak Harie (left), Nokia's vice president of systems integration for global services, smiles approvingly as Igor Leprince (right), the executive vice president of global services, outlines his new enterprise vision.
Nokia currently generates about €1 billion ($1.1 billion) annually from enterprise customers, according to Leprince. Between 70% and 80% of that amount comes from the Alcatel-Lucent business, which -- he says -- began its own push into the enterprise sector between 18 months and two years ago.
The figure currently represents a small percentage of overall sales. Nokia's networks business made about €10.4 billion ($11.6 billion) in revenues in the first half of the year, including about €4 billion ($4.5 billion) from the provision of professional services.
By comparison, Cisco generated $24.7 billion in revenues over its February-to-July fiscal half year, with the bulk coming from enterprise customers. Although Cisco does not break out its figures, market research company Analysys Mason reckons it generated more than 75% of its revenues from enterprise customers during 2015.
China's Huawei recently reported first-half revenues of 245.5 billion Chinese yuan ($36.8 billion). While it does not provide details of revenues across particular divisions until it reports full-year results, Huawei generated about $4.3 billion (about 7% of its total revenues) from enterprise customers in 2015. (See Is There No Stopping Huawei?.)
Leprince sees plenty of opportunity for Nokia to expand in this market. "Some of this [enterprise] capex is very relevant to us," he told reporters. "Some enterprises are building LTE networks using unlicensed spectrum, for example."
Although he would not disclose firm sales targets for the enterprise move, he said Nokia would start by focusing on existing enterprise customers with a growing need for both network and IT capabilities.
Partnerships with the likes of Accenture are to be an important feature of the enterprise strategy, but Nokia is also developing its own IT skills to meet new customer demands.
"Large customers are looking for partners that can manage telco networks but also telco and IT," said Leprince. "The boundaries are getting thinner."
Want to know more about cloud services? Check out our dedicated cloud services content channel here on Light Reading.
As part of its IT diversification efforts, Nokia last week opened a new "cloud design center" in the UK where it plans to develop new software technologies with customers and technology partners.
"It's a place where customers can engage with the team as part of the design process," said Deepak Harie, Nokia's vice president of systems integration and global services.
Nokia executives says they chose the UK after conducting a worldwide search to identify pockets of talent for cloud technologies, expressing surprise the country has such a concentration of skills in this area.
Asked how many employees would staff the new facility, Leprince said there were a "good two hands full of experts," pointing out that Nokia had "thousands of systems integration experts around the world."
While design centers such as that in the UK will pioneer the development of new technologies, Nokia is also investing in so-called "delivery centers" that will do much of the heavy lifting, it seems.
Nokia's services division reported an 8% year-on-year drop in sales in the recent April-to-June quarter, to around €2 billion ($2.2 billion), but Leprince said the decline reflected a broader malaise and that professional services remained "a strong area of potential growth."
Nokia CEO Rajeev Suri blamed "challenging market conditions" for an 11% year-on-year fall in the company's overall revenues in the second quarter, to around €5.7 billion ($6.4 billion), saying "the decline of our topline remains a concern" in a company statement.
Leprince told Light Reading that he expected growth in Nokia's services business to come from three key areas -- systems integration, networking planning & optimization, and managed services -- as well as new market opportunities.
"We want to expand beyond these three areas," he said. "Very clearly that means the Internet of Things and the new vertical markets that we want to develop -- that is obviously outside where we are today."
— Iain Morris,

, News Editor, Light Reading
Subscribe and receive the latest news from the industry.
Join 62,000+ members. Yes it's completely free.
You May Also Like
---