Huawei's Eric Xu: Automation, 5G Will Reflate Telco Margins
Huawei's Eric Xu: Automation, 5G Will Reflate Telco Margins
Huawei's Eric Xu fears industry fragmentation but believes new technology will restore profitability for service providers. Huawei has become the most scrutinized company in the telecom industry due to the rising security and trade tensions between China and the West.
The man currently in the spotlight is Eric Xu, one of Huawei's ruling triumvirate, who holds the post of rotating chairman of the Shenzen-based vendor.
Figure 1: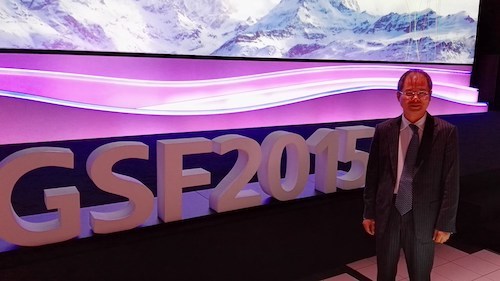 Eric Xu, Huawei's rotating chairman, pictured here in 2015.
Speaking with Light Reading at this week's Mobile World Congress Shanghai, Xu expresses his fear of supply chain fragmentation, believes the combination of 5G and artificial intelligence (AI) can drive down operators' costs, and reveals the Huawei Technologies Co. Ltd. founder has no plans to retire.
The interview has been edited lightly for length and clarity.
Light Reading: It looks like a Pacific trade war is looming. Huawei doesn't have a big business in the US, but do you anticipate there may be tariffs placed on your products and if so how are you preparing for that?
Eric Xu: We don't have a specific plan. The US is a relatively small market for Huawei.
LR: The ZTE situation has put the focus on China's reliance on foreign chips. I'm interested in your view from a national viewpoint. How long would it take for China to develop its own independent chip sector?
EX: I think it's basically impossible for any nation to be fundamentally independent in semiconductors, to not rely on any other nation. Companies can only grow with the trust and support across the industry chain. My concern is this trust in the value chain might get broken.
With the trusted relationship, we could have one global ecosystem, or industrial chain, that will translate into lower costs, economies of scale. Without that trust, maybe we will end up with multiple industry chains, which will lead to higher costs and possible waste.
Companies are business organizations, so they want to have lower costs, higher efficiency and value creation for customers. From our point of view, we definitely hope to see one global ecosystem instead of fragmentation.
LR: Are you genuinely concerned at fragmentation of the industry chain?
EX: Definitely there are concerns because the trust in the value chain is being broken. Without trust, it is very likely we will see fragmentation. At Huawei, we will work hard to avoid such a situation from happening.
LR: With the uncertainties in the ZTE supply chain, have you been approached by any ZTE customers, or have you approached any ZTE customers?
EX: Internally we have a clear requirement -- now is not the time for us to do so.
LR: You are watching how it evolves?
EX: It is not watching, we have made it very clear.
LR: Which is to say, you've instructed your salespeople not to approach those ZTE customers?
EX: Yes.
LR: Still in the US, some conservative politicians are saying universities should cut their research links with Huawei. What's your response?
EX: I read that two congressmen, Senator Rubio and Jim Banks, had persuaded 26 members of Congress to write a letter the Secretary of Education.
To me I think the US congressmen are closed-minded and ill-informed. It seems to me their bodies are in the information age but their minds are still in the agrarian age. Their behavior shows not just their ignorance of science and innovation but also their own lack of confidence.
Everyone knows academic freedom is the core value of modern universities and is also the cornerstone of higher education in North America.
The academic freedom and open atmosphere attracts the brightest minds from around the world to study and do research in US universities. Because of the very fact that American universities have been able to maintain their academic freedom and open approach -- those are the crucial factors behind the development and the strength of the US as a nation.
Universities focus on basic science research. From basic science to commercial application is a long and arduous journey. It often takes decades, even hundreds of years of effort in research and development to translate science and theory into something that's available in the market.
Universities need to work together with businesses to solve the big problems faced by humanity and benefit everyone in society.
Huawei does not have exclusive access to what comes out of these partnerships. The research findings are shared openly throughout the world through dissertations published by professors and students.
This approach by Huawei is recognized by universities around the world that we work with. They welcome the enhanced partnerships and greater support in terms of facilities, equipment and financial support so that together we can work on and hopefully resolve those big problems faced by humanity.
LR: There have been reports that the US Department of Justice is investigating Huawei over its trade practices. Has Huawei had any advice or contact from the DOJ about any outstanding investigation?
EX: On this issue we have made our statements many times so I will not repeat.
Next page: Xu on AI and 5G
Xu on AI and 5G
LR: Huawei has talked about some of its AI use cases, which are interesting, but when you talk with operators, what is it they seek from AI? Are they looking for anything beyond network automation?
EX: In our current discussions and engagement, we mainly discuss using AI for automation of network O&M [operations and maintenance]. We hope we can use AI to realize what we call "autonomous driving." By that we mean self-optimization, self-healing, self-maintenance, and self-management -- those are the things we want to achieve for network O&M through joint efforts with operators. Of course, it is going to be a very long journey, spanning years of effort. It is like IP [Internet Protocol] -- we've been talking about all-IP networks for many years now but it is still not fully realized yet.
LR: How long do you think it will take before we get to the self-organizing, autonomous network?
EX: If you are talking about greenfield, it's going to be faster, five to ten years probably, but it's going to be a much bigger challenge if you want to really change or transform the existing installed base.
LR: In your presentation today you spoke about the role of 5G as well in reducing opex. Do you have a target -- how much do you think the combination of automation and 5G can push costs down?
EX: What I can share is my expectations. For me, opex as a percentage of operator revenue should be reduced at least by ten percentage points. Now it is roughly 75% [according to Huawei figures]. If it can be reduced to 65% -- that's going back to the old days. In other words, operators would have that extra ten percentage points of potential room for profit.
LR: We've just approved key parts of the 5G standard and there are scale trials taking place. What are your views on the progress of 5G and what are the priorities to ensure commercial service gets underway next year?
EX: I can't speak for the entire industry but Huawei's priorities for 5G are pretty clear.
By March 30 next year we are going to launch a 5G standalone commercial system so that we will be in a position to support our operator customers who have a need for 5G networks.
By the end of June next year we are going to launch a 5G phone so that in countries where 5G networks are deployed consumers will be able to experience 5G services.
LR: So the pressure is on Richard Yu [head of the Huawei device business]?
EX: Not so much, because the most critical part is not in Richard's area. The key part is the chipset.
LR: Who makes the chipset? Is it Huawei's own HiSilicon, or are you expecting to have competitive supply?
EX: We have always followed a multivendor strategy when it comes to semiconductor supply, but probably we may need to rely on the [HiSilicon] Kirin series if we want to launch our 5G phones by the end of June next year.
LR: Huawei has had the leadership triumvirate for several years now. Has Huawei founder Ren Zhengfei indicated a timetable for his retirement and for someone to take his place?
EX: We don't have this concept around a leadership succession and there is no plan around Mr Ren's retirement.
— Robert Clark, contributing editor, special to Light Reading
Subscribe and receive the latest news from the industry.
Join 62,000+ members. Yes it's completely free.
You May Also Like
---