Automation Brings Rise of the Juniper Bots
Automation Brings Rise of the Juniper Bots
Bring on the bots... and the super bots. Bots get a bad rap on social media, but Juniper is hoping to put a whole different spin on the idea as part of its mission to create the "self-driving network" of the future.
The self-driving network is exactly what it sounds like -- a network so automated it no longer requires human intervention, much like a self-driving car. But en route to that automation nirvana, the communications industry still has several problems to solve. Among them is the issue of how to change the way humans talk to machines so that networks can behave the way we want them to. Language expresses intent, which in turn enables an appropriate automated response.
And that's where Juniper's bots come into play.
Juniper Networks Inc. (NYSE: JNPR) is announcing three bots to start, all of which are designed to turn human language into something that a networking system can understand. The bots deal with specific network tasks, enabling a person to describe a desired outcome, which the system then figures out how to deliver.
Figure 1: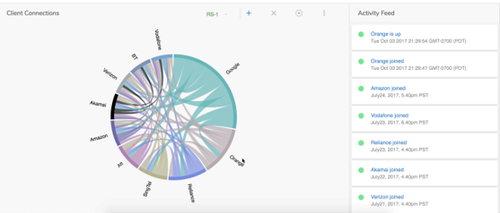 Juniper Contrail PeerBot
The first two bots work with Juniper's Contrail software-defined networking (SDN) platform. The Contrail TestBot is a bot for automating network tests before changes go live in a production environment, while the Contrail PeerBot automates the process of network peering. Regarding the latter, Director of Product Marketing Management Donyel Jones-Williams notes that the parameters around peering connections are pretty well defined, but the process of setting up an actual peering exchange can still be complex. That's what the PeerBot aims to change.
"Any time you want to add a new peer, modify whom I'm peering with, delete a peer, change the policies of how I'm peering," says Jones-Williams, "you simply say, here is the IP address of the individual I want to peer with," and the PeerBot makes it happen.
The third bot Juniper is launching is the AppFormix HealthBot. The HealthBot works with the company's AppFormix analytics platform and turns network telemetry data into information that can be directly applied to improving network performance. Jones-Williams likens the bot to a doctor collecting information from a patient's Fitbit device. It's one thing to know that a patient's blood pressure is up; it's another to prescribe better eating habits or a blood pressure medication.
Jones-Williams says that some of Juniper's customers will want to use the new bots as standalone tools, a way to simplify and automate concrete tasks. Others, however, will want to integrate the bots together and/or package them in different ways. In that case, Juniper is happy to help.
"It's a packaging exercise for us," says Jones-Williams. "We can then merge some of these bots, [and] create... super bots to go do some higher layer things that could be integrated into an orchestration system."
Want to learn more about network automation? Check out our dedicated Automation content channel here on Light Reading.
Meanwhile, in addition to launching bots, Juniper is also announcing new updates to its Juniper Extension Toolkit (JET). The JET is a framework of APIs that customers can use with the Juniper network operating system, Junos OS. Previously the JET APIs touched on the network management and control planes. With the latest updates, Juniper extends API programmability down to the data plane on Juniper's physical and virtual universal edge routers.
The toolkit is a way of giving operators more control over how they automate functions.
"Unlike the bots... the Juniper Extension Toolkit is putting the onus on the operators to figure out what they want to automate and program," says Jones-Williams.
Jones-Williams also notes that the option for deep programmability is what made Telefónica choose Juniper for its network automation project, a deal that was also announced earlier this week. (See Juniper Takes On Network Automation for Telefónica.)
"One of the foundational elements that essentially got them on board of this vision of a self-driving network was network programmability," Jones-Williams explains.
Juniper hasn't announced any customers for its new bots yet, but Jones-Williams expects that to change when they officially become commercially available in the first half of 2018.
— Mari Silbey, Senior Editor, Cable/Video, Light Reading
Subscribe and receive the latest news from the industry.
Join 62,000+ members. Yes it's completely free.
You May Also Like
---