Nagra Envisions CableCARD-Free Video Streamer
Nagravision SA
is asking regulators for the green light to offer a new class of gateway for the U.S. cable industry that can route IP video streams to authorized consumer electronic devices –- without having to rely on the clunky
CableCARD
.
The device Nagra has in mind is a "headless" video gateway that can convert incoming QAM video into protected IP streams that can be viewed by connected televisions and tablets that are linked to a home's wired and wireless home network. The centralized gateway device would be headless in the sense that it does not render video like a set-top box, but converts and transports the streams to devices that can.
The headless gateway concept isn't all that new.
Comcast Corp.
(Nasdaq: CMCSA, CMCSK)'s Motorola-made AnyPlay in-home streaming device essentially acts as headless gateway that also happens to use a CableCARD to handle conditional access. But Nagra will need the
Federal Communications Commission (FCC)
's approval for the CableCARD-free approach it has in mind. The video security and software vendor is asking for a three-year pass on the FCC's ban on integrated security video devices that took effect in July 2007. (See
Comcast AnyPlay to Stream Live TV to Tablets
and
Comcast Beams Live TV to the iPad
.)
Nagra reasons that the waiver would help it remove costs and complexity (and some power consumption) that tend to weigh down CableCARD devices. But it also argues that its approach, which would use a form of integrated security (on-chip, smartcard, or maybe even a downloadable version), would still fulfill the intent of the CableCARD because it would enable cable pay-TV services to be accessible to a wider range of video devices that can be purchased at retail.
Nagra VP of Business Development Robin Wilson says Nagra is testing its gateway idea in Latin America, and could have it ready for the U.S. market in about nine months. Here's the gateway it showed off at The Cable Show earlier this year: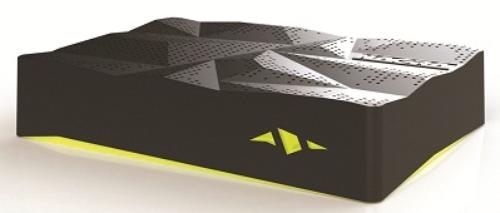 The current version can support two devices, "but it could go up," he says. Nagra, by the way, does not actually make set-top boxes, but relies on its dozens of licensees to develop them.
Obtaining such a waiver would be a big deal, as it could open up the market for others to develop more advanced video gateway products without the prospects of the CableCARD, which add at least $25 to cost of the product and typically have to go through extensive, time-consuming testing before they can see the light of day. Plus, the CableCARD has failed to develop the kind of retail market for cable-ready video devices that the FCC originally had in mind.
Historically, the FCC has awarded waivers to much less capable devices such as the
Digital Terminal Adapter (DTA)
, which are one-way (downstream-only) channel-zappers that don't inherently support more advanced services like video-on-demand, though they could be "force-tuned" to a VoD asset if they were paired with a tablet or another IP-connected device that could initiate the upstream request to start a streaming session. (See
Comcast: DTAs Can Be 'Force-Tuned'
and
FCC Opens the Way for More HD-DTAs
.)
— Jeff Baumgartner, Site Editor,
Light Reading Cable
Like what we have to say? Click here to sign up to our daily newsletter
Cable Next-Gen Technologies & Strategies – Making cable faster, broader, deeper, better
If you want to know where the cable tech space is heading, we've got you covered. Join the biggest names in the industry in Denver, CO on March 14 & 15 for the latest edition of Light Reading's Cable Next-Gen Technologies & Strategies conference.
Back for a record 16th consecutive year, Cable Next-Gen is the premier independent conference covering the broadband technology market. This year's edition will tackle all the top tech topics, including 10G, DOCSIS 4.0, Distributed Access Architecture, next-gen PON, fixed wireless access, network virtualization, the Digital Divide and more
Get your free operator pass here.
PARTNER PERSPECTIVES
- content from our sponsors