NEW YORK CITY -- Sprint is rolling out a couple of major enhancements to its 2.5GHz 4G LTE network in 2017 -- which should enable some users to get 200Mbit/s downloads on their devices and more capacity -- as it builds out more radio density with a view to a 5G future.

Sprint Corp. (NYSE: S) CTO John Saw joined COO Günther Ottendorfer and Ryan Sullivan, VP of product engineering and development, at the operator's offices just off Times Square Tuesday to talk about several forthcoming upgrades to Sprint's 2.5GHz-based LTE network. One is a new technology intended to extend the range of the high-band signals, while another is an additional boost to capacity through the bonding of three 2.5GHz radio channels. Finally, and looking even further into the future, Saw showed off a prototype antenna array that contained 128 tiny elements to increase speed and capacity over the air.

Let's examine each of the upgrades in turn:

3CA Customers are likely to start noticing the impact of three-carrier aggregation (3CA) early in 2017. Sprint showed off demos of the technology, which bonds three separate 2.5GHz radio channels (or "carriers") to create a 60MHz channel.

This essentially means that data downloads and network capacity get a healthy boost over standard LTE speeds. Saw showed off an Apple Inc. (Nasdaq: AAPL) iPhone 7+ -- with a custom software upgrade -- that was hitting peak speeds of 225 Mbit/s with 3CA in the network.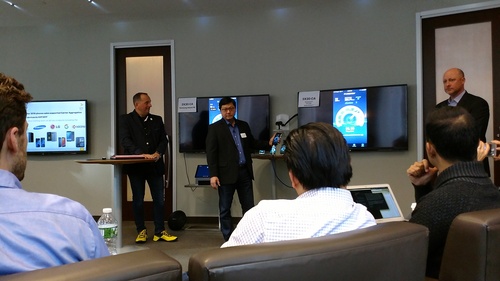 Sprint is selling the High Tech Computer Corp. (HTC) (Taiwan: 2498) Bolt as its first 3CA-capable device. The most recent Apple and Samsung Corp. phones will need a software upgrade to get the most from 3CA.
Device VP Sullivan told me that the upgrades will come for Apple, Samsung and a host of other vendors early next year. This will be "well ahead" of the Mobile World Congress show in late February next year, he said.
"By the end of 2017 we're forecasting that over half of Sprint customers will have ... compatible phones," said Sullivan during the conference proper.
CTO Saw was also keen to stress that all phones on the 2.5GHz network would benefit from the upgrade. "It basically lifts all boats, because everybody will have more capacity.
That doesn't mean that carrier aggregation isn't part of the carrier's toolbox of the future, too. "We have already started working on five-channel CA, which is what you need for 5G ... a 100MHz channel," Saw noted. [Ed note: Early 5G specs have talked about using a 100MHz channel in high-band configurations.]
---
For all the latest news from the wireless networking and services sector, check out our dedicated mobile content channel here on Light Reading.
---
High Performance User Equipment (HPUE) This is a new standard, pioneered by Sprint, that has just been ratified by the 3GPP, after nearly two years of work on the spec. In a nutshell, Sprint says that it will extend the range covered by 2.5GHz cells by up to 30% with an improved uplink connection.
Why is this important? Customers get a "better experience" on the faster 2.5GHz, Saw says, and with better coverage customers won't have to rely on a hand-off to Sprint's lower-band 1900MHz and 800MHz networks.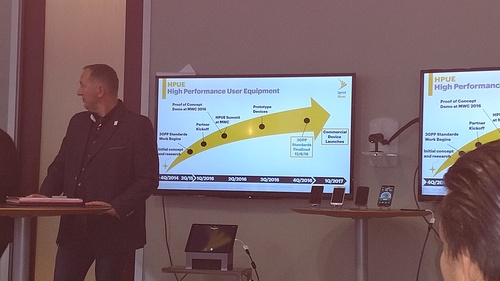 "We can almost replicate the mid-band [1900MHz] coverage area," Saw claims. The general rule of thumb is the higher the bandwidth, the lesser the coverage range.
To be able to take advantage of the extra coverage, customers will need new devices with more power amplifiers, power filters and software onboard. Sullivan is expecting the first devices to arrive in 2017.
The operator is working with Samsung, HTC, LG and others in a bid to build a 2.5GHz-based ecosystem around HPUE. Sprint is hoping to have it in all new Sprint devices within two years.
Massive MIMO CTO Saw also showed off a prototype 128-element LTE antenna from Nokia Corp. (NYSE: NOK) at the press conference. Sprint is expecting to test the antennas this year but couldn't say when they might go live. So-called "massive MIMO" (multiple input, multiple output) can drastically boost speed and coverage on a network. Saw said the technology is one of the key elements that will help Sprint approach gigabit download speeds on LTE networks, even before 5G arrives.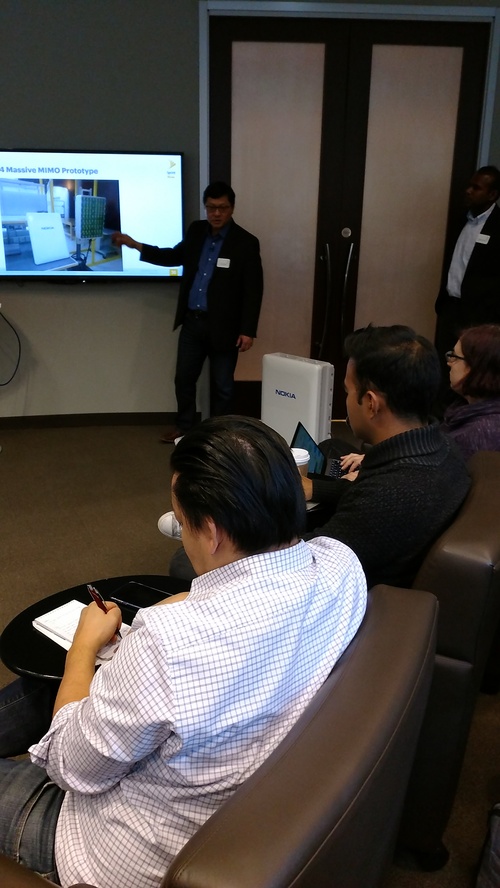 Sprint currently uses eight-transmitter, eight-receiver (8T8R) antennas in its 2.5GHz network. These new antennas would be 64T64R models.
Packing the antennas in like that can only be achieved at higher bandwidths. "Have you ever see a 700MHz antenna? It's taller than me, and I'm pretty tall," Saw quipped.
Implementing such technology should also help Sprint get experience of dealing with the high-frequency millimeter [30GHz-300GHz] waves that will be used for 5G. "Everything we do is a lead up to this 5G world," COO Ottendorfer said.
— Dan Jones, Mobile Editor, Light Reading