February 22 is a big date in the history of mobile broadband for several reasons. On that date last year, the Federal Communications Commission (FCC) approved the first devices using LTE-U (LTE-Unlicensed), a new technology that brought the benefits of LTE cellular technology into unlicensed spectrum, enabling consumers to enjoy better, faster mobile broadband. Actually, the FCC had approved the first devices using a sister technology, Licensed Assisted Access (LAA), on September 23, 2016. Using unlicensed spectrum for 4G with LTE-U/LAA is working extremely well for consumers -- as seen in New York and Chicago -- and that's just the beginning. We're developing even more advanced techniques to use unlicensed and shared spectrum to enable better, faster 5G for consumers too.

As it turned out, February 22, 2018 was also an important day in the history of mobile broadband. That's when the FCC issued a Notice of Proposed Rulemaking (NPRM) to implement Section 7 of the Communications Act. The goals of that law are to encourage the provision of new technologies and services to the public and to direct the FCC to determine within a year if a proposed new technology is in the public interest. That's precisely what we do here at Qualcomm Inc. (Nasdaq: QCOM) -- develop new wireless technologies and work to ensure that they are delivered rapidly and broadly in the US and around the world. It was very gratifying to read FCC Chairman Ajit Pai's Separate Statement on this matter. Chairman Pai noted that under his leadership, the FCC has taken a number of steps to promote technological progress, and his very first example was the FCC's approval of the first LTE-U devices last year, not to mention LAA before that.

I wholeheartedly agree with Chairman Pai. LTE-U (along with LAA) are great examples of wireless innovation, led by Qualcomm but with the active involvement and support of many other companies in the wireless industry. The work we did was important both on its own and because it spurred the rapid development of the follow-on technologies, all of which directly improve mobile broadband for consumers. Anyone who wants faster, better wireless connectivity can benefit from these innovations.

I wanted to share a few thoughts about wireless innovation -- how it begins, how my colleagues and I at Qualcomm work on these innovations, and why innovation in wireless is so important.

Commitment to long-term R&D A key pre-condition to generating fundamental and novel ideas is to set aside time and resources (people and money) for the future, which is not always easy in a competitive industry with rapid product cycles. More than seven years ago, we identified what we called the "1000x data challenge." Wireless data usage was doubling each year. If that continued for ten years, we needed to increase wireless capacity 1,000 times the then-current levels. The "1000x challenge" became our unifying goal. It fit on a bumper sticker, and it gave us a sharp focus. We identified two key areas for our work: spectrum and small cells. We needed to use more spectrum to meet the challenge, and we needed to densify cellular infrastructure by bringing cellular basestations much closer to the user devices to create more capacity from the additional spectrum. Our work in those two areas led us to the idea of using high-performance cellular technology, originally designed to maximize capacity, coverage and user data rates in licensed spectrum, in the 5GHz unlicensed spectrum. This is how we conceived the idea of LTE-U/LAA, which would not have been possible without a highly dedicated, extraordinarily talented R&D team and Qualcomm's commitment to invest in long-term wireless R&D.

In addition to time and resources, you also need a commitment to pursue new and sometimes risky innovations and the persistence not to give up in the face of resistance. It is a given that when you look far ahead, you may not succeed for a host of reasons. You cannot let the fear of failure discourage you. We strive to engage with as many people as possible in the wireless industry -- even those who are opposed to our new ideas. And we engage with government regulators at the FCC and elsewhere around the world early on as we refine our ideas. The goal is always to explain, refine, promote and collaborate around the innovation. We strive to ease concerns, resolve issues and answer questions.

We designed LTE-U/LAA to share the 5GHz spectrum fairly with WiFi, and we performed many, many lab tests and trials to prove it. Nevertheless, some concerns remained, which is often the case with groundbreaking innovations. We were, and continue to be, strongly committed to a long, bright future for both cellular and WiFi. So, we worked with both industries to find common ground and demonstrate co-existence with countless over-the-air demonstrations and trials. In the end, after much effort and perseverance, we prevailed. Consequently, it was very gratifying to see not just last year's FCC announcement, but also Chairman Pai's shout-out this year.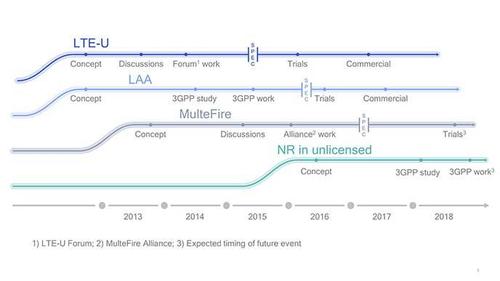 Another exciting aspect of LTE-U is that it created a foundation for additional innovations, which occurred very rapidly as well. While working on LTE-U, we also started work on LAA. LAA is like LTE-U but supports listen-before-talk (LBT) -- the same spectrum-sharing mechanism used by WiFi that is required in some countries outside the US. LAA is already available in many commercial handsets and is in deployment around the world. The next innovation after LAA was to enable LTE to operate stand-alone in unlicensed spectrum, which is called MulteFire.
But that's not enough. We need to bring these same innovations and more into 5G. We need to use unlicensed and shared spectrum in 5G to deliver the type of connectivity that people can only dream about today.
5G spectrum sharing – evolutionary and revolutionary paths When starting work on 5G, we built on the foundation in spectrum sharing technology that we pioneered in LTE‑U, LAA, and MulteFire. From the beginning, we ensured that 5G New Radio (5G NR) had a flexible frame structure that was forward compatible to support unlicensed spectrum. Recently, 3GPP started work on a study item to develop forms of 5G NR designed from the ground up to operate in unlicensed and shared spectrum. Going forward, we see two paths -- an evolutionary path and a revolutionary path as shown in Figure 2. The evolutionary path includes unlicensed/shared spectrum used with a licensed anchor (similar to LAA) and a standalone operation in unlicensed/shared spectrum (similar to MulteFire), which both use LBT for coexistence. We refer to this evolutionary path as NR unlicensed (NR-U). A key characteristic of NR-U will be the ability to co-exist and share spectrum fairly with other technologies, such as LTE-U/LAA, MulteFire, and WiFi, already deployed in unlicensed spectrum. Thus, NR-U will be able to operate in existing unlicensed bands or in greenfield unlicensed or shared bands.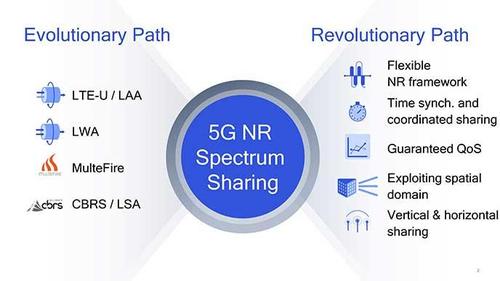 The ongoing 3GPP study provides a great opportunity also to explore new sharing paradigms targeting greenfield shared/unlicensed spectrum that can deliver significant benefits in terms of increased spectral efficiencies, higher perceived user data speeds, and guaranteed bandwidth and Quality of Service (QoS) than is possible today. We think of this as the revolutionary path and refer to this path as NR shared spectrum (NR-SS). NR‑SS holds the promise of enabling operators, including those with very limited or no existing licensed spectrum, to offer fiber-like 5G experiences within new shared or unlicensed bands. We are already making great progress. At MWC, we showcased a live NR-SS demonstration (see below) with advanced spatial spectrum sharing techniques such as Spatial Domain Multiplexing (SDM) and Coordinated Multi-Point (CoMP).
At Qualcomm, we plan to keep on inventing new technologies to make a better future.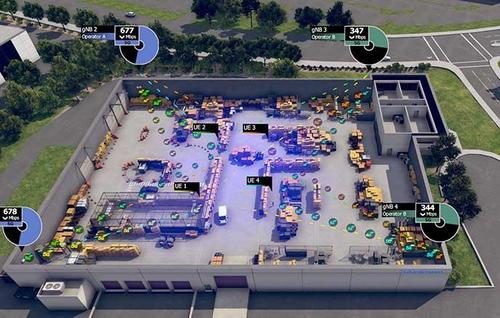 — Dean Brenner, SVP, Spectrum Strategy & Technology Policy, Qualcomm
This column is sponsored by Qualcomm.