FCC: Put a Price on Unlicensed Spectrum

Comment (1)
It's a rare thing to see FCC Commissioners Michael O'Rielly and Jessica Rosenworcel in agreement with each other. But when it comes to unlicensed spectrum policy, the two are of like minds. Not only do they both believe more spectrum needs to be freed up for unlicensed wireless use; they also both want to see better accounting for spectrum bands currently held by the US government, and better application of those bands if and when they're not fully leveraged.
Part of the problem, according to Republican O'Rielly and Democrat Rosenworcel, is that there's been no value assigned to the frequency bands reserved for government use, or to the benefit that unlicensed spectrum in general can bring to the commercial market. That makes it more difficult to present a compelling argument that more spectrum should be freed up for WiFi and other forms of connectivity dependent on unlicensed frequency bands.
In an effort to build a better case for unlicensed spectrum, advocacy organization WifiForward, which hosted O'Rielly and Rosenworcel at a small industry event in Washington DC this week, conducted a study of its contribution to the US economy. Authored by Dr. Raul Katz, director of business strategy research at the Columbia Institute for Tele-Information and president of Telecom Advisory Services, the study found that unlicensed spectrum generated $525.19 billion in added economic value in 2017, with $29.06 billion of that total contributing directly to the country's gross domestic product.
The amounts cited refer only to a subset of relevant technologies and their applications, and Katz suggests that they likely understate the total contribution of unlicensed spectrum to the US economy. However, the study at least provides a starting point for discussion by examining where unlicensed spectrum has cut costs for companies, generated new revenues and spurred innovation. Among the applications specifically addressed in the concluding report are WiFi offloading of cellular traffic, residential WiFi and the use of RFID.
Katz also offers a projection of the value of unlicensed spectrum by 2020, forecasting that it will reach $834.48 billion in the US because of trends like the development of 5G and expanded IoT deployments.
"I think it's so important what WifiForward has done today," says Rosenworcel, "by putting an economic value on the contributions that unlicensed spectrum makes for our economy."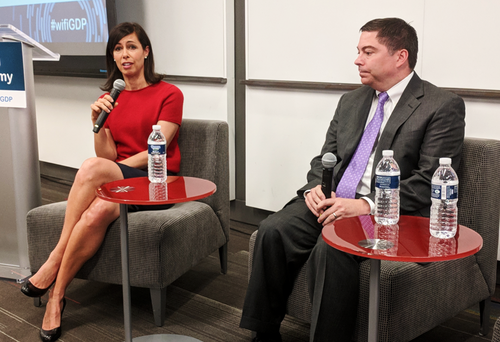 From a policy perspective, Rosenworcel would like to use this data to support the idea of creating a WiFi dividend, as part of the process for allocating licensed spectrum. She'd like to see the government section off new unlicensed frequency bands any time it runs a licensed spectrum auction.
O'Rielly approves of the concept, although he clarifies that spectrum for unlicensed use shouldn't be tied specifically to the licensed bands on auction. He notes that the bands most appropriate for unlicensed use may not be in the same frequency span, but that he generally supports the idea of making more spectrum available on the unlicensed side when licensed frequency bands are dispersed.
In addition to strengthening their calls for more unlicensed spectrum, O'Rielly and Rosenworcel are both also trying to raise awareness of how existing spectrum bands are being used today. In particular, the two commissioners are looking at whether frequency bands set aside for the federal government are being used efficiently, or whether those airwaves are going largely to waste.
For example, O'Rielly references spectrum designated for public safety in the 4.9 GHz band, of which a very small percentage is actually used.
Rosenworcel believes there should be new incentives for the government to give up spectrum when it's not being used effectively. O'Rielly would also like to see consequences imposed, noting that, "I think every incumbent knows that they better use spectrum as efficiently as possible or there'll be someone, whether the Commission or private sector, that's looking at the band to be re-allocated or re-banded."
---
For all the latest news from the wireless networking and services sector, check out our dedicated Mobile content channel here on Light Reading.
---
At the Congressional level, Rosenworcel re-emphasizes one of the issues in getting lawmakers to bother with spectrum re-allocation. She points out that the Congressional Budget Office doesn't account for unlicensed spectrum in economic terms.
O'Rielly goes even further, saying, "I made the point that all spectrum used by the federal government should be on the budget... If you put a cost to it, then everyone says, 'Well gee, that's a little different. Maybe I can give up a little of my spectrum."
"I think these are such good points," Rosenworcel comments. "I would say there's an intermediate step before even getting to putting it on the budget like Mike's describing. I would just be okay with right now having a spectrum currency, whereby we try to identify the value of all spectrum held by the federal government. We should put a number on that."
"I totally agree on that," O'Rielly adds.
Once again, it's a rare sight indeed to see O'Rielly and Rosenworcel on the same side of a communications policy issue. But with unlicensed spectrum, they have reason to be pulling in the same direction: the increasingly large effect those unlicensed airways promise for the wireless world.
— Mari Silbey, Senior Editor, Light Reading
PARTNER PERSPECTIVES
- content from our sponsors
GUEST PERSPECTIVES
- curated contributions