Verizon is confirming that it will launch mobile 5G services in "early 2019" as compatible devices become available.
"As mobile devices become available in the early 2019, Verizon will quickly move to be first in 5G mobile service," a spokesperson for Verizon told Light Reading Thursday morning.
Verizon says it will start to offer gigabit-speed "residential broadband" fixed wireless 5G service in the second half of this year, using its own 5GTF specification. This Tuesday, on its second-quarter earnings call, outgoing CEO, Lowell McAdam, revealed that Houston would be the third fixed 5G market -- with one more unnamed market to come -- later in 2018. (See Verizon Reveals Third 5G City, as Revenue Climbs 5.4% in Q2.)
Incoming Verizon CEO -- and current CTO -- Hans Vestberg, said on the call that Verizon is planning to update its "multi-use" Intelligent Edge network to support the 3rd Generation Partnership Project (3GPP) 5G New Radio (NR) specification for mobile use as soon as possible. This will involve a software upgrade to the 28GHz millimeter wave (mmWave) base stations that Verizon is already using for the fixed service.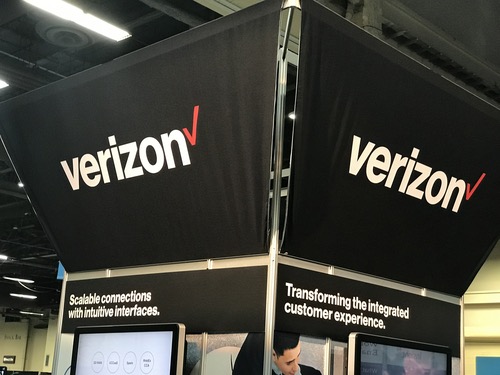 "We are preparing everything to be ready for the maturity of the equipment and the software as well as having the CPE and handset market ready for launching those products," Vestberg said. (See Verizon Migrating From Homebrew 5G, Enlists Qualcomm for Trials and Verizon Preps Fixed 5G but Mobile Gigabit-Speed Downloads May Not Arrive Until 2019.)
Vestberg said on the call that Verizon is deploying the fiber to support at least 50 -- as yet unnamed -- 5G markets in the US, in what he called "ambitions for 2019."
AT&T this week, on its second-quarter call, meanwhile, reiterated that plans to launch standards-based mobile 5G in parts of 12 markets in the US by the end of 2018. Both AT&T and Verizon are using high-band millimeter spectrum 5G -- a first for cellular services -- although AT&T hasn't revealed exactly which frequency yet. (See AT&T Expects Mobile 5G in 'Parts' of 12 Markets by Year's End.)
Both major wireless carriers in the US are claiming they will be first with mobile 5G in the country. (See AT&T Joins 5G Marketing War, Promising 'Mobile' Launch in 2018.)
What counts as a "mobile 5G service" in the beginning stages of the transition to next-generation will mainly be a question of semantics.
AT&T says it will launch its "mobile puck" late in 2018. The puck is a 5G router that will distribute the mmWave signal to a subscriber's other devices via WiFi. Here at Light Reading, we've already debated whether a signal router counts as a mobile device. (See AT&T's 'Mobile' 5G: What the Puck?)
Verizon, it seems, is waiting for handsets in 2019.
Qualcomm Inc. (Nasdaq: QCOM) told Light Reading last week that it expects "mobile hotspots" by the end of the year, handsets by in the first half of 2019. Early phones are expected to be unveiled at Mobile World Congress 2019 at the end of February. (See Qualcomm Unveils New Modules to Power Millimeter Wave 5G for Smartphones.)
---
Zero in on the most attractive 5G NR deployment strategies, and take a look ahead to later technology developments and service innovations. Join us for the Deployment Strategies for 5G NR breakfast workshop in LA at MWCA on September 12. Register now to learn from and network with industry experts – communications service providers get in free!
---
As Qualcomm appears to be at the forefront of mobile mmWave 5G RF chip development right, both AT&T and Verizon appear beholden to the San Diego company to help develop the 5G device ecosystem.
After all, if an operator has a 5G network on air, but subscribers can't buy a compatible device, then all the promises of gigabit download speeds, new use cases and applications are moot.
— Dan Jones, Mobile Editor, Light Reading