Fixed 5G a 'Supplement' to Home Broadband, Altice USA Exec Says
NEW YORK -- Future of Cable Business Services -- 5G-powered fixed wireless services are being ballyhooed as a competitive alternative to wired home broadband services. But a top Altice USA exec says this emerging competitive product will merely serve as a tangential piece to the wider marketplace.
"We think it's a supplement, Hakim Boubazine, co-president and COO of Altice USA , said of the competitive aspects of fixed wireless 5G services here Thursday during a keynote conversation. (See Verizon's Home-Grown 5G Arrives Today.)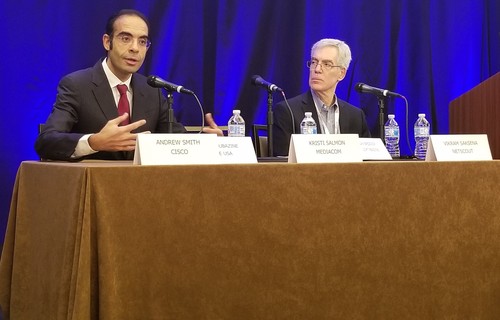 Though fixed wireless 5G will be somewhat limited in the applications it can deliver, Boubazine said it would likewise help companies like Altice USA hit hot spots and other areas that require more capacity density, he said.
"We do believe that 5G is a natural evolution, when you look at the capacity plan," Boubazine said. (See Altice USA Downplays Verizon's 5G Broadband Threat .)
From a broader perspective, Boubazine said Altice USA, a company comprised of Altice's acquisitions of Suddenlink Communication and Cablevision Systems, views itself as a "challenger brand."
In some ways, that means that Altice USA is zigging while other MSOs and service providers are zagging.
That is particularly pronounced with respect to Altice USA's network upgrade strategy. Rather than leaning heavily on DOCSIS 3.1, Altice USA is upgrading the bulk of its footprint to fiber-to-the-premises.
While D3.1 will be used as a stop-gap to deliver gigabit speeds in some areas served by HFC networks, the broader goal is about rolling out a FTTP network using the company's GPON technology and staying well ahead of the capacity curve, he said. (See Altice USA Lights Up FTTH Service in Long Island.)
And Altice USA believes the strategy will work out, given the FTTP experience it has and the results it has seen with both consumer and commercial customers in Europe. Altice USA's FTTP rollout is in the early stages, but its corporate cousins in Europe have already deployed fiber to more than 50 million homes passed, Boubazine said.
DOCSIS 3.1 "will have a place in the cable footprint" to deliver gigabit speeds via HFC, at least in the downstream," Boubazine said. However, Altice USA has no plans to deploy Full Duplex DOCSIS, an extension to D3.1 that will support symmetrical multi-gigabit speeds.
Boubazine said Altice USA's fiber plan also fits into its mobile strategy as it will help to provide critical backhaul and be backed by a small cell architecture.
Altice USA is on track to launch a mobile service, via its "full" MVNO deal with Sprint Corp. (NYSE: S), in the first half of 2019.
Boubazine said it is poised to be a "game-changer for our customers and for the market." Notably, Altice USA's service will have its own SIM, allowing the company to control the user experience and the features and other value-added services it chooses to tack on. (See Altice USA's 'Full' MVNO Puts It in SIM City .)
— Jeff Baumgartner, Senior Editor, Light Reading
Like what we have to say? Click here to sign up to our daily newsletter
One of America's most loved telecoms get-togethers, The BIG 5G Event, will be returning to Austin in 2023 to host 1,500+ telecom, cloud and technology professionals — and we want you to be a part of it!
For three days, you can meet and network with leaders from every part of the North American 5G ecosystem and hear from over 150 speakers on the hottest industry topics. To apply for your complimentary pass to the event, visit this link.
EDUCATIONAL RESOURCES



PARTNER PERSPECTIVES
- content from our sponsors