Also in today's EMEA regional roundup: Telia tees up 5G test network in Estonia; Vodafone brings Juniper into its SD-WAN fold; new blood for Ofcom.
Telecom Italia (TIM) , Fastweb SpA (Milan: FWB) and Huawei Technologies Co. Ltd have joined forces to put what they claim is the world's first 3GPP-compliant 5G basestation into commercial use. The threesome demonstrated ten potential 5G applications with the technology, ranging from smart cities to smart agriculture, via culture and tourism. The intention is to provide the cities of Bari and Matera with 5G commercial coverage by the end of 2018, or at least 75% coverage by population. Incidentally, in the course of researching this item, Eurobites was pleased to discover that Fastweb's CTO is called Andrea Lasagna.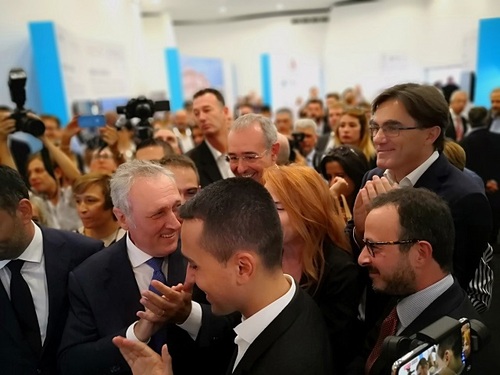 Further north, the Baltic nation of Estonia will, according to Telia Company and friends at least, soon get its first 5G network. Telia has been collaborating with Ericsson AB (Nasdaq: ERIC) and the Tallin University of Technology, with the aim of launching the network at the university campus by the end of the year. Startups will be invited to use the network to develop new 5G-friendly services. One of the first collaborative projects will involve a self-driving car named Iseauto: In 2019 it is envisaged that the car will be on the move and communicating with the surrounding infrastructure through the magic of 5G.
---
Home in on the opportunities and challenges facing European cable operators. Join Light Reading for the Cable Next-Gen Europe event in London on November 6. All cable operators and other communications service providers get in free!
---
Vodafone Group plc (NYSE: VOD) has chosen Juniper Networks Inc. (NYSE: JNPR) as one of its SD-WAN vendors for its enterprise SDN portfolio. Juniper's Contrail offering is built on universal customer premises equipment (uCPE) that allows multiple virtualized network functions to be delivered from a single device, says the vendor.
UK telecom regulator Ofcom has appointed two new members to its board. Dr Angela Dean was a financial analyst of European communications and technology companies for almost 20 years, and is currently a managing director at investment bank Morgan Stanley. Maggie Carver, who started her career in investment banking, is chairman of the British Board of Film Classification and the Racecourse Association. What's in it for them? Well, the salary for Ofcom board members is £42,519 (US$55,936) per annum, though Maggie Carver, as deputy chair, will pocket £70,000 ($92,000) per annum.
IX Reach, a UK-based network services provider, has achieved Advanced Technology Partner status in the Amazon Web Services (AWS) Partner Network (APN). IX Reach currently has a presence in 11 AWS regions worldwide.
Norway's Telenor Group (Nasdaq: TELN) has signed a global partnership agreement with Plan International, a humanitarian organization that seeks to advance children's rights and equality for girls. The partnership aims to use digital technology to tackle inequality in Bangladesh, Pakistan, Myanmar, Thailand, Norway, Sweden and Denmark.

— Paul Rainford, Assistant Editor, Europe, Light Reading