Also in today's EMEA regional roundup: Nokia and Telecom Italia claim European data speed record; Brits' online angst; Colt calls on ADVA for Ethernet encryption.
With much fanfare and a fair few fireworks, EE, the BT-owned mobile operator, has launched 5G in the UK. The event was marked last night with a "5G-powered" performance by grime mumbler Stormzy on the banks of London's River Thames, with the artist agreeing to say: "Tonight was sick, I'm honored to be part of history." Using 5G in combination with remote production technology, EE broadcast the event across social media. Stormzy's fans in the other five 5G launch cities -- Cardiff, Edinburgh, Belfast, Birmingham and Manchester -- were able to watch the show in 360-degree virtual reality at EE stores.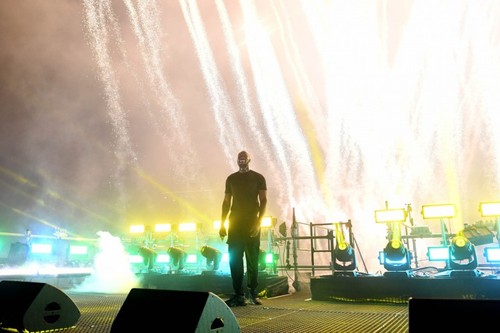 Then, this morning, viewers of the BBC Breakfast TV show were able to watch the BBC's technology correspondent report on the launch of the 5G network via that very network, though he acknowledged that things didn't go to plan initially because test runs on the network had used up the monthly data allowance on his 5G phone! Specialized 5G modems were connected to the TV news cameras, relaying the pictures the couple of miles from London's Covent Garden to New Broadcasting House. (See BT and the unbearable lightness of 5G-ing and BT Lines Up Western Vendors to Replace Huawei as 5G Goes Live.)
Nokia and Telecom Italia (TIM) are claiming a European record for long-distance data transmission over an optical network, with the pair achieving a wavelength speed of 550 Gbit/s over a 350km link on TIM's operational network between Rome and Florence using Nokia's Photonic Service Engine 3 (PSE-3). PSE-3 uses a signal processing algorithm known as Probabilistic Constellation Shaping (loved their third album), which Nokia says maximizes data transport capacity over any distance. TIM and Nokia also reached a transmission rate of 400 Gbit/s over 900km between Rome and Milan, and 300 Gbit/s over a 1,750km link.
Sticking with Nokia, the Finnish firm has landed a new engagement with Telefónica Spain, which is to use the vendor's Deepfield Cloud Intelligence software as part of an automated cloud and network analytics strategy. For more details, see this press release. Telefónica is responding to these challenges with an ambitious automation strategy, relying on Nokia Deepfield software for its automated cloud and network analytics for real-time, actionable insights on network performance and quality of experience. Nokia Deepfield provides Telefónica with an unrivaled view of each network path and the aggregated traffic running to and through it with Nokia's Cloud Genome technology, which tracks more than 50,000 popular cloud applications and over-the-top services.
Brits are spending more time online but are also worrying more about being connected. That's the gist of a new report, Online Nation, from communications regulator Ofcom, which found that the proportion of adults concerned about using the Internet has risen from 59% last year to 78% this time round. Sixty-one percent of adults reported having had a "potentially harmful" online experience in the past year, with most of these coming, not surprisingly, from social media.
UK-based Colt Technology Services is to use ADVA's FSP 150 with Layer 2 ConnectGuard security technology for its Ethernet Line Encryption service. The offering, says ADVA, provides end-to-end data protection for low-latency performance of up to 10Gbit/s. Colt's Ethernet Line Encryption is available in Europe, North America and Asia on metro, national and international Ethernet line circuits.
First-quarter revenue at Russia's MegaFon increased 4.8% year-on-year to 80.128 billion Russian rubles (US$1.233 billion), though net profit slumped by 63.8% to RUB2.187 billion ($33.662 million), a result, says MegaFon, largely attributable to a 33% increase in finance costs resulting from the operator taking additional financing to complete a share offer. In Russia, MegaFon increased its number of mobile subscribers by 1% year-on-year, to more than 75 million.
Programmable network interface card (NIC) specialist Napatech has raised $8.7 million through a private placement of new shares to help fund its cybersecurity and virtualization plans. The Danish company recently announced a 72% year-on-year increase in first-quarter revenues to 38.3 million Danish Krone ($5.7 million) and a significant improvement in its operating losses, which came in at DKK 4.6 million ($686,000) compared with DKK 26.4 million ($3.9 million) a year earlier.
Telefónica UK (O2) has appointed its director of corporate affairs, Nicola Green, to its Executive Team. Prior to O2, Green was head of consumer public relations at Orange.

— Paul Rainford, Assistant Editor, Europe, Light Reading