Ericsson Back in Profit After Fierce Cuts & 5G Action
Ericsson has swung to its first operating profit in nearly two years after slashing about 20,500 jobs and cutting more than 10 billion Swedish kronor ($1.13 billion) in annual costs under CEO Börje Ekholm, who took charge of the ailing equipment vendor in January last year. (See Ericsson Reports Marginal Improvement in Q2.)
Buoyed by a huge improvement in its quarterly sales performance, Ericsson AB (Nasdaq: ERIC) hailed the successful completion of its cost reduction program, recording a small operating profit of SEK200 million ($22.6 million) for the recent April-to-June quarter -- its first since the third quarter of 2016 -- after a loss of SEK500 million ($56.4 million) a year earlier. (See Ericsson: Desperately Seeking Profitability and Ericsson Stuck in Loss-Making Rut, Offloads Majority Stake in Media Unit.)
The turnaround leaves Ericsson with an operating margin of 4.1% excluding restructuring charges, up from 1.9% a year earlier, and means the company is "tracking well" toward its 2020 target of 10%, said Ekholm in a statement.
Ericsson's share price gained 8.8% to hit SEK73.90 during morning trading in Stockholm Wednesday.
Table 1: Ericsson Headline Figures for Q2 (SEK Billions)

Q2 2018
Q2 2017
YoY change
Net sales
49.8
50.3
-1.0%
Gross margin
34.8%
29.1%
5.7 percentage points
Operating income
0.2
-0.5
140.0%
Operating margin
0.3%
-1.1%
1.4 percentage points
Net income
-1.8
-0.5
-260.0%
Cash flow from operating activities
1.4
0.0
N/A
Free cash flow
-0.6
-1.3
53.6%
Net cash at end of period
33.1
24.0
37.9%
Gross margin excluding restructuring charges
36.7%
30.9%
5.8 percentage points
Operating margin excluding restructuring charges
4.1%
1.9%
2.2 percentage points
Source: Ericsson.
Ericsson fell on hard times under former CEO Hans Vestberg as it was battered by competition from Chinese rivals and a downturn in the market for mobile network equipment. The company also appeared to overextend through takeovers in the media sector and other non-core areas.
Brought in to clean up the mess, Ekholm has been working to restore profitability by shedding costs, ditching unprofitable units and contracts and making the networks business a recognized market leader in the 5G era.
The return to profitability at the operating level was anticipated by Light Reading after Ericsson took giant strides in the first quarter, narrowing its loss to just SEK300 million ($33.8 million) from about SEK11.3 billion ($1.3 billion) a year earlier. (See Ericsson Takes Giant Leap Toward Profitability.)
The performance in the second quarter seems like a testament to the management skills of Ekholm, who described himself as a "telecom rookie" when he took the leadership position at Ericsson in early 2017.
Even so, in a radio access network (RAN) market it expects to shrink by 2% this year, Ericsson cannot afford to be complacent. For one thing, it remains unprofitable at the net income level, with total losses widening to SEK1.8 billion ($200 million), from SEK500 million ($56.4 million) a year earlier, due largely to higher taxes.
But the company was clearly boosted by a major improvement on the sales side, with revenues falling just 1% year-on-year, to SEK49.8 billion ($5.6 billion), after a drop of 9% in the first quarter.
Speaking with analysts during an earnings call this morning, Ekholm attributed that growth partly to a much healthier appetite for new 5G products than Ericsson had originally expected.
"It is stronger than we anticipated six to nine months ago," he said. "We are seeing more traction in customer discussions than market reports seemed to indicate."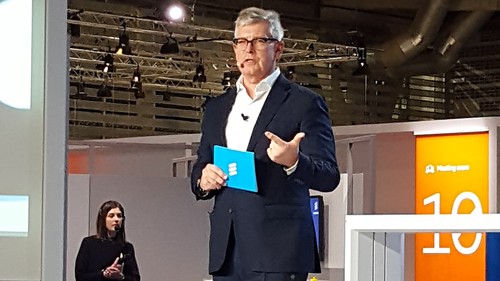 While US measures against China's ZTE Corp. (Shenzhen: 000063; Hong Kong: 0763) appear to have driven some networks business toward Ericsson, the Swedish vendor has spent heavily on research and development to bolster its product portfolio. Indeed, despite the savings program, overall expenses rose by about 10%, to SEK16.3 billion ($1.8 billion), because of higher R&D investments. (See ZTE in Existential Crisis as It Slams 'Unfair' US Ban, Considers 'Judicial Measures'.)
Ericsson finished the quarter with 95,620 employees, having cut 2,321 positions during the second quarter alone, but has ring-fenced its R&D unit from cutbacks and hired new staff in its bid to challenge Huawei, its biggest rival, for global market leadership.
Nevertheless, the completion of the SEK10 billion ($1.13 billion) savings program left some analysts concerned about Ericsson's ability to realize a further increase of six percentage points in its operating margin by 2020.
Quizzed on that point during today's earnings call, Ekholm said Ericsson would continue to work on reducing costs. It is expected to incur restructuring charges of SEK1.9-3.9 billion ($210-440 million) in the second half of the year in relation to these activities.
Ekholm expects a further boost in profitability from increased sales of the Ericsson Radio System, a "5G-ready" platform that now accounts for about 84% of RAN business, and the overhaul of its struggling digital services business.
---
Want to know more about 5G? Check out our dedicated 5G content channel here on
Light Reading.
---
At Ericsson's all-important networks business, sales were up 2%, to SEK32.4 billion ($3.7 billion), following a decline of 9.5% in the first quarter. And despite some concern that Ericsson has landed contracts by slashing prices, the operating margin held up at 10.9%. (See DT Ditches Nokia From Its German Radio Access Network and Ericsson Beefs Up With Telefónica Argentina as Huawei Goes Hungry.)
Ericsson attributed the networks improvement mainly to activity in North America, where operators such as Verizon Communications Inc. (NYSE: VZ) and AT&T Inc. (NYSE: T) are investing in 5G-ready gear and have been warned off using technology supplied by either Huawei Technologies Co. Ltd. or ZTE by government authorities.
It was a different story at the ailing digital services business, which has been the source of many of Ericsson's problems. Net sales were down 11%, to SEK8.8 billion ($1 billion), and operating losses widened to about SEK2.4 billion ($270 million), from SEK2.2 billion ($250 million) a year earlier.
Ericsson has been renegotiating or scrapping contracts it deems unprofitable. It plans to complete or exit 50% of 45 digital services contracts under review and says it has now addressed 16 of these deals. "We are encouraged by the improvements but there is still a lot of work to do," said Carl Mellander, Ericsson's chief financial officer, during the company's earnings call.
But the signs have been encouraging enough for Ericsson to appoint Jan Karlsson as senior vice president, head of Business Area Digital Services, effective August 1, when he will also become a member of the Ericsson Executive Team. Karlsson has been the acting head of Digital Services since February and "under his leadership he has ensured that we have continued to execute on our plans to turn the business around in Digital Services," noted Ekholm in an announcement about the appointment.
There was better news at the managed services outfit, where sales declined just 2%, to SEK6.5 billion ($730 million), and Ericsson swung to an operating profit of SEK300 million ($33.8 million), from a loss of the same amount a year earlier.
At its emerging and other business, which includes what remains of its media assets following divestment activities, sales grew 2%, to around SEK2.1 billion ($240 million), and operating losses narrowed to SEK1.3 billion ($150 million) from SEK1.5 billion ($170 million) a year earlier. (See Ericsson Rebadges Media Unit, Eyes Smart Cities, M&A.)
— Iain Morris, International Editor, Light Reading
Like what we have to say? Click here to sign up to our daily newsletter
One of America's most loved telecoms get-togethers, The BIG 5G Event, will be returning to Austin in 2023 to host 1,500+ telecom, cloud and technology professionals — and we want you to be a part of it!
For three days, you can meet and network with leaders from every part of the North American 5G ecosystem and hear from over 150 speakers on the hottest industry topics. To apply for your complimentary pass to the event, visit this link.
EDUCATIONAL RESOURCES



PARTNER PERSPECTIVES
- content from our sponsors