AMG's NextLink: The FCC's Poster Child for Crossing the Digital Divide

Comment (0)
Next month the FCC plans to vote on a proposal from Chairman Ajit Pai that would set aside $20.4 billion over the next ten years to help pay telecom companies to cross the digital divide, under what he calls the Rural Digital Opportunity Fund. AMG Technology Investment Group's NextLink is prepared to lead the charge.
Pai's Rural Digital Opportunity Fund "would be a great next step towards bridging the rural divide," said Bill Baker, CEO of NextLink.
Baker's words carry a lot of weight in this area. After all, Pai's Rural Digital Opportunity Fund is a much bigger version of the $1.5 billion Connect America Fund Phase II (CAF II) reverse auction that the FCC conducted last year. In that event, the FCC promised to give money to the companies that submitted the lowest bid to provide telecommunications services in rural and underserved areas. AMG's NextLink won the most money of any participant in the FCC's CAF II auction, walking away with $281.3 million in total funding to deploy service to nearly 100,700 homes and businesses in rural parts of Illinois, Iowa, Kansas, Nebraska, Oklahoma and Texas.
And, just this week, the FCC said that it had officially authorized that CAF II funding. Baker said NextLink expects to cash its first CAF II paycheck -- which will probably be around $2.4 million -- sometime in the next few weeks.
So what is Baker going to spend that money on? Probably on buying spectrum in the FCC's upcoming 2.5GHz and 3.5GHz auctions, on fixed wireless equipment from Cambium Networks, and on building towers in its CAF II markets.
However, Baker cautioned that some of the details of NextLink's plans remain in flux. For example, the FCC's 2.5GHz and 3.5GHz auctions haven't even been scheduled yet, though they are expected to occur within the next year or so. Baker said that still gives NextLink plenty of time to hit its CAF II buildout requirements. The FCC's rules require CAF II winners to begin offering commercial services within six years.
Baker also said NextLink hasn't signed an official agreement with Cambium yet, but is strongly leaning toward using Cambium's equipment. NextLink -- which is the corporate brand name of AMG, of which Baker is the majority owner -- currently offers fixed wireless services in rural parts of Texas and Oklahoma on the 3GHz and 5GHz spectrum bands to around 33,000 customers using equipment from Ubiquiti Networks and Cambium. Cambium became a publicly traded company on the Nasdaq last month; its stock is trading at around $10 per share, below the company's initial public offering price range of $13-$15 per share.
As for cell towers, Baker said NextLink could build thousands of new cell towers in its CAF II markets. "We have found the pricing from the national tower companies is just out of line with economics in a rural marketplace and relative to the cost of building a tower in a rural marketplace," Baker explained, adding that NextLink has the financial wherewithal to build its own towers. "There's a short-term cash burn [in building towers] but the long-term economics are overwhelming," he said, because then NextLink won't owe rental fees to a tower company. He said NextLink has already built 300 of the 600 towers it is currently using.
That NextLink plans to use fixed wireless technology to meet its CAF II buildout requirements is not a surprise. Although the FCC said the company must deliver speeds of 100 Mbit/s downstream and 20 Mbit/s upstream to two-thirds of its coverage area, and 25 Mbit/s downstream and 3 Mbit/s upstream to its remaining coverage area, Baker said that's economically achievable with today's fixed wireless technologies. After all, fixed wireless services typically rely on an Internet signal broadcast from a cell tower to a receiver on the inside or outside of a customers' home or office, thus eliminating the costly installation of wires from that tower to that customer.
Indeed, according to a new report from BroadbandNow Research, wireless internet service providers (WISPs) like NextLink have collectively increased their speeds by more than 250% from 2015 to 2019.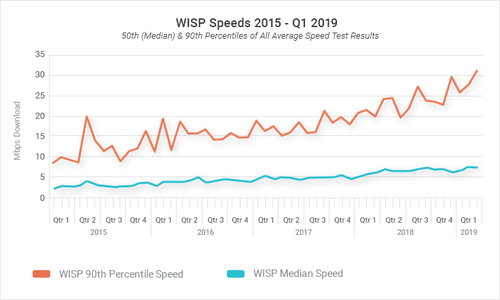 "Perhaps more interesting is that the 90th percentile values of WISP speed test results now rival the median results of wired technologies," BroadbandNow Research wrote in its report. "The average WISP speed still has a way to go, but there is clearly a major improvement and consumers that have excellent fixed wireless connections are receiving quick performance."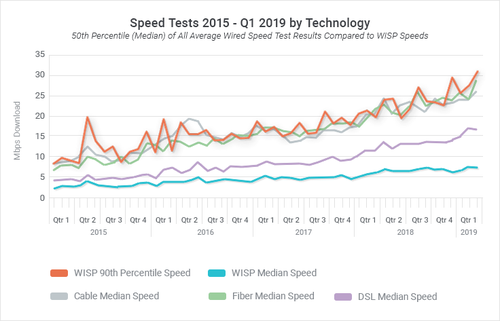 Indeed, one of NextLink's fellow WISPs, Rise Broadband, has said that it has seen a tripling of speeds available through fixed wireless technology in recent years. Rise CTO Jeff Kohler attributed the improvements to advances in wireless technologies like Massive MIMO. "There's never been a more exciting time for our engineers and our company," he said recently.
To be clear, the improvements in fixed wireless speeds can be traced in part to the development of 4G LTE and 5G technology standards. However, most WISPs use proprietary transmission technologies from vendors like Cambium because they're often less expensive than using technologies like LTE. NextLink's Baker has said that he may deploy a mix of technologies including LTE and proprietary offerings depending on how many customers he needs to cover in a given area.
Nonetheless, fixed wireless providers largely dominated the FCC's recent CAF II auction, with companies like Wisper ISP, Commnet Wireless, Cal.net and Midcontinent Communications (Midco) garnering some of the biggest payouts. Thus, it's reasonable to assume that Pai's Rural Digital Opportunity Fund could fund additional fixed wireless players including, possibly, NextLink.
— Mike Dano, Editorial Director, 5G & Mobile Strategies, Light Reading | @mikeddano