Vapor IO Is Virtualizing the Edge
Vapor IO Is Virtualizing the Edge
And it's made Chicago its first Kinetic Edge city. Whether you call it edge computing, fog computing, or something else entirely, the communications industry is now working hard to bring the scale and economics of a centralized cloud architecture out to the network edge. And startup company Vapor IO? It believes it may have gotten there first.
Vapor IO is today introducing the Vapor Kinetic Edge, a solution for combining multiple micro data centers into a larger virtual infrastructure system. The idea behind the virtual system is to maximize resources for greater overall efficiency and redundancy, and to use software that automatically distributes workloads for different applications, many of which will connect back out to the physical world.
The details of the Kinetic Edge are important, but for the big picture, it helps to think about what such a system could be used for. For example, a cloud company could use the Kinetic Edge to peer with a mobile operator, bringing its applications closer to mobile customers for higher performance. Or a city could use the Kinetic Edge to support its requirements for smarter, connected transportation, enabling extremely low-latency communications between autonomous vehicles.
To that latter point, Vapor IO says it's already rolling out the Kinetic Edge in Chicago today through its partnership with tower company Crown Castle International Corp. (NYSE: CCI). (See Crown Castle Eyes Edge Computing in 2018.)
"Chicago is our first Kinetic Edge city," says founder and CEO Cole Crawford. "We're using Crown's real estate, and we are spinning up Crown Castle's fiber where we are putting our data center infrastructure."
So Crown Castle brings the land and fiber connectivity. Vapor IO has the necessary software systems and the new Vapor Edge Module, a modular micro data center unit also announced today.
But what does the Kinetic Edge look like?
First, there's the overall architecture. Vapor IO sets up multiple edge data centers in a geographic region spaced 15 to 20 kilometers apart. Then it connects those data centers with a metro fiber ring, with the option for a wireless mesh network overlaid on top.
Figure 1: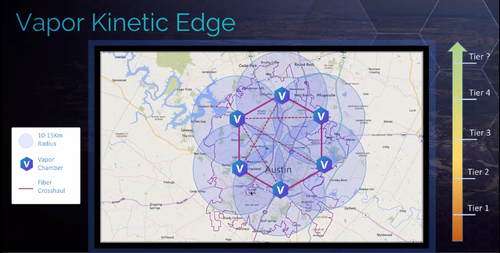 Each "V" in the hypothetical layout above is a Vapor Edge Module.
The second piece is the hardware. The Vapor IO Edge Module includes the company's patented Vapor Chamber, which is a multi-tenant domed structure that rotates to make different server racks available as needed. The module supports up to 150 kilowatts of IT load, packaging in the necessary power distribution, fire suppression and security systems, and including the capability to couple with multiple types of cooling systems.
Figure 2:

Vapor Edge Module shown left, with Vapor Chamber design on right.
Finally there's the software, and this is where the Kinetic Edge gets particularly interesting. Vapor IO has worked to abstract data from rack infrastructure operations as well as building operations, and has created a way to ingest that telemetry data into a standardized software interface for easier monitoring and manipulation.
"This takes lots of intelligent software," says Crawford. "And so what Vapor has done over the last two years is work on the 60-year-old binary wire protocols that building infrastructure speaks, and these are ... really ugly protocols, and we boil all of that data up to Layer 7. So now it sits in a REST API."
Crawford goes on to say, "It's at Layer 7, which also means it's ingestible by something like a Kubernetes scheduler or a Mesos scheduler so you can start reporting on standard deviation. [For example,] am I connected to both substations? Am I running on generator power? Have I lost my rack infrastructure?"
The goal is to make it possible for applications based on data from physical systems -- buildings and server racks, but also ultimately other structures and objects -- to drive themselves, i.e. to become truly automated.
Once telemetry data exists in a useful form, says Crawford, "You can then contextualize that data to allow for true semantic control of this effectively living edge, this Kinetic Edge that we've built."
For all the latest news automation in the communications sector, check out our dedicated automation content channel here on Light Reading.
Crawford continues by explaining why such a system is useful.
"Imagine being able to report on an NFV function that has to meet a sub-4-millisecond requirement for an autonomous driving application," says Crawford, "Or it has to achieve greater than a 10-gigabit virtual circuit to allow for some throughput. Now if we listen to the industry and all of the people prophesizing 175 zettabytes of data on the planet by 2025, well humans just don't scale well with that amount of data. We're going to have to algorithmically and autonomously create both the network and the physical infrastructure for where, how and why an application should live where it lives."
And that's what Vapor IO is trying to do.
Naturally, many of the scenarios Crawford describes are still some way off, but Vapor IO is putting the pieces in place now to enable these automated edge applications in the future.
As Crawford puts it, "Back in the mid-2000s, Mark Andreessen said software is eating the world ... This is software eating the data center."
— Mari Silbey, Senior Editor, Cable/Video, Light Reading
Subscribe and receive the latest news from the industry.
Join 62,000+ members. Yes it's completely free.
You May Also Like
---