Terragraph: A WiMax in Facebook Clothing?
Terragraph: A WiMax in Facebook Clothing?
Facebook's Terragraph technology may have a hard time against 5G in the markets it hopes to address. Remember WiMax? The Intel-backed technology was a doomed attempt by the computer industry to break into the connectivity sector and build a 4G standard. It ultimately lost out to LTE, joining Betamax, the Sony Walkman and the Casanova-endorsed reusable contraceptive on the scrap heap of failed or obsolete innovations.
Now the computer industry is back with a WiMax successor. Disinclined to abandon that quizzical prefix, Intel Corp. (Nasdaq: INTC) calls this one WiGig. Facebook has gone with the more grounded Terragraph for the WiGig-based technology it is now busily promoting as an answer to the world's bandwidth problems. Is this like a phoenix rising from the ashes, or a putrid zombie back from the dead? (See Facebook Lauds Terragraph Cost Savings.)
WiGig/Terragraph technology is not based on WiMax, but the story is. Designed to work over extremely high frequency spectrum (the 60GHz range, specifically), it is mainly cast as a fiber substitute for places where a fiber rollout is uneconomical. It might also have a role to play as a "backhaul" technology in mobile infrastructure, providing connectivity between nodes and the core network. Stop me if you've heard this one before.
Figure 1: Winging It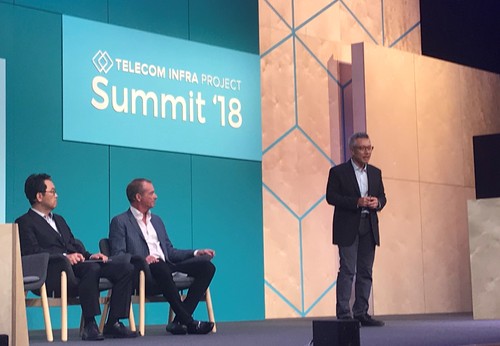 From left to right: Deutsche Telekom's Alex Choi; Facebook's Mark Kelley; YTL's Wing Lee (standing).
Facebook is desperate to make Terragraph a success, and have something to show for its connectivity efforts so far. Unsurprisingly, then, Terragraph was the focus of presentations lasting an entire morning at this week's two-day TIP Summit in London. But there is a massive disconnect. TIP (or the Telecom Infra Project, to give the initiative its full name) is an attempt to introduce the social media giant's principles of openness and sharing into a network equipment sector apparently dominated by a handful of restrictive, royalty-loving incumbents. Yet the likes of Intel, Nokia Corp. (NYSE: NOK) and (especially) Qualcomm Inc. (Nasdaq: QCOM), which are designing Terragraph equipment and were on stage in London, fit awkwardly into this communistic, royalty-free narrative. (See Qualcomm Blasts Apple for Disrupting Deals in Legal Dispute.)
In fairness to Terragraph, TIP is not really an open source initiative at all, a point often misunderstood in the mainstream press. In fact, only two of its 13 technical project groups are based on royalty-free principles. The others, including the millimeter wave group that champions Terragraph, allow licensing based on "reasonable and non-discriminatory" (RAND) terms. That all sounds jolly nice and equitable, but the same system is today used by the mainstream equipment market that TIP seeks to undermine. Royalty rates are falling, too. In August, Nokia put pressure on its rivals when it promised to cap its 5G licensing fees at €3 ($3.45) per device. (See TIP Players Voice Open Source Misgivings.)
Ah, but TIP is really about open approaches, say its advocates. You don't get to eat your rival's food without paying, but you do expect him to bring snacks to the party. This is exactly how the cellular standardization process is supposed to work, however. Indeed, 4G and 5G technologies are considered "standards" partly because they were designed in an "open," community-based way -- unlike, say, the proprietary stuff you would get from Sigfox, a French company developing network technology for the Internet of Things (IoT). (See French Toast? Sigfox on Skid Row.)
That makes it hard to see why Terragraph will necessarily be cheaper to deploy than a wireless technology developed outside TIP. Indeed, without the economies of scale that 5G will enjoy as a global standard, Terragraph could be expensive. While a 60GHz ecosystem is taking shape, and clearly features some big names, just a handful of operators are currently involved in Terragraph trials. The only operators not trialing 5G are companies about to quit mobile communications and head for a drown-your-sorrows, binge-drinking session at the nearest bar.
Home in on the opportunities and challenges facing European cable operators. Join Light Reading for the Cable Next-Gen Europe event in London on Nov. 6. Admission is free for all!
Terragraph enthusiasts point out that it works over unlicensed spectrum (meaning free but subject to interference). They also note that recent 5G spectrum auctions in Europe have cost operators dearly (meaning the Italian job). The problem with this argument is that heavy spending in these auctions has usually gone toward lower frequency bands. Of the €6.6 billion ($7.6 billion) that operators spent in Italy this month, just €164 million ($189 million) went on 26GHz spectrum, the band most likely to get used in a Terragraph-style setting. (See Italy's $7.6B 5G bonanza puts telcos on the rack.)
Even when spectrum is costlier, this rationale is dubious. The same logic was used to explain why Sigfox, which also uses unlicensed spectrum, would beat a low-power cellular standard designed for wide-area coverage. Yet the cellular NB-IoT standard now has more than 100 million global connections while Sigfox is aiming for just 6 million by the end of this year. (See China Mobile Sees NB-IoT Boom as Profits Rise.)
Moreover, just because 60GHz is unlicensed does not mean it is readily available or unregulated. Alex Choi, a senior vice president with Germany's Deutsche Telekom AG (NYSE: DT), says his company is reliant on a "temporary" 60GHz permit in Hungary, where it is carrying out trials. "We hope this constraint will go away in the near future," he says.
That is not the only obstacle, though. Yael Maguire, Facebook's engineering director, says brackets were developed to attach Terragraph equipment to poles. Customizing these for each specific deployment would have a major impact on costs at a global scale, he frets. Obtaining permits and access to passive infrastructure turned out to be "quite time consuming" in Hungary, says Choi.
As already noted, interference in unlicensed spectrum bands could be a concern. Another deployment challenge is rubbish propagation: Something as apparently innocuous as foliage could block a Terragraph signal, although 5G in high spectrum bands is likely to face the same problem.
Next page: Lovable rogue
Lovable rogue
In other respects, however, the technology is easy for a service provider to love. Despite some of the deployment challenges, Deutsche Telekom managed to get a Terragraph network up and running in the Hungarian town of Mikebuda in less than two weeks. That network comprises 126 nodes on 28 power poles and connects about 50 homes. The next proof point, says Choi, will be a trial starting this month in Marko, another Hungarian town, where the aim is to connect between 120 and 150 homes.


On the cost side, Maguire is optimistic the WiGig efforts of the semiconductor giants will quickly reduce prices. "The technology that Qualcomm and Intel develop is similar to what they use for consumer-level VR [virtual reality] devices and laptops," he told reporters during a press briefing this week. "That economy of scale will drive price performance." Qualcomm, interestingly, has just unveiled a family of 60GHz-based WiFi chipsets that are compatible with Terragraph.
In terms of performance, Terragraph certainly appears to have measured up in field trials. Malaysia's YTL has realized gigabit or near-gigabit speeds during a pilot, it claims. "Latency was better than some numbers we've seen with 5G trials," says Wing Lee, YTL's CEO. According to figures revealed at the TIP Summit, YTL recorded latency of less than one millisecond over Terragraph systems.
"Terragraph looks promising, subject to the usual caveats about pole availability and power," says Gabriel Brown, a principal analyst with Heavy Reading, who attended part of the TIP Summit. "I was impressed with the analytics and modeling tools Facebook presented. The industry needs more of that."
Want to know more about 5G? Check out our dedicated 5G content channel here on
Light Reading.
More than a decade ago, parts of the WiMax industry were confident their technology would trump LTE to become the globally accepted 4G standard. The Terragraph rhetoric is usually far less combative, and no one is suggesting Terragraph will replace 5G as a mobile access technology for smartphones and low-power IoT gadgets. That certainly makes it a far more niche affair than WiMax was originally intended to be.
Unfortunately, for Terragraph, 5G is chasing a big chunk of the same opportunity. Verizon Communications Inc. (NYSE: VZ) already claims to have launched a pre-standards version of its ballyhooed fixed wireless access (FWA) service in the US market, and will soon upgrade this to be standards-compatible. In Europe, meanwhile, Orange (NYSE: FTE) is carrying out 5G-based FWA trials in Romania that closely resemble Deutsche Telekom's Terragraph activities in Hungary. Terragraph's performance edge, if it genuinely exists, is probably insufficient to give it a market advantage. Indeed, Maguire plays this down, saying the technology is "comparable" to 5G when quizzed by Light Reading. (See Verizon's Home-Grown 5G Arrives Today and Orange Ups 5G Broadband Stakes in Romania.)
Notwithstanding Choi's concern about the availability of unlicensed frequencies, Terragraph might present an opportunity for players without spectrum or fixed assets to break into the broadband sector. But in the age of convergence, when operators increasingly need both fixed and mobile service offerings to thrive, that appears unlikely. Another possibility is that operators use both 5G and Terragraph across a mix of licensed and unlicensed spectrum to address capacity constraints. Given the expense of building parallel networks, that seems just as improbable unless data traffic is gushing uncontrollably.
For Terragraph to have any serious chance, its sponsors may need to convince operators it is a far more economical choice than 5G. Of course, any per-customer cost comparisons between Terragraph and 5G are not readily available at this stage. But if 5G eventually gets used to support an array of connectivity services globally, Terragraph will struggle to match its economies of scale. As a technology whose roots lie outside the cellular industry, Terragraph will have achieved a rare feat if it can establish itself as a mainstream connectivity option -- whatever the scenario.
— Iain Morris, International Editor, Light Reading
Subscribe and receive the latest news from the industry.
Join 62,000+ members. Yes it's completely free.
You May Also Like
---