Huawei RuralLink Wins GSMA GLOMO's 'Best Mobile Innovation for Emerging Markets' Award
Huawei RuralLink Wins GSMA GLOMO's 'Best Mobile Innovation for Emerging Markets' Award
At the Mobile World Congress (MWC) Barcelona 2023, Huawei for RuralLink — Green, Simplified, and Evolvable Solution for Rural Connectivity took home GLOMO's 'Best Mobile Innovation for Emerging Markets' award from GSMA, proving that Huawei's continuous innovation in scenario-based coverage solutions for remote areas has been well recognized by the industry. #sponsored

At the Mobile World Congress (MWC) Barcelona 2023, Huawei for RuralLink — Green, Simplified, and Evolvable Solution for Rural Connectivity took home GLOMO's 'Best Mobile Innovation for Emerging Markets' award from GSMA, proving that Huawei's continuous innovation in scenario-based coverage solutions for remote areas has been well recognized by the industry.
Figure 1: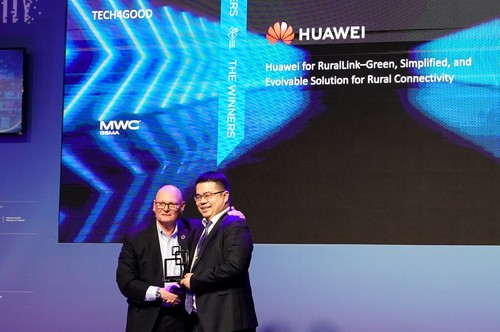 Huawei RuralLink awarded GSMA GLOMO's 'Best Mobile Innovation for Emerging Markets'
Around 40% of the world's population still have no access to mobile Internet, and among those, hundreds of millions of people living in very remote areas are not even covered by mobile broadband networks. This has set the stage for Huawei to explore innovations that are able to expand mobile broadband to connect the unconnected while also being able to provide good experience.
Huawei's RuralLink solution uses innovative unique technologies to address challenges in rural communications, and provides ubiquitous coverage with ultra-low cost and power consumption. This solution is the industry's first to use microwave fronthaul technology. Rural sites can share baseband resources of existing base stations, eliminating the need to deploy independent baseband units. One RRU and one Channel Expand Antenna are capable of achieving three-sector coverage. Not only that, there is no longer a requirement for BBUs, which further reduces site power consumption. Only 4 PV modules are needed for supplying power to the entire site. With one-off deployment, RuralLink can currently support 2G, 3G, and 4G services and can evolve to 5G, providing long-term experience-guaranteed coverage for rural areas.
Ubiquitous mobile network coverage is critical for improving education and healthcare, and plays an important role in eradicating poverty, and protecting the environment. It is a prominent factor that aligns with the 5 United Nations Sustainable Development Goals (SDGs) — No Poverty, Good Health and Well-being, Quality Education, Reduced Inequalities, and Climate Action.
Aaron Jiang, President of Huawei's Wireless SingleRAN Product Line, said: "We're honored to receive this award from GSMA. RuralLink's innovations in transmission and antennas allow green, simplified, and evolvable rural sites, and extend experience-guaranteed coverage to remote areas, enabling experience upgrade for more people, villages, and small and medium-sized enterprises."
In line with inclusive development, Huawei continues to follow through on innovations in technology that helps remote areas improve digitalization, bring digital life to all people, and promote the balanced development of the global digital economy.
MWC Barcelona 2023 runs from February 27 to March 2 in Barcelona, Spain. Huawei showcases its products and solutions at stand 1H50 in Fira Gran Via Hall 1. Together with global operators, industry professionals, and opinion leaders, we dive into topics such as 5G business success, 5.5G opportunities, green development, digital transformation, and our vision of using the GUIDE business blueprint to lay the foundation for 5.5G and build on the success of 5G for even greater prosperity. For more information, please visit: https://carrier.huawei.com/en/events/mwc2023
This content is sponsored by Huawei.
Subscribe and receive the latest news from the industry.
Join 62,000+ members. Yes it's completely free.
You May Also Like
---