Comverse Unveils New Name & Digital Attitude
Comverse Unveils New Name & Digital Attitude
After divesting its BSS business and acquiring Acision, Comverse is renaming itself Xura and renewing its push to be a leading digital services provider. Now that Comverse has shed its BSS business to Amdocs and closed its acquisition of Acision, the company is relaunching with a new name and renewed focus on being a leader in digital services.
And, while wireless operators have long been Comverse's biggest customer base, the new company -- Xura -- is all about the enterprise.
Comverse closed its $135 million acquisition of IP messaging specialist Acision on Aug. 6, a few months after selling its BSS business to Amdocs Ltd. (NYSE: DOX) for $272 million and transferring some of its digital services employees to Tech Mahindra Ltd. as part of a plan to lay off 14% of its workforce. (See Comverse Shells Out $135M for Acision and Amdocs Splashes $272M on Comverse's BSS.)
These moves -- preceded by many quarters of financials struggles -- left Comverse with a healthier cash position, a more focused strategy and the need to ditch its legacy BSS reputation and revitalize its image as a digital services provider. Hence, Xura was born. (See Getting to Grips With Comverse.)
Derived from "aura" and picked after tossing around some 400 options, Xura is meant to convey being without boundaries and limits, according to CMO JF Sullivan. The relaunch includes a new name; a new color (purple); a new ticker symbol (NASDAQ: MESG); and new website that Sullivan says feels more like a Silicon Valley startup, talking to customers in terms of problems and solutions rather than technologies.
By virtue of its merging companies, Xura comes out the gate with 350 carriers -- eight of the top 10 global operators, including Verizon Wireless , Vodafone Group plc (NYSE: VOD) and Telefónica SA (NYSE: TEF) -- along with 300 million consumers that transact on its monetization services and 200 enterprises that use its development tools or secure messaging.
"We are no longer just a 300-carrier business," Sullivan says. "It's fundamentally different from June."
Figure 1: X-Rated Delivery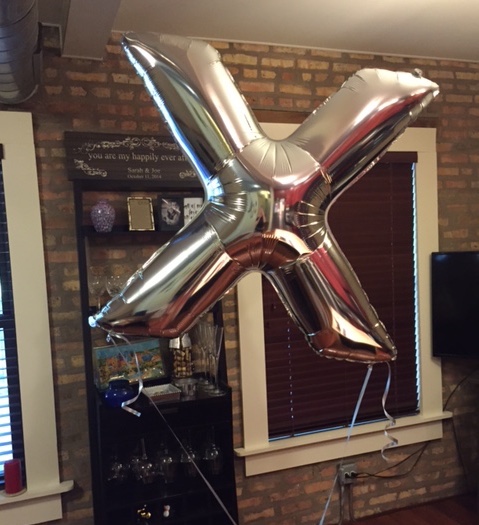 Comverse, a.k.a. "Company X" prior to its relaunch, sent journalists balloons to celebrate the rebranding as Xura. The balloon signifies the new company's name, not that it's full of hot air or something.
The Acision acquisition was highly complementary. The companies only had three products that overlapped, Sullivan says, but Acision did have a much stronger focus on the enterprise than Comverse. He says that operators still make up about half of the combined company's business, but the most growth will come from the enterprise going forward.
"A lot of the growth will come out of the enterprise and services businesses that extend beyond carriers," he says. "It's not that we're deemphasizing the core infrastructure... but the enterprise business is going to be huge. As a portion of top-line revenue, enterprise will outpace the core infrastructure part of our business."
For more on rich communications, visit the dedicated VoIP content section Both the carriers' and the enterprise move to the New IP is creating a situation for Comverse where all messaging is IP-based and the end point matters significantly less. As such, Xura will concentrate on three business lines: digital communications; monetization of legacy messaging; and the enterprise with IP messaging and RCS, cloud value-added services like MMS and visual voicemail, security, data analytics, enterprise app-to-person messaging, authentication and WebRTC, which Sullivan says Comverse's and Acision's customers have also already put a lot of money into. (See Mitel to Acquire Mavenir for $560M and Business Market Rediscovers Its Voice.) Trimming its focus and growing through acquisition should help Xura compete in the rich communications space both with carriers and enterprises and where the two intersect, but it will still face tough competition from the likes of Mitel Networks Corp. , Huawei Technologies Co. Ltd. , Alcatel-Lucent (NYSE: ALU), Ericsson AB (Nasdaq: ERIC) and others. Sullivan admits Xura will face all of the aforementioned companies depending on geography, but calls Xura the 100 lb gorilla in the core infrastructure space, noting that it's much bigger than its competitors from an installed base and revenue perspective. "Because our technologies matched up so well and dovetail on top of the platforms it will help us streamline this process," he says of moving forward as Xura. "We anticipate a lot of cross-selling as well as standard growth from monetization and enterprise space." — Sarah Thomas,

, Editorial Operations Director, Light Reading
Subscribe and receive the latest news from the industry.
Join 62,000+ members. Yes it's completely free.
You May Also Like
---