Cisco Caught Cloning
Cisco Caught Cloning
Company's technology is apparently far in advance of what analysts imagined A striking similarity between Carl Russo, a Cisco Systems Inc. (Nasdaq: CSCO) top gun, and Mark Cree,now leading Cisco's charge into the hottest technology market this year –storage networking – has been brought to light by an in-depth Light Reading investigation.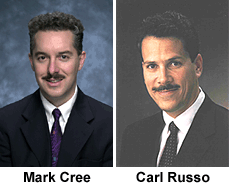 It raises serious questions concerning possible cloning of successfulexecutives at the networking equipment giant. "I'm just waiting for aChambers look-alike to turn up before I blow the whistle," says a topindustry analyst, who requested anonymity.

Some analysts pooh-pooh the idea, putting forward a lower-tech explanation: "Have you noticed that they are never seen together? There's asimple reason for that," says another anonymous source. "I think it's allpart of Cisco's cost-cutting efforts. What's the betting thatother new ventures from Cisco will be led by folk looking just like Russo?"

Cisco couldn't be reached for comment at press time (must be something wrong with the phone lines).

These disturbing developments came to light while Light Reading waspreparing the latest edition of its The Top Ten Movers and Shakers in Optical Networking – the resultof eight month's intensive investigations, published today. Further details of the Russo-Cree conundrum, together with insightsinto other industry enigmas, are contained in new sections of the listing,including Close but No Cigar and Where are They Now?.

— Peter Heywood and Stephen Saunders, Founding Editors, Light Reading
http://www.lightreading.com
Subscribe and receive the latest news from the industry.
Join 62,000+ members. Yes it's completely free.
You May Also Like
---