AT&T Invests in Magic Leap, Strikes Exclusive Consumer Deal
AT&T Invests in Magic Leap, Strikes Exclusive Consumer Deal
AT&T will let consumers check out Magic Leap's augmented reality platform in stores as it sees a strong link with its developing 5G network strategy.

Making the leap into augmented/mixed reality, AT&T has made a strategic investment and forged an exclusive retail-focused deal with Magic Leap, the secretive (and well-funded) AR startup.
AT&T Inc. (NYSE: T) didn't reveal the amount of the investment, but the agreement makes AT&T the exclusive wireless distributor of Magic Leap consumer products in the US. When Magic Leap products become commercially available, AT&T customers will be among the first to try them out at its stores in Atlanta, Boston, Chicago, Los Angeles and San Francisco, they said.
Figure 1: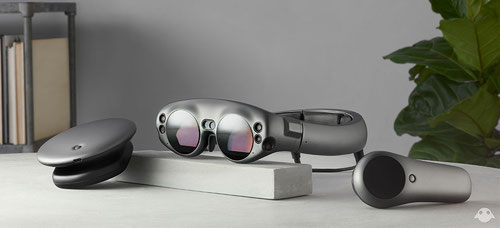 AT&T will let consumers demo Magic Leap's product/platform at stores around the nation. Pictured is the Magic Leap One, Creator Edition.
The deal will also focus on the integration of content, and comes on the heels of AT&T's acquisition of Time Warner Inc. In February, Magic Leap formed a deal with the National Basketball Association and Turner (owned by Time Warner at the time) focused on bringing AR capabilities to the NBA App, enabling users to view multiple fields of view with integrated, supplemental graphics in a 3D environment.
AT&T believes that the connection to Magic Leap will let it ride on a new wave of connected entertainment apps and services that can be delivered via the company's new 5G-powered networks, which are being designed to provide the kind of capacities and low latencies required by AR.
The agreement "will open up new opportunities and experience," AT&T Communications CEO John Donavan proclaimed, in a statement.
For Magic Leap, a stealthy startup that has already raised about $2 billion, the AT&T deal will help it establish a retail and distribution beachhead in the US and a way to give consumers a relatively easy way to kick the tires on its new AR platform. The deal also gives Magic Leap a key retail and distribution partner as it gears up to compete in the market with companies such as Microsoft Corp. (Nasdaq: MSFT), Apple Inc. (Nasdaq: AAPL) and Facebook . (See Is Magic Leap a Mirage of Misogyny & Deceit?)
Magic Leap hasn't announced when it expects its first products to be released to consumers on a wide scale, but its first product, Magic Leap One, Creator Edition, is slated to ship later this year to "qualified designers and developers."
Magic Leap's first platform/system is portable and is made of three elements: Lightwear (the glasses/headset), the Lightpack (a device, working with the headset, that runs Magic Leap's spatial computing platform), and a controller with haptic feedback.
— Jeff Baumgartner, Senior Editor, Light Reading
Subscribe and receive the latest news from the industry.
Join 62,000+ members. Yes it's completely free.
You May Also Like
---