Verizon is trying to simplify industrial asset tracking by building a system that allows objects to be detected on the Verizon 4G network, sending details about the item to the AWS (Amazon Web Services) cloud, and then onto Domo's app, to map an asset's status and location in real time.
Verizon says this process of creating alerts will enable personnel to respond quickly to a problem, such as a machine going offline.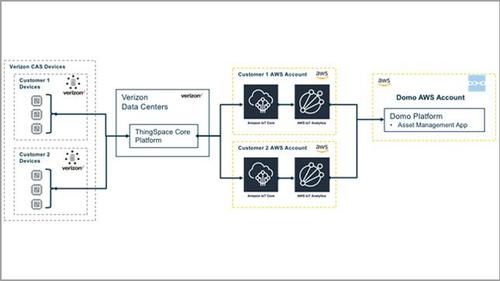 Verizon says this will improve asset tracking in various industries, for example:
Retailers can derive location data generated from shipping containers to improve customer experience.
Construction sites can track machinery across work sites.
Medical companies can monitor the temperature of trucks transporting drugs to ensure the products retain their efficacy.
The system starts with Verizon's Cat M1 Low Power WAN (LPWAN) Critical Asset Sensor (CAS). "LTE Cat M1 (a.k.a. LTE-M) also uses networking protocols that help improve connection density," Verizon says.
For the Verizon tracking system, the CAS's location and temperature data is passed to the AWS cloud. The data can then be stored and transferred to AWS services, including AWS IoT Analytics.
The final stage in this data journey is completed when the status and location data is transferred to the Domo app. This can visualize where an asset is in real time via Domo's maps.
Verizon notes its system is designed for future growth and that "under the 5G standard, that scale can potentially grow to about one million devices per square kilometer."
That scale is some way off, though: There aren't yet enough IoT devices to require a 5G system that can supports such IoT device density (aka massive IoT). Currently, there simply isn't the need: According to research house Berg Insight, there were approximately 1.3 billion IoT devices worldwide connected using cellular or low power wide area technology at the end of 2018 -- this includes Cat M and NB-IoT cellular devices as well as alternatives such as LoRa and Sigfox.
Related posts:

— Dan Jones, Mobile Editor, Light Reading