SAN JOSE, Calif. -- LPWA Americas 2017 -- Major US service providers have taken different approaches to low-power wide area networks (LPWANs), but they all came to the LPWA Americas show with legitimate claims of progress.
LPWANs are stepping in to connect things like agricultural sensors, smart-city infrastructure and asset-tracking devices that are too small and cheap for full-speed cellular connections. US mobile carriers favor LPWANs that use their licensed frequencies, while other providers are going unlicensed. But hybrid solutions are also emerging, one sign that this new technology space is beginning to mature.
T-Mobile US Inc. , the country's only major carrier using NB-IoT, has launched commercial service in Las Vegas and plans to deploy the licensed-band technology throughout its national LTE footprint by midyear. While NB-IoT is live in several European and Asian countries, other US mobile carriers lean toward another LTE-M, which goes faster but consumes more power.
T-Mobile promotes NB-IoT for its typically lower device cost and power consumption -- and is majority owned by Germany's Deutsche Telekom AG (NYSE: DT), which is implementing the technology at T-Mobile as part of a global NB-IoT rollout, said Daniel Herb, T-Mobile's director of IoT.
NB-IoT is a pure software upgrade to T-Mobile's LTE network, but its actual footprint will be wider (and deeper) than smartphone coverage because the low-power technology delivers as much as 30% better coverage in buildings and underground spaces, Herb said. That range will become even wider when the carrier gets NB-IoT deployed on the low-band, far-reaching 600MHz spectrum T-Mobile recently acquired.
T-Mobile thinks most customers will choose NB-IoT, but it plans to offer LTE-M, too. That technology will be a "fast follow" after the NB-IoT rollout is complete, he said, without specifying a date.
Figure 1: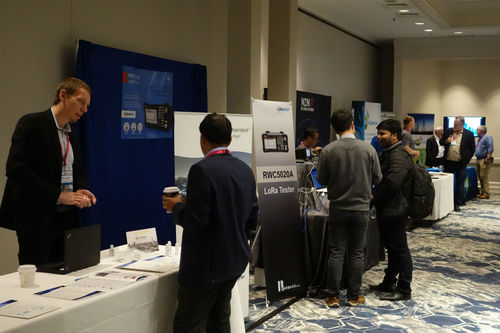 AT&T Inc. (NYSE: T), which lit up LTE-M across its US footprint in May, this week shed more light on its plan to offer continuous IoT connectivity across North America. It hopes to make service available in Canada next year through a partner, said David Allen, director of IoT solutions. (See AT&T Pushes Cat M LTE for Cellular IoT in the Americas.)
The carrier is also nearing completion of LTE-M across Mexico, which it has pegged for the end of this year.
Though it is testing NB-IoT, AT&T hasn't found a differentiator that would justify offering it alongside LTE-M, Allen said. Advantages to LTE-M include a higher data rate and the ability to carry voice calls.
Verizon embraces LoRa
Verizon Communications Inc. (NYSE: VZ), which launched the country's first national LTE-M service in March, said it's embracing LoRaWAN unlicensed technology for building overall solutions for some customers. That surprised attendees at the show, given Verizon's emphasis on LTE-M as a system that uses cellular infrastructure with its security quality-of-service mechanisms. (See Verizon Takes IoT Network Nationwide and US Carriers Place Bets on Cat M & NB-IoT.)
Rivals to the big US carriers, including startup network providers and Comcast Corp. (Nasdaq: CMCSA, CMCSK), have embraced LoRa as an alternative to cellular-based LPWANs. But where the unlicensed system makes sense, Verizon will incorporate it into larger solutions for enterprise customers, said Faraz Shafiq, Verizon's head of strategy and innovation for IoT and analytics.
Shafiq also looked ahead to the day when LTE-M use goes mainstream and what that might mean for future customers. Right now, Verizon's per-device LTE-M rate plans have no data limit. That's likely to end once the service is widely adopted, Shafiq said. At this early stage of adoption, the system is lightly used. When demand picks up, the amount of data a device uses will matter more, he said. The price to connect a Raspberry Pi might be less than it is for an engine, which would generate much more data.
Comcast's machineQ LoRaWAN service for business is live in San Francisco, Chicago and the company's hometown of Philadelphia. It plans to add 15 more cities next year, said Jessica Phillips, senior manager of strategic development for machineQ.
But the cable giant is also looking for customer-generated expansion where it hasn't rolled out the service yet: Using a connectivity-on-demand service, enterprises can order a LoRaWAN gateway device online from machineQ. The gateway will come pre-provisioned so they can plug it in and connect it to Comcast's network on their own.
Senet , a New Hampshire startup, is also taking multiple approaches to building out a national LoRa infrastructure. It's present in 225 cities now. Much of that rollout is taking place through partners, including both regional network operators and enterprise solution providers said Steve Ball, Senet's senior director of consulting services. (See Senet Virtualizes Worldwide IoT Network.)
Enterprises can also get Senet service by buying and maintaining their own LoRa networks. Senet provides the back-end operations and billing infrastructure and charges based on how much data they use.
Customers that buy and maintain their own networks can get a discount of as much as 40% on Senet's services. In some cases, Senet may be able to sign up other customers in areas surrounding these customers' networks, thus gaining a foothold in a new region, Ball said.
All service providers may need partnerships and combinations of technologies to make this market bloom.
"We're open to partnerships. We're open to the ecosystem," Verizon's Shafiq said. "You cannot build the city of the future just being one large corporation."
— Stephen Lawson, freelance writer
Subscribe and receive the latest news from the industry.
Join 62,000+ members. Yes it's completely free.
You May Also Like
---