Intelligent IP Networks Open Vast Value-add Possibilities for Carriers
Next-generation intelligent IP networks are creating significant opportunities for carriers to transform from ISPs to MSPs by delivering value-added network services to the enterprise, according to participants at the IP Industry Summit hosted by Informa Tech in February.
The summit, "Intelligent IP Network, Boost New Growth," took place at the Mobile World Congress Barcelona 2023. It shed light on the capabilities of intelligent IP networks and the role of SRv6 in network automation and optimization. Participants discussed how carriers can leverage these technologies to build value-added services (VAS) that support enterprise digital transformation.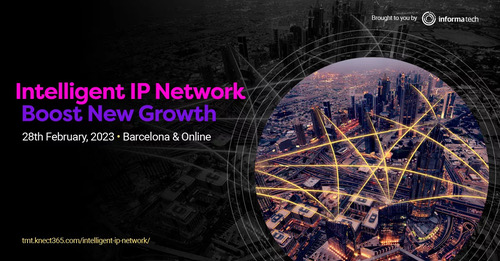 The market for services is potentially vast. IDC estimates the European market space for LAN, WLAN, SD-WAN and security for carriers at $26 billion. The enterprise network market space is a $30.4 billion opportunity, the firm says. To meet growing demand for next-generation network services, private-line ISPs should create offerings around campus LAN/Wi-Fi management and SD-WAN enhancement, said Wang Lei, President of Huawei's Campus Network Domain. "This will further improve the business value of B2B private lines and facilitate industry digital transformation."
In so doing, carriers can address three major challenges they currently face:
Low ARPU (average revenue per user) – Currently, enterprise network investment accounts for only 9% of ICT investment, according to Huawei.
Untouched market space – Carriers' portfolio limitations render them unable to cover all enterprise needs.
Price Competition – A homogeneous portfolio erodes margin and customer loyalty.
Digital Transformation Drives Demand
Digital transformation is driving much of the need for value-added network services. It has accelerated demand for more agile connectivity and differentiated SLA guarantees as organizations embrace multi-cloud strategies, said Gu Rui, Vice President of Huawei Data Communications Product Line.
According to GlobalData, 92% of enterprise IT systems are migrating to multi-cloud environments. More than two thirds (68%) of enterprises are in need of private-line security, and 67% of businesses are looking for network management services. To meet enterprise digitization needs, carriers should offer services such as multitenant management and online automation, said Rui. This well help them transition from ISP to MSP.
Carriers, he said, can "leverage their advantages to construct network infrastructures that feature a unified architecture, high flexibility, and strong scalability." These network infrastructures should have attributes such as ultra-broadband hardware platforms that provide the base for all services, covering core routers/switches with the 800GE orthogonal architecture and next-generation Wi-Fi 7 and Wi-Fi 8 APs, he said.
Carriers also should invest in unified service platforms that simplify network design and O&M (operations and maintenance), thereby laying a solid foundation for E2E automation, as well as one-stop managed services that support flexible business models and drive revenue for carriers, he said.
SRv6 Innovation and Potential
Echoing other Summit participants, IETF IAB member Li Zhenbin made a strong case for SRv6 technology as a driver of higher-level network automation. "The new SRv6 technology is the basis for network automation and has received much acclaim in the industry. It has been deployed at more than 100 sites around the world and its related standards are maturing at an accelerated pace."
IETF IAB member Wu Qin introduced Huawei's latest digital map solution, based on SRv6 technology. It delivers a host of next-generation capabilities, such as multi-dimensional network visualization, configuration intent simulation and verification, and application-level optimization.
With network-wide automation capabilities, the solution is interoperable with Cisco technology and links "any cloud to any cloud." Saying the solution paves the way for autonomous networks, Hui shared an example of the digital map, consisting of a holographic network visualization designed to ensure a better service experience.
Use Case in Healthcare
Huawei executives said the company has a fully open architecture and complete service portfolio to support carriers in addressing next-generation network requirements. The company shared several use cases to illustrate its work in several industries.
In an example involving healthcare, Huawei helped transform operations in patient rooms, the ICU, and outpatient clinic. The healthcare provider was struggling with a slow IoT deployment in patient rooms that was costing €1,000 a day. It was complicated by legacy equipment and a complex IoT ecosystem leveraging both Bluetooth RFID and Wi-Fi. Huawei solved the problem with its IoT Converged AP AirEngineSeries, cutting network construction costs by 50%. The deployment also improved mobile medical device utilization by 20% thanks to tracking technology.
In the ICU and lab center, the company deployed a carrier-class production network with 99.999% reliability, reducing annual service interruptions from 15 to five minutes. Improvements in the 500-branch outpatient clinic simplified management and policies by placing everyone on the same NCE-Campus platform, handling 10,000 tenants and 200,000 devices. This reduced CAPEX by 25%. In addition, 20,000 branches are now interconnected with SD-WAN, which enables automation in a matter of minutes.
Going forward, Huawei executives said the company will continue working with customers and industry partners to promote consensus and standards in data communications, facilitate cutting-edge technology readiness, and promote innovation in various business scenarios.
This content is sponsored by Huawei.