Vectoring appears to have won plenty of admirers, if the results of a recent poll of the Light Reading community are any indication, with only a minority of respondents believing the technology has virtually no role to play in boosting the performance of copper-based broadband networks.
Just 18.5% of people think operators would do better to invest in fiber-to-the-home networks, or even sweat their DSL equipment without vectoring, than spend money on the so-called 'noise-cancelling' technology.
By contrast, more than a third of those participating in the poll have been won over unreservedly by vectoring, agreeing that it enhances the value of each copper connection to which it is applied.
Another 16.9% think operators should use it if they are experiencing severe competitive pressures. That would seem to cover a multitude of European markets, where telecoms incumbents face challenges from cable companies as well as ISPs that have piggybacked on their lines.
Meanwhile, a significant 30.8% of respondents see value in vectoring, but only in certain network and market circumstances. This could point to the fact that vectoring can do little to address the sharp drop-off in connection speed that occurs when loop lengths extend for more than a kilometer.
Indeed, when it announced its launch of vectoring in January 2012, Telekom Austria acknowledged the technology was unlikely to boost broadband speeds substantially on loop lengths of more than 300 meters. (See Vectoring: Some Va-Va-Voom for VDSL.)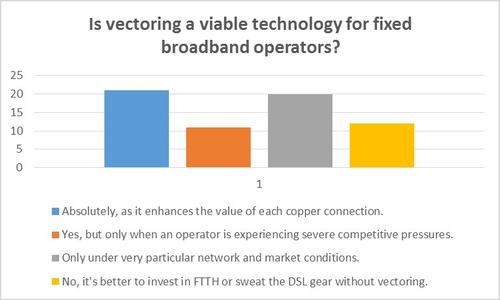 Those expressing concern about market conditions may also have been referring to the status of VDSL2 sub-loop unbundling -- whereby alternative operators assume control of infrastructure between street cabinets and customer premises -- in the market in question. Vectoring vendor Alcatel-Lucent has previously admitted that "significant vectoring gains cannot be guaranteed unless all VDSL2 lines in the cable are controlled by the same vectoring system." That means it's better to have one operator controlling all the lines and providing bitstream access to rivals, but vectoring may simply prove to be impractical in markets where sub-loop unbundling has already taken off.
As for the vectoring naysayers, it may be that some people regard the technology as nothing more than a stopgap. Vectoring obviously isn't a way of overcoming the investment hurdles that lie in the way of fiber deployment, but it could mean that operators do not have to confront those hurdles for another few years.
— Iain Morris, Site Editor, Ultra-Broadband