Also in today's EMEA regional roundup: Vodafone UK fires up 5G; Nokia's 5G factory lights the way ahead; BT to launch 5G in the fall; Google invests in Lisbon-Cape Town cable.
Eutelsat, the French satellite operator, is investing €10 million ($11.3 million) in content delivery network specialist Broadpeak by taking a 20% stake in the content delivery network (CDN) technology specialist. The two companies plan to pool their technological resources and work together on projects aimed at integrating satellite technology into 5G mobile networks. Broadpeak, which is also based in France, won the Leading Lights Most Innovative Cable/Video Product or Service award this year for its nanoCDN Multicast ABR Low Latency & Device Synch -- try saying that after a bottle of vin rouge!
Vodafone has switched on its 5G network in seven major UK cities: Birmingham, Bristol, Cardiff, Glasgow, Manchester, Liverpool and London. In addition, Vodafone has also switched on its 5G network in 12 UK towns, including Newbury, where the operator has its headquarters. Further UK towns and cities will go live with 5G services throughout the year, says the operator. Vodafone appears to focusing much of its efforts on attracting business users, announcing plans to offer enterprise users unlimited data over 5G at the same price as 4G. (See Vodafone Launches 5G in UK.)
Nokia's basestation factory in Oulu, Finland, which uses 5G connectivity to help production processes tick over smoothly, has been recognized as an "Advanced 4th Industrial Revolution Lighthouse" by McKinsey and the World Economic Forum. Factory bosses claim productivity gains of 30% and time savings of 50% have been achieved at the facility, thanks in part to the use of "Industry 4.0" methods. McKinsey's Lighthouse program seeks to shine a light on factories that are transforming work to make it safer, less repetitive and more productive.
BT will use the network owned by its EE subsidiary to launch 5G services for both residential and business customers in the fall, with its "BT Plus" customers the first to benefit from the option to upgrade to 5G. The UK incumbent's 5G service will be available in parts of 16 UK cities by the end of the year. (See Eurobites: 'Sick' Day for EE as 5G Switch Is Flipped in UK.)
And there's much fifth-gen rejoicing in Finland too as operator Elisa officially sells its first 5G phone, to one Harri Hellström of Tampere which, as luck would have it, already has a 5G network in place. For those taking notes, the phone in question was the ZTE Axon 10 Pro 5G.
Google is investing in a new subsea cable linking Europe to South Africa. Once complete, Equiano, as the cable system is called, will run from Lisbon to Cape Town, with a branch off about halfway along to Lagos. A contract to build the cable with Alcatel Submarine Networks was signed in 2018, and the first phase of the project is expected to be completed in 2021. (See Google Invests in New Europe-South Africa Subsea Cable.)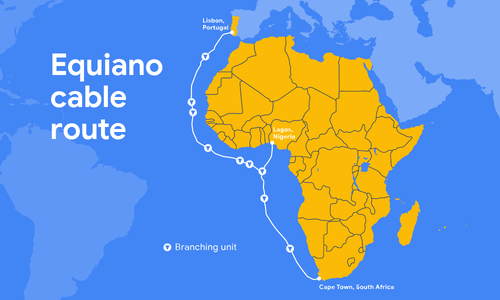 Orange Business Services has announced a raft of changes to its executive board, with Aliette Mousnier-Lompré becoming head of customer service and operations, Paul Joyce becoming head of Orange Global Solutions for Business (replacing Didier Duriez), Valérie Cussac becoming head of smart mobility services, Pierre-Louis Biaggi becoming head of digital and data (replacing Béatrice Felder) and Anne-Sophie Lotgering becoming chief marketing and digital officer.
Ireland's Data Protection Commissioner has opened a third privacy investigation into Apple, Reuters reports. Under scrutiny is whether the iPhone maker has fully complied with the European Union's General Data Protection Regulation (GDPR) privacy law. Apple, along with several other multinational technology companies, has its European headquarters in taxation-lite Ireland.
Amazon plans to hire an additional 2,000 workers in the UK this year, some of them software developers and data scientists on working on the Alexa smart speaker and similar cutting-edge digital products (and some of them moving parcels around in warehouses for peanuts).

— Paul Rainford, Assistant Editor, Europe, Light Reading