Telefónica's Global CTO Unit has introduced a new technology development model that it believes will drastically reduce time to market for new products, services and supporting technologies and deliver significant efficiencies across its multiple markets.
The operator has more than 340 million customers in 21 countries in Europe and Latin and Central America, and like many of its Tier 1 peers it has developed products, services and supporting technologies for each market in an inefficient, piecemeal way that wastes time, money and human resources.
So, as part of a broader network technical transformation program, the operator has introduced a new development model built around global specialist technology centers and has so far set up three specific units: Device Development; Operational Support Process & Systems; and Energy & Rental.
The first tangible result comes from the Device Development Center -- a new integrated home gateway (combined router, ONT and video bridge for wireless video delivery) for fiber-to-the-home deployments that can be rolled out in any of the operator's markets, with a modicum of local modification. The Home Gateway Unit (HGU), designed to make the most of fiber broadband capacity and deliver any service within a home via WiFi, is already available in Spain and will be introduced in Brazil and Chile in the first half of 2016. (See Telefónica Global Tech Team Develops Home Gateway.)
According to José Luis Espa, the operator's director of Global Fixed Access, the new methodology cut development times by about 50%. "For us, this is a new way of handling projects, bringing all the experts of a related topic from across the group into a project team that is involved during the [entire product lifecycle], from specifications and design, to architecture, testing, certification. Before we had separate teams that tried to coordinate. Now we have greater efficiencies and a very agile, industrial process that is controlled by the team -- there is no subcontracting [of the process]."
That is not exactly a radical model or one that is unfamiliar in other industries but it appears to be one that is, according to Telefónica SA (NYSE: TEF), absent in the telecom market currently.
And the impact is startling. Previously, a product development of this type would have taken at least two years, says Espa, but the process to specify, develop, produce and commercially roll out the HGU has taken just less than one year. "We only finished field tests in Spain two months ago. In Latin America, the product was delivered to the local teams in June and they are already doing field trials. That is so much quicker than before. We have recovered the industrialization process and brought it back to Telefónica," says Espa, who adds that he hasn't seen any other operators taking the same approach yet. "We see this as a clear advantage. Other verticals use this sort of process, such as automotive, but we think this is new to telecom. We are sure others will follow."
---
The rollout of gigabit broadband access networks is spreading. Find out what's happening where in our dedicated Gigabit Cities content channel here on Light Reading.
---
In the case of the HGU development, the team worked closely with chipset and device manufacturers -- in this case Quantenna Communications Inc. for 802.11ac 5GHz WiFi chips to enable a "real 300 Mbit/s WiFi experience," Broadcom Corp. (Nasdaq: BRCM) chips for 2.4GHz WiFi and GPON, Taiwanese device manufacturers Askey and Mitrastar for the product's hardware and software and Spanish firm Mormedi for the HGU's design. The result is a small product -- 20cm x 20cm -- that has six internal wireless antennas, a Foreign eXchange Subscriber (FXS) port for a VoIP device and four GigE ports.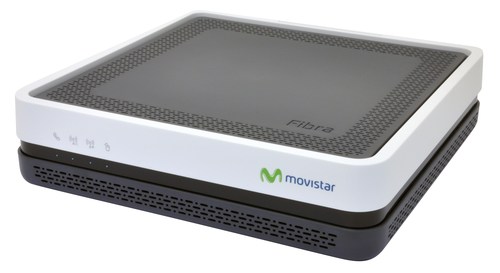 The product was designed with three main aims: meet customer needs; make it applicable to any market, including interoperability with the broadband network elements from Alcatel-Lucent and Huawei; and make it efficient. "Our CPEs need to be global. We need scale. Everything is handled by a single team for the first 80% of the product's lifecycle -- processes are not replicated in different markets. Then, when the product is ready, it goes to the individual market teams for local customization [for regulatory, power issues and so on]. In terms of resources and people it is much more efficient than before," says the Telefónica executive.
The end result is a product that will not create a service bottleneck for FTTH customers, as any service, including high-def video, can now be delivered throughout the user's home via WiFi. "Previously we could only achieve 50 Mbit/s wireless in the home -- now it's 300 Mbit/s. The only bottleneck now will be at the receiving device in the customer's home. The product also has fewer wires, uses less power, takes up less room (one small device instead of three) and is altogether much more customer-friendly.
That same approach is now being taken by the device team for the development of DSL router, cable modem, 4G/LTE router and set-top box/video decoding products.
Now Telefónica is taking that same industrialization approach to the simplification of its OSS -- a daunting challenge as any international operator knows. "We are aiming to have the same OSS tools in all of our markets," says Espa. [Editor's note: Good luck with that!]
— Ray Le Maistre,

, Editor-in-Chief, Light Reading