LAS VEGAS -- 2017 Calix Connexions -- Verizon began its first lab trials for NG-PON2 in 2016. Now the carrier says it's nearly ready for early deployments of the next-generation fiber-to-the-home technology.
"If everything goes correctly... by the end of the year it should be in a state that's a deployable state from Verizon's perspective," said Verizon Director of Technology Vincent O'Byrne, speaking at the 2017 Calix Connexions Innovation and User Conference here. "[We will then] start deploying probably in the first quarter of next year."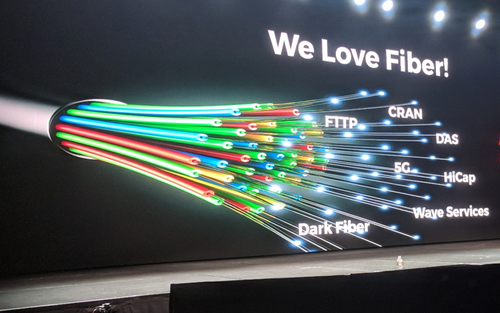 Verizon Communications Inc. (NYSE: VZ) has been pushing hard for NG-PON2. Unlike AT&T Inc. (NYSE: T) and others which have focused their efforts on XGS-PON as an interim step for increasing fiber network capacity, Verizon has gone all in on NG-PON2 and its promise of 40 Gbit/s throughput and tunable optics. That capacity beats XGS-PON's max of 10 Gbit/s, but even more importantly, the tunable optics allow an operator to deliver a variety of services over a single fiber. With four wavelengths per fiber, and those tunable optics, an operator with NG-PON2 could deliver a combination of residential, business and mobile services all over the same access network infrastructure. (See Verizon Readies Landmark NG-PON2 Trial.)
Although Verizon initially hoped to deploy NG-PON2 commercially in 2017, the roadmap has stretched a little longer than planned. That may be because of all the integration and interoperability work needed. Unlike with its GPON network, Verizon's implementation of NG-PON2 technology will enable the company to use optical line terminals (OLTs) and optical network terminals (ONTs) from different vendors. That's required new interface specifications to allow different OLTs and ONTs to talk to each other, along with interoperability tests. (See Verizon Proves NG-PON2 Interoperability.)
But the delay may also be financially driven. Without volume demand for tunable optics today, some optics vendors have been reticent about entering the market. And without competition, it's difficult to drive pricing down to palatable levels.
Luckily for Verizon, the cost equation may finally be on the verge of a shift. According to Julie Kunstler, principal analyst at Ovum Ltd. , who presented at the Calix Inc. (NYSE: CALX) event and moderated a panel with O'Byrne, Chinese optics vendors have shown public interest for the first time in recent weeks -- including at Broadband World Forum -- in developing or partnering to develop tunable optics products. In conjunction, China Telecom has also presented a new plan that includes NG-PON2 in its network upgrade timeline.
"I'm seeing a slight shift because NG-PON2, at least on paper, was on China Telecom's roadmap," said Kunstler, "and that was the first time I saw it on slideware. It's only slideware, but at least I saw it on slideware."
If the Chinese market for NG-PON2 and tunable optics kicks off, it would have a major impact on equipment pricing. In turn, that would speed up global NG-PON2 adoption by making the technology cheaper to deploy for Verizon and others.
---
For more broadband market coverage and insights, check out our dedicated Gigabit/Broadband content channel here on Light Reading.
---
While Verizon has been leading the NG-PON2 charge in many ways, it's not the only operator tinkering with the next-gen PON architecture. Speaking alongside O'Byrne on the panel moderated by Kunstler, both CenturyLink Inc. (NYSE: CTL) Director of Access Strategy and Development Curt Frankenfeld and Joseph Fasone, founder and CEO at the business services ISP startup Pilot, talked about their own testing efforts.
"We have also tested in the lab and in the field both XGS-PON and NG-PON2. We are demonstrating co-existence with GPON, and we are demonstrating various different ways that we intend on deploying new PON technologies within our plant," said Frankenfeld. But he added, "We've got a lot of testing yet to do."
Fasone specified that the cost of tunable optics makes a near-term upgrade hard to justify, but even so, he noted that Pilot has "tested NG-PON2 in lab and in customer sites."
Kunstler also confirmed, without naming names, that there have been NG-PON2 trials in Europe and even one confirmed deployment.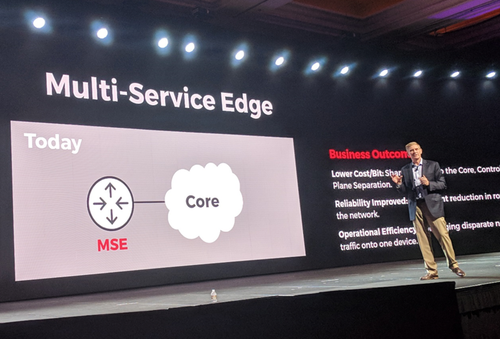 For Verizon's part, upgrading to NG-PON2 is only one piece of a much bigger puzzle. VP of Network Planning Lee Hicks also talked at the Calix event about the company's larger network transformation project, which combines fiber upgrades with significant virtualization work designed to optimize resources and automate functions. For example, along with deploying fiber technology capable of delivering multiple services, Verizon is also necessarily working on the software architecture required to operate those multiple services. Hicks calls this the multi-service edge.
"In the past, either because of the way we're organized or the way our services are set up, we had an architecture that had one edge device for each service," said Hicks. But, he explained, "The multi-service edge is a new technology that lets me slice up a single chassis and use it to provide all of those service edge requirements. And the big thing is I can also use a single uplink to the core to drive much more efficiency there."
Ultimately, Verizon wants to support 5G wireless services from this multi-service edge in addition to traditional wireline broadband. On that front, however, there is still work to do; notably latency issues that need to be solved in using NG-PON2 for 5G fronthaul connections.
Frankenfeld also emphasized latency issues in combining NG-PON2 with 5G. But he suggested that developing a solution is an imperative for the industry because the cost of yet another fiber build specific to supporting 5G wireless services would be prohibitively expensive.
As it turns out, there may already be solutions in development. Kunstler stated that she believes there will be announcements as soon as early next year on actual deployments of NG-PON2 technology capable of supporting 5G fronthaul.
Whether Verizon will be the source of one of those deployments is still TBD -- to be disclosed.
— Mari Silbey, Senior Editor, Cable/Video, Light Reading