Eurobites: Virgin's Project Lightning Strikes Northern Ireland

Comment (0)
Also in today's EMEA regional roundup: Sky sounds out Open Fiber on collaboration in Italy; Hyperoptic wins public sector gig in Newcastle; BBC buffs up its FA Cup coverage.
UK cable operator Virgin Media Inc. (Nasdaq: VMED) has taken its Project Lightning high-speed broadband rollout to Northern Ireland, where it plans to extend its ultrafast network to 50,000 properties in 2017. The program will bring downlink speeds to homes and businesses that start at 100 Mbit/s and rise to 350 Mbit/s. According to telecom regulator Ofcom , the average download speed in Northern Ireland currently is 23.8 Mbit/s. Work has already begun in several locations, including Ballykelly, Bangor, Limavady, Newtownards, Strabane and Artigarvan. Last month it was revealed that Project Lightning had fallen well behind schedule and that progress on the rollout had been overstated, leading to the suspension of some employees. (See Virgin Media's Cable Expansion Lags Targets – Report and Eurobites: Virgin Cuts Jobs in Wake of Fiber Rollout Ructions.)
Pay-TV giant Sky has been in talks with Open Fiber, an Italian broadband company, regarding a possible tie-up on ultrafast broadband services in Italy, according to a Reuters report. Open Fiber, jointly owned by utility company Enel and Italian state lender CDP, is challenging incumbent Telecom Italia (TIM) with its own ultrafast broadband rollout.
UK altnet Hyperoptic has been chosen to provide full-fiber gigabit broadband across 25 social housing developments in the northern English city of Newcastle. Hyperoptic has already made its mark in the private housing sector, particularly in new-build multi-dwelling units (MDUs), and in the last year has forged partnerships with a number of public sector housing associations. It has attracted investment from the George Soros-owned Quantum Strategic Partners, among others. (See Eurobites: Hyperoptic Bags £21M EIB Loan for UK Gigabit Rollout.)
The BBC is to show live matches from every stage of the 2017/2018 FA Cup -- the UK's best-known soccer tournament -- across its digital platforms, including its popular iPlayer catch-up service. Although the competition has lost some of its cachet in recent times, with major clubs tending to focus instead on winning pan-European trophies, it still manages to attract decent viewing figures -- 10 million tuned in for this year's final.
The Italian economy minister, Pier Carlo Padoan, has said that there would be definite advantages to spinning off Telecom Italia's fixed-line network from the incumbent, saying that such a move "is a mechanism which boosts efficiency and competition and should thus be done where possible." However, as Reuters reports, he did not say the government was intending to go down the separation route.
And finally, UK triple-play provider TalkTalk has launched a rather nifty-looking TV remote especially designed for the small hands of children (and US presidents, presumably). A press on the remote locks children into TalkTalk's Kids Zone, a ring-fenced space that offers age-appropriate content and cannot be left without adult intervention via the master remote. (Of course, your three-year-old will hack his or her way out of that within minutes.) The device was designed in partnership with OMNI, and drew on the views of more than 60 schoolchildren, as well as grown-up TalkTalk customers.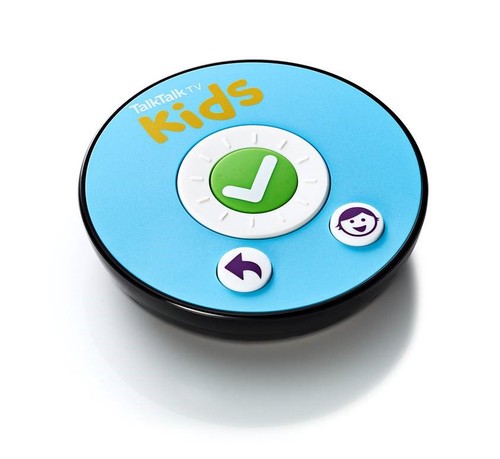 — Paul Rainford, Assistant Editor, Europe, Light Reading