Telecom Italia to Spin Off Fixed Lines, Increase Automation
Telecom Italia to Spin Off Fixed Lines, Increase Automation
Italian incumbent approves plan to legally separate its fixed-line business and says it will spend €12 billion over the next three years. Bowing to political pressure, Telecom Italia has approved plans to spin off its fixed-line business and run it as a wholly owned but legally separate entity.
Under a new strategic plan, the former state-owned monopoly also said it would spend about €9 billion ($11.1 billion) in Italy during the next three years, plus 12 billion reais ($3.7 billion) in Brazil, on rolling out higher-speed fixed and mobile networks and further automating its business.
The updates came as Telecom Italia (TIM) reported a 4.2% increase in revenues in 2017, to €19.8 billion ($24.6 billion), thanks to a strong sales performance in Italy and Brazil. The operator's earnings (before interest, tax, depreciation and amortization) fell 2.6%, to around €7.8 billion ($9.7 billion), due mainly to restructuring charges.
Telecom Italia cut about 1,800 jobs in 2017, roughly 3% of its entire global workforce.
Figure 1: Robot World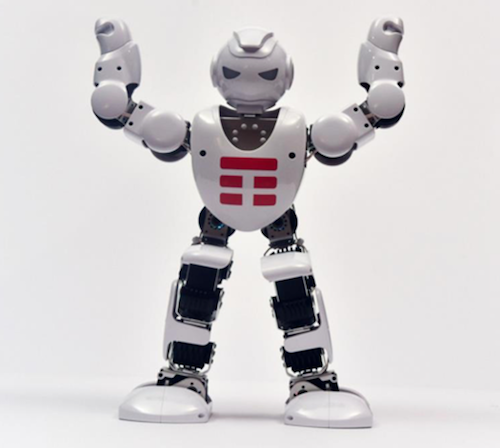 As featured in Telecom Italia's latest earnings presentation, robots look set to run more bits of the Italian operator's business in the next few years.
The fixed-line spin-off, which resembles the recent legal separation of BT Group plc (NYSE: BT; London: BTA)'s access business Openreach, is aimed partly at addressing government concerns about Telecom Italia's dominant infrastructure position in the Italian market. In theory, the separation will make it harder for Telecom Italia to favor its own retail business over rivals in the market for wholesale fixed-line services. (See Eurobites: Italian Antitrust Watchdog Gets Its Teeth Into TIM.)
Government pressure on Telecom Italia has grown as French media conglomerate Vivendi has tightened its grip on the former state-owned monopoly. With about 24% of shares, Vivendi is today the operator's biggest investor and in control of the Telecom Italia board, although it now faces competition from a New York-based hedge fund called Elliott Management. (See Telecom Italia Drama: What Is Vivendi Up To?)
Earlier this week, Elliott was reported to have said it would seek to replace Telecom Italia board members with "new, fully independent and highly qualified directors."
Telecom Italia has promised that "Netco," as it calls the fixed-line business, will deliver "a fully neutral and equivalent model."
It also insists that Netco will have the "investment capabilities to maintain the highest-quality network and help Italy meet the European 2025 Digital Agenda ultra-broadband goals."
Legal separation should make it easier for investors to attach a value to the different parts of Telecom Italia. That might support fund-raising activities in future. While Netco will begin life as a wholly owned subsidiary, there have been suggestions that Telecom Italia's fixed-line assets could ultimately be merged with government-owned broadband infrastructure to create a nationwide, high-speed wholesale network.
Under its new investment strategy, called DigiTIM, Telecom Italia is to spend a total of €12 billion ($14.5 billion) over the next three years on network expansion and further digitalization. At about €4 billion ($5 billion) annually, that would equal about 20% of sales in 2017.
The ratio is high by comparison with Telecom Italia's peers in Europe, but would represent a big drop on capital intensity of nearly 29% last year.
Following investments in recent years, Telecom Italia now claims to have extended fiber coverage to about 77% of the Italian population, up from just 60% at the end of 2016. The operator's 4G coverage has also risen from 96% to 98% of the population during that period.
However, only about 10% of Italian homes in 30 cities can access a fiber-to-the-home (FTTH) service from Telecom Italia, with the others connected via much slower fiber-to-the-curb (FTTC) networks.
The operator says its goal is to boost fiber coverage (meaning FTTH and FTTC) to about 80% of the population by the end of 2020. It aims to bring FTTH into a total of 100 cities over that period.
On the customer front, it is aiming for about 5 million ultra-broadband subscribers by the end of 2020, up from 1.8 million today, and wants to grow 4G penetration from 76% to 95% of the customer base.
Need to know more about process automation and zero touch networking? Join us for the Automation Everywhere event in Dallas on April 4. Don't miss this exclusive opportunity to network with and learn from industry experts – employees of communications service providers get in free!
Towers subsidiary Inwit, meanwhile, is to start preparing for the launch of 5G technology by increasing investments in small cells and fiber backhaul.
But much of the capital expenditure will go toward the further digitalization of the Telecom Italia business, with obvious implications for the workforce.
Among other things, Telecom Italia wants to boost "self-care app penetration" to about 85% of its customer base and reduce "human-operated interactions" by 30%. It also believes it can restore growth at its wholesale business -- which in Italy registered a 5.1% drop in revenues in 2017, to about €1.7 billion ($2.1 billion) -- through investment in new "digital and automation tools."
Telecom Italia stopped short of indicating how it expects staff numbers to change over the next three years. Earlier this year, Norway's Telenor Group (Nasdaq: TELN) said automation and digitalization would claim about one in five jobs at its own business over the same period. (See Downsizing Telenor Pins Margin Hopes on Automation.)
At Telecom Italia, a reduction in capital expenditure as a percentage of revenues should lead to balance sheet improvements. The operator is now guiding for a net-debt-to-EBITDA ratio of about 2.7 in 2018 and says this figure will continue to fall in 2019 and 2020. Net debt at the end of last year equaled about 2.9 times adjusted EBITDA.
Telecom Italia is also guiding for "broadly stable" domestic revenues over the plan period and low single digit growth in Italian EBITDA. It expects service revenues and margins in Brazil and at Inwit to rise over the plan period.
— Iain Morris, News Editor, Light Reading
Subscribe and receive the latest news from the industry.
Join 62,000+ members. Yes it's completely free.
You May Also Like
---