DT Preps CORD Effort to Slash FTTB/H Costs
DT Preps CORD Effort to Slash FTTB/H Costs
German operator's Access 4.0 project, if approved, could help it to reduce the expense of building higher-speed fiber networks.

Deutsche Telekom is developing a reference system for a more software-based broadband access network that could help to reduce the costs of rolling out fiber-to-the-building infrastructure in Germany.
Under a project it calls Access 4.0, the German telecom incumbent plans to finalize the design of the reference system by Christmas this year before it potentially invites suppliers to submit bids for actual products.
"By Christmas we want to have 'unit number one' with a full hardware and software stack that we can use as a reference for possible RFQs [request for quotation]," said Robert Soukup, a senior leader in telco fixed and mobile access for Deutsche Telekom AG (NYSE: DT), during a presentation at last week's SDN NFV World Congress in The Hague.
Figure 1: Rack Pain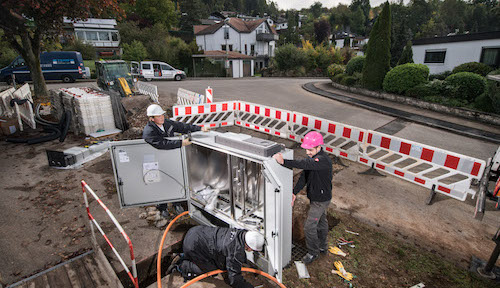 Technicians are hard at work on the extension of Deutsche Telekom's broadband networks. The operator's work is based heavily on the design principles developed by the CORD project, an open source initiative that -- under the auspices of the Open Networking Foundation (ONF) -- is actively promoting the use of open source software in conjunction with common, off-the-shelf servers. Operators involved with CORD, which literally stands for "central office re-architected as a data center," reckon that phasing out their "black boxes" -- costly, proprietary equipment that marries hardware and software capabilities -- could lead to major operational efficiencies and allow them to combine, and switch, suppliers more easily. Deutsche Telekom appears to have been attracted to a CORD sub-project called R-CORD (residential CORD) following meetings last year in Atlanta with industry association Broadband Forum and US telco giant AT&T Inc. (NYSE: T), which has become a driving force behind CORD and several other software and virtualization initiatives. That sub-project clearly suited its needs in Germany and also tied in with internal efforts to reduce network costs through a program it calls "design to cost," which is now about four years old. "If you really want to do design to cost you have to get a grip on what is in the software," says Soukup. "We think it would be nice to get the proprietary control plane out of the equation." In telco networks, the control plane is responsible for signaling decisions while the user plane actually carries the traffic. Bruno Jacobfeuerborn, Deutsche Telekom's chief technology officer, has previously argued that using advanced software technologies to separate the two could lead to cost reductions in radio access networks. (See The Growing Pains of 5G.) When it comes to Access 4.0, much of the interest appears to lie in replacing the typical optical line terminal, an important network device used in fiber-optic access networks, with lower-cost and customizable hardware. "The key is open hardware, a bare metal switch platform that is programmable and modular and can be adapted according to carrier requirements," says Thomas Haag, a senior network architect with Deutsche Telekom. On the software side, Deutsche Telekom has also put its muscle behind an open source software tool called VOLTHA, which uses standardized interfaces for interoperability with network equipment. VOLTHA's potential importance became apparent earlier this month when AT&T said this would provide the "brain" for its XGS-PON network, a next-generation fiber technology the US operator is now trialing. Want to know more about the emerging SDN market? Check out our dedicated SDN content channel here on Light Reading. While Deutsche Telekom's senior management has not made any final decision on whether to proceed with Access 4.0 in a production environment, the R-CORD-like reference system clearly holds major attractions for the German operator as it eyes investment in higher-speed broadband networks. "It scales by using the leaf-spine fabric principles of data center technology," says Soukup. "We are not talking about big data centers but using a couple of racks to serve a town like The Hague [whose population is about half a million people]." Soukup says Deutsche Telekom has been working closely on Access 4.0 with software and systems integration specialist Radisys Corp. (Nasdaq: RSYS), which teamed up with broadband equipment maker Calix Inc. (NYSE: CALX) on the development of R-CORD technology earlier this year. (See Calix & Radisys Bring R-CORD to Market.) It remains unclear what precise impact Access 4.0 could have on the costs of building out fiber-based broadband networks, but executives believe it could be used with both fiber-to-the-home and fiber-to-the-basement deployments. In the latter case, Deutsche Telekom would run fiber to building basements and use a technology called G.fast to boost speeds over the final copper connections. Access 4.0 is potentially important because Deutsche Telekom has previously resisted making investments in fiber networks out of concern about the exorbitant costs involved. Nevertheless, the operator has been under growing pressure from political and competitive forces and recently said it would increase spending on fiber-to-the-home infrastructure starting in 2019. (See DT to Ramp Up FTTH Capex Starting in 2019.) Deutsche Telekom now serves about 8.2 million customers on fiber-based broadband networks, but most of them continue to receive their service over a last-mile copper loop. A Deutsche Telekom spokesperson has told Light Reading that only about 700,000 of these customers are able to receive a gigabit-speed offer it recently launched. — Iain Morris, News Editor, Light Reading
Subscribe and receive the latest news from the industry.
Join 62,000+ members. Yes it's completely free.
You May Also Like
---