Orange Bank Job Is Going Europe-Wide
Orange Bank Job Is Going Europe-Wide
The French telecom incumbent is taking its AI-powered, digital banking service outside France, with launches planned in Romania and Spain next year.

Turning from the antennas and cables of its telco business to the world of credit cards and savings accounts, Orange has set its sights on becoming a major European bank. After introducing its inaugural banking service to France about a year ago, the French telecom incumbent is poised for bank raids in Romania and Spain in 2019. In total, seven countries in Europe will feature an Orange Bank service by 2023, under plans revealed late Friday. The operator has set itself a target of having some 4 million Orange Bank customers across Europe within six years, by which time the operator plans to be generating €500 million ($567 million) in net banking income (NBI).
While Orange (NYSE: FTE) is not the only telco with a bank job in its plans, it is probably the most ambitious. Triggered by its 2016 acquisition of a 65% stake in a small European bank called Groupama, its move into finance forms part of a diversification strategy under which Orange aims to generate about 13% of its revenues from non-telecom services by 2022, up from 9% today. With little room for expansion in the telecom market, where it is already one of the world's biggest players, Orange sees banking as one of its most promising growth opportunities and the company already has invaluable mobile finance services experience from its operations in Africa. (See Eurobites: Orange Bank Is Open for Business, Orange May Become Bank With Groupama Takeover and Orange Money Is 10 Years Old.)
The rationale is certainly convincing. As France's biggest telco, Orange already has a relationship with more than 25 million consumers, and one of the country's most recognized brands. Surveyed around the time of the Groupama takeover, around a third of its customers expressed interest in an Orange Bank service, the operator then claimed. By relying on the Groupama assets, its own retail and network footprint and its existing employees, Orange should be able to keep a lid on the investments needed to set up a new financial business. The banking service would allow Orange to boost customer spending and attract new subscribers, it reasoned. (See Orange Claims Customer Interest in Bank Move.)
Figure 1: Boom or Bust?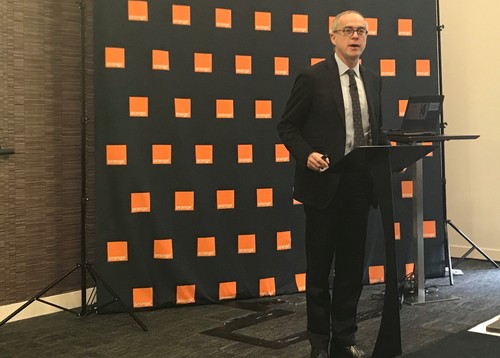 Ramon Fernandez, Orange's chief financial officer, sets out the French operator's banking strategy at a press conference in London
Other than the convenience of buying more household services from a single provider, what can Orange offer that a traditional bank cannot? The telco's broad strategy is not to develop entirely new banking products but to improve what is already there. Technology is a critical part of this makeover. Orange's mobile app scored higher than any rival service during a recent third-party survey, according to executives. A misplaced credit card can be cancelled with a touch, says Ramon Fernandez, Orange's chief financial officer, and reactivated just as easily if found. Bank customers normally wait 48 hours to see the details of a transaction: With Orange's app, those show up instantly.
Technology should also support a low-cost business model for Orange. A digital assistant powered by Watson, the IBM Corp. (NYSE: IBM) artificial intelligence system, today answers around half of all customer queries. That cuts down on the need for human assistants and in-store support. Indeed, while Orange is using physical stores and staff to lure and sign up customers, it expects any subsequent relationship with its banking clients to be largely digital. (See Robot Wars: Telecom's Looming AI Tussle, Hold-Up at Orange Bank: Launch Hits Buffers and Orange Plans Bank Raid With AI, Digital Weapons.)
Execution is of paramount importance. The French retail banking market is already extremely competitive, and traditional banks have been launching their own mobile and online services. Nor does Orange have any kind of monopoly on AI: Crédit Mutuel, a French bank with more than 7 million customers, is also using IBM Watson for customer support. The risk in Orange's case is that a heavy reliance on AI becomes a drawback as more complex services are introduced. Even when it adds a mortgage offer in 2020 or 2021, Orange plans to continue providing support mainly through digital channels, says Paul de Leusse, the deputy CEO of mobile finance services. But Orange would never enter a new banking market unless every issue has been resolved and the service is deemed "100% bulletproof," he explains. (See Altice Puts Squeeze on Orange With Bank Move – Report.)
Next page: Hold up
Hold up
So far in France, the operator has signed up about 200,000 banking customers, thanks partly to a helpful push from its own staff (it reported around 67,000 employees at its French business at the end of September). Considering that Iliad, one of its French rivals, has captured more than 2 million mobile-phone customers in Italy since launching a telecom service there in May, Orange's banking number seems modest. But the rate of quarterly additions has been rising fast, and the target of 2 million French customers looks achievable if that continues. After adding Romania and Spain to its portfolio next year, Orange plans to enter Belgium, Moldova, Poland and Slovakia -- in all of which it already manages a telecom business -- between 2020 and 2023. (See Iliad Grabs 1M Customers by Day 50 of Italian Odyssey.)
It will be some time before any of this pays off, however. Fernandez does not expect to break even until 2023, and he estimates that launches in France and Spain will cost between €500 million ($567 million) and €600 million ($680 million) in adjusted earnings (before interest, tax, depreciation and amortization) between now and then. While this might be hard for some investors to swallow, Orange remains one of Europe's top performers in the telco market. And it expects banking profits to climb steadily starting in 2023.
Figure 2: Big Dipper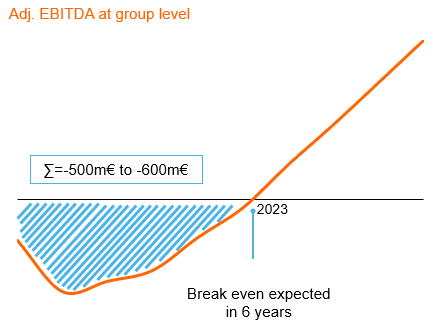 Source: Orange.
Before then, the initial hit comes mainly from investments in IT systems and customer acquisition costs. While Groupama came with some of the financial systems and regulatory know-how that Orange needed to launch a business, that takeover did not include the development and rollout of an AI assistant, for example. Orange has also had to recruit or train up advisors with the requisite financial qualifications: It had 1,100 of these on its books in October, up sharply from just 700 in April.
For all the latest news from the wireless networking and services sector, check out our dedicated mobile content channel here on Light Reading.
With its still-limited range of services, and lack of traditional branches, Orange seems unlikely to become the main provider for many customers. Indeed, some of the operator's senior executives appear to be using it as a "secondary bank" for the time being. Provided Orange can boost NBI per customer, that does not have to be a problem. But its targets assume this figure will double in France between now and 2026, to around €200 ($227), and only 30-40% of existing customers use the service daily, says de Leusse. Driving up engagement could turn out to be one of Orange's biggest challenges.
Executives think the main difference between Orange and other banks is cultural. Bankers usually want customers to feel guilty about overdrafts and borrowing, says de Leusse, while Orange wants to give them "personal control of finance." In France, however, the operator's chief advantage could be data. With no French equivalent of the US credit bureau, French bankers lack any central office to check on the credit history of their customers. Orange, however, has a readymade alternative thanks to its mainstream telco business. As it expands into loans, mortgages and other new types of service, that data could be like the perfect cheat sheet for the most grueling test.
— Iain Morris, International Editor, Light Reading
Subscribe and receive the latest news from the industry.
Join 62,000+ members. Yes it's completely free.
You May Also Like
---